Dr Aggrey Kiyingi: The man acquitted of killing first wife has died
Dr Aggrey Kiyingi, a Ugandan-born Australian physician who was acquitted of killing his estranged lawyer wife in 2006, has died aged 68, his family has announced.
Mayimuna Nakayiira Kiyingi shared the sad news of her husband's passing in Australia on social media "with immense sadness and a heavy heart".
"He peacefully departed from our lives".
In the post, Nakayiira paid tribute to a "loving father, a wonderful friend and an integral part of our lives", adding that Kiyingi's "presence brought immeasurable joy, laughter and warmth to countless moments we shared together".
The post said details of the funeral and memorial services would be communicated in the due course.
Kiyingi got married to Nakayiira in 2009, four years after the murder of his wife.
Following his first wife's death in 2005, the physician was thrust at the centre of what was arguably the most publicized murder case in Uganda's recent history at the time, accused of killing his wife, Robinah Erina Kayaga Kiyingi, a prominent anti-corruption advocate.
She died after being shot several times in her car in the driveway of her home on July 11, 2005. She was 54.
Kiyingi was acquitted the following year on December 11 by the Kampala High Court at the end of the long-running high-profile trial.
At the time, Justice Opio Aweri said prosecutors had failed to prove their case against the Sydney-based cardiologist, who had denied any role in the killing of his wife.
The judge also found two other suspects in the murder — a Police officer and a businessman, along with a soldier who was later found dead in prison — not guilty in the shooting death of the well-known Kampala attorney.
The suspects could have faced the death penalty had they been convicted.
A month before his acquittal, trial assessors had recommended that Kiyingi, who was 51 years old at the time, be acquitted, citing insufficient evidence.

 December 29, 2003   Chief Executive Officer of Dehezi International, Dr Aggrey Kiyingi, displaying a certificate of authenticity and Golden Award during a press conference at his office. (Photo by Robert Masengere)
 July 15, 2005  Dr Aggrey Kiyingi, the husband of murdered city advocate Robinah Kiyingi, attending her funeral service at Namirembe Cathedral in Kampala. (Photo by Kennedy Oryema)
 June 8, 2006  Dr Aggrey Kiyingi speaks on phone after he was granted bail at High Court in Kampala. (Photo by Godfrey Kimono)
 June 16, 2006  Lawyer MacDusman Kabega (left) listening to his client Dr Aggrey Kiyingi at High Court Kampala. (Photo by Ronnie Kijjambu)
 July 19, 2006  Lawyers Edward Muguluma (left) and MacDusman Kabega listening to Dr Aggrey Kiyingi (right) during the hearing of Kiyingi's case at High Court Kampala. (Photo by Ronnie Kijjambu)
 June 20, 2006   Dr Aggrey Kiyingi (right) reading the New Vision newspaper in court as he is with other suspects in the murder case of his wife Robinah Kiyingi at High Court Kampala. (Photo by Ronnie Kijjambu)
 December 11, 2006   Dr Aggrey Kiyingi lays a wreath on the grave of his wife Robinah Kayaga Kiyingi, who was buried at Kitetika-Gayaza. This was after prosecution found him not guilty of murdering his wife. Looking on is Baker Kasirye, the father of the late Robinah.
Police Officer Wounded in Shootout as Stolen Vehicle from Kenya Intercepted in Lira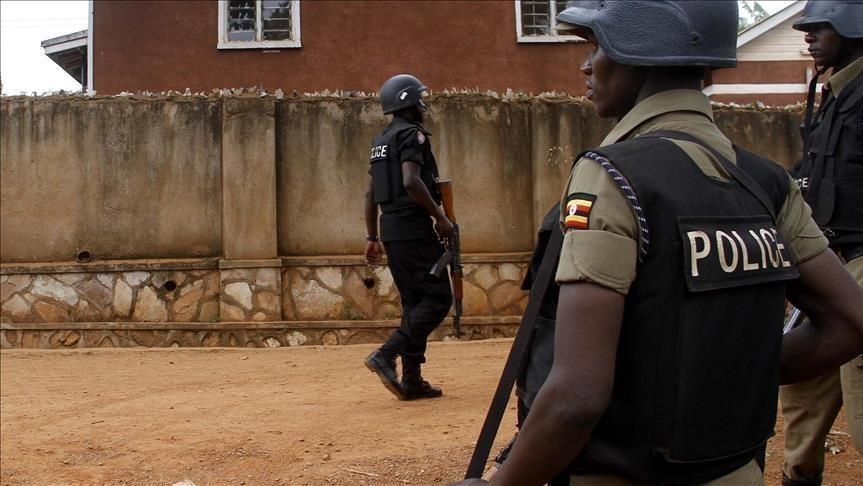 In a dramatic incident, a police officer from Lira Central Police Station sustained a gunshot wound in the stomach during a confrontation when law enforcement intercepted a Toyota Land Cruiser with registration number KDH 790K, suspected to be stolen from Kenya.
The altercation resulted in injuries to Tony Ebong and three others, identified as George Otyato from Awendo in Migori County, Kenya, Hussein Akako from Tororo-Malaba, and Paul Omara from Oyugisi Homa Bay County, Kenya.
The apprehended vehicle is currently impounded at Lira Central Police Station, and efforts are underway to locate a suspect who is believed to have escaped during the incident.
All injured individuals are receiving medical attention at Lira Regional Referral Hospital. The nature of their involvement in the alleged raid remains unclear.
A combined team of regular police and Flying Squad operatives established a checkpoint at Adwali cell, Boroboro ward, in Lira City East Division after receiving information about a suspected stolen vehicle from Kenya. The case was documented under Reference Number OB 24/9/11/2023 at Karuri Police Station, indicating that the vehicle was being driven into Uganda through the Busia border.
According to reports, the suspects attempted to mislead authorities by changing the vehicle's number plates to UBE 665K while in Dokolo district.
Patrick Jimmy Okema, the North Kyoga Police Spokesperson, confirmed that the vehicle's movements through Tororo, Mbale, Soroti, and Lira were tracked using a monitoring system. The ongoing investigation aims to unravel the circumstances surrounding the stolen vehicle and the individuals involved in the incident.