Gov't to build technical school in memory of Brigadier Pierino Okoya, says Museveni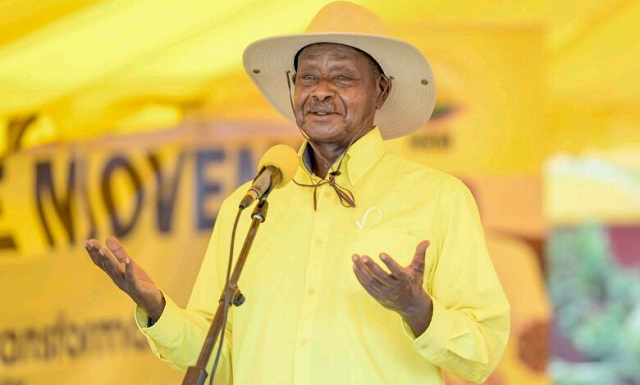 President Museveni has pledged that government will construct a technical school in Gulu in memory of late Brig Pierino Okoya who was killed in 1970.
"What these bad people don't remember is that there's God, all those who did those bad things like Amin, where are they? They all ended up badly and here we are remembering in appreciation of Okoya but not Amin. We are going to set up a technical school somewhere in the memory of Brig Okoya," Museveni said before being informed that the deceased's family has already donated 10 acres of land for the project.
The president made the remarks today during the reburial ceremony of the remains of the late Brig Okoya in Palaro, Gulu District.
Brig Okoya was the deputy army Commander during the government of former President Apollo Milton Obote who was allegedly murdered on January,25, 1970 by Idi Amin Dada who was the army commander at that time.
President Museveni who sympathized with the bereaved family, applauded the late senior army officer who joined the army in 1948 for his good service to Uganda and attributed his potential to the education he attained during his time
"Mzee Tito Okello had already joined the army in 1930 but by the time Okoya was killed in 1970, he was already a brigadier when Tito was still a major and  that could be because of the education he had attained," he noted.
Museveni further expounded that the problems of Africa including Uganda started on a bad foundation at independence because of the political leaders who emphasized politics of identity (tribes and religions) and made mistakes in their methods of work.
"Those people were making mistakes in ideology but also made mistakes in their methods of work. I was told that Okoya challenged Amin that he ran away when Obote's life was in danger and that is why he arranged for these people to kill him. I had that story as told by Oyite Ojok.".
"The two mistakes of wrong ideology of emphasizing identity rather than needs of people and the wrong methods of work resulted into a lot of problems like these killings that happened in the past governments. So many people were killed. But when they invite me for these remembrances, I feel happy because we punished all those people who killed our people."
The president also noted that the NRM government is able to reconcile people because it doesnt believe in the politics of sectarianism.
"Me and my group in the 1960s, we said this politics of identity is wrong, we should go for politics of people's needs and people's needs are the same. That is how we started and the ability to build a strong army is because we don't look at tribes and we don't look at religion. In the army it's, can you shoot properly? Not in the Acholi or the Ankole way, that is all we want. So these false identities are causing a lot of problems and we should not bring them again," he advised.
At the same function, the people of Palaro donated 50 acres of land to the president and he promised that it will be used by the State House to set up a demonstration farm in the area.
The Chief Justice Alfonse Owiny-Dollo explained that the death of someone dear to you is painful but the death through a perpetration done with malice like it was the case with Brig Okoya is devastating and traumatizing.
"I was in mid primary when Brig Okoya was killed, darkness gathered the districts of Acholi but what you have done has healed the wounds," Dollo said.
He also called for peace building to solve differences among Ugandans.
"The time is now for us to speak to each other to build peace at a personal, cultural and state level."
The State Minister for Foreign Affairs,  Henry Okello Oryem revealed that he was deliberately invited to address the mourners because his late father Tito Okello Lutwa was the one who was delegated by President Obote to represent him at the burial of Gen Okoya in 1970.
"The UPDF leadership invited me, they told me that just like how your father did, please come to this function and do what your father did, hence I'm here," Hon. Okello Oryem said.
Oryem who narrated how Brig. Okoya and his wife Anna were killed, commiserated with the bereaved family, saying that their death was a sad one.
He also disclosed that their families were close and used to relate a lot.
The Chief of Defense Forces, Gen Wilson Mbasu Mbadi said the UPDF commiserates with the family of Brig Okoya who was brutally killed after spending 22 years of service in the army.
"This is being exhibited by the large number of officers who have attended this function. Circumstances surrounding his death are intriguing. The sad story is fully documented and it's being told until today and I don't need to repeat it. We shall live to remember Brig Okoya for his exceptional service ," he said.
The Pageya Clan Chief Rwot Yusuf Okwonga Adek lauded President Museveni for being a merciful and good leader who extends an olive branch to his political opponents and offers an opportunity to work with them.
He also praised Museveni for championing several good causes like the fight against HIV and Covid and initiating several programs that steer the development of Uganda.
He further appealed to the president to promote more sons of Acholi to be like the late Okoya.
The head of the organising committee of the ceremony, Lt Gen Charles Otema commended Gen Museveni for according a decent burial to the late senior army officer.
"When guiding us as army officers, our parents always talk about the late Pierino Okoya,  all of us who come from Acholi know. While those who were in power that time when he was killed (Amin as army Commander and Obote as President), none of those two came to send off our brother except they delegated our brother Tito Okello Lutwa but for you have always fully supported us to send off our brothers and today you have demonstrated again. May God reward you and we assure you as Acholi officers we are fully behind you," Gen Otema said.
Retired Captain Johnson Lajolo, the son of the late Okoya thanked the president for extending support to their family and  giving their beloved one a decent burial, 53 years later since his demise.
"This should not only stop to the family of the late Okoya, it should be extended to other families that had fighters like ours, across Uganda," he said.
The Gulu District chairperson,  Christopher Opiyo Ateker informed the president that the people of Acholi now testify the excellent work the NRM government is doing under his leadership due to the progressive development in the sub region.
He also noted that the people of Gulu have listened to the president's wealth creation message and they have embraced the four acre model farming  to sustain their household incomes.
"However, we still need extension workers to guide them .We have so far received over Shs5bn Parish Development Model funds but the beneficiaries still need to undergo financial literacy, and inculcate the culture of saving so that they are able to utilize the funds well so that your dream of poverty alleviation is realised."
The ceremony was also attended by the NRM Secretary General  Richard Todwong, ministers,  Members of Parliament, UPDF officers, religious and cultural leaders, among others.
Brig Okoya murder
Brigadier Pierino Okoya was murdered on the 25th of January, 1970, allegedly by then army Commander Idi Amin under the government of Apollo Milton Obote.
He was found by his driver lying dead together with his wife Anna, outside their house in Gulu.
The murder of the army officer followed a heated meeting between Okoya and Amin after an assassination attempt on then President Obote during the Uganda People's Congress Delegates Conference at Lugogo Indoor Stadium.
After getting  information that the president had been injured in an assassination attempt, Brig Okoya, who was at the Officers' mess at Acacia Avenue in Kololo took charge  of the president's security, making sure that he was taken to the hospital and accorded maximum protection.
Okoya was however taken by surprise that army commander, Maj Gen Idi Amin could not be located at that time and all his radio messages were closed.
The following morning, Okoya and some officers went to his residence in Kololo but could not find him but Amin appeared later, saying he had been at his private home in Bombo.
During a Defence Council meeting chaired by Minister of Defence Felix Onama, Okoya blamed Amin for failing to take command at the time the head of State was in danger.
This could have angered Amin.
Whereas the  meeting was held in late December 1969 and the murder of Brig Okoya happened on January 25th,1970 , a month later.
The government and army instituted teams to probe the murder of the senior army officer.
All investigations pointed to Amin as the mastermind of the murder.
It was alleged that he used Captain Smuts Guwedeko, the then Gulu Air Force Base Commander, to murder Okoya.
The board of the army also came out with a report that Amin used the Air Force to commit the atrocity.
Guwedeko together with Warrant Officer Kasule, an air force technician were detained in April 1970 and taken to Luzira Prison.
When Amin took over the government, the duo was released and promoted. Guwedeko was promoted to the rank of Brigadier and Kasule to Major.
Prof. Mary Okwakol Steps Down as Chairperson of Uganda National Examinations Board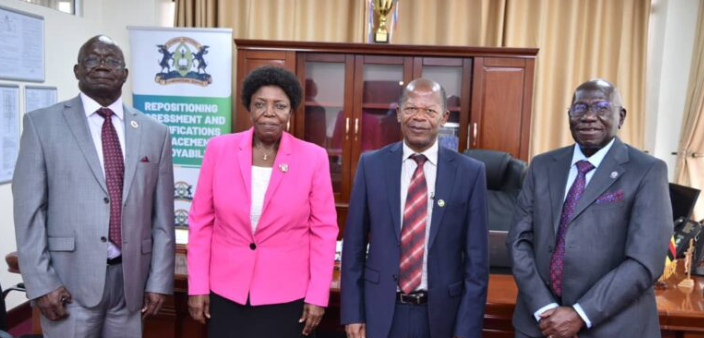 Prof. Mary Okwakol has concluded her tenure as the Chairperson of the Uganda National Examinations Board (UNEB), a position she held since 2014.
The formal handover ceremony took place, with Prof. Okwakol passing the reins to Prof. Celestino Obua, the Vice Chancellor of Mbarara University of Science and Technology. The Minister of State for Higher Education, Hon. John Chrysestom Muyingo, graced the occasion to witness the transition.
Prof. Obua's appointment was made by the Minister of Education and Sports, Hon. Janet Kataha Museveni, on October 12, 2023.
In a statement released by UNEB on November 3, 2023, the Examinations body expressed its appreciation for Prof. Okwakol, who is also recognized as the founding Vice Chancellor of Busitema University, one of Uganda's nine public universities.
Dan Odongo, the UNEB Executive Director, bid a fond farewell to Prof. Okwakol and acknowledged her service, saying, "We give thanks and praise to the Almighty God for the peaceful years that Professor Mary Okwakol has served as the Chairperson. I say 'peaceful' because she was appointed and took over at a time when UNEB had gone through nearly two turbulent years in its governance."
Odongo further lauded Prof. Okwakol's leadership, citing her adherence to the principles of good governance. He emphasized that she avoided becoming overly involved in the daily management of the institution, setting a positive example.
Prof. Okwakol assumed the role in 2014, succeeding Fagil Mandy, who had resigned due to President Museveni's decision to extend the contract of the then UNEB Executive Director, Matthew Bukenya.