Mulago links increase in surgeries to road crashes
The national referral hospital handles about 40 patients who need emergency surgery every week, up from about 12 patients five months ago. Medics call for urgent action.
Mulago National Referral Hospital has reported a three-fold increase in patients who require emergency surgery as a result of accidents, linking it to the rise in road crashes.
Dr Michael Edgar Muhumuza, the head of neurosurgery at the facility, revealed this on Thursday afternoon while announcing a surgical camp that the hospital will run from October 2 to October 6.
"About five months ago, on average, in our causality theatre, we would attend to about 10 to 12 patients per week, but as I speak now, we attend to a minimum of 30 patients a week, and sometimes it goes to close to 40," he revealed, adding, "It is three-fold [increase]. I don't know, there is madness out there, I don't know what is happening. This business of crisscrossing the roads, riding in the opposite direction and not wearing helmets should go down. The numbers [of victims of road crashes ending up in the hospital] have gone up."
Dr Muhumuza also said children are among the affected, adding that "they are hit while they are walking to school, which is very sad. The police who bring them, do so very early when their parents don't know. It is very sad."
He also revealed thus: "The other category where we have seen children with head injuries, especially due to boda boda accidents, is when they are playing in their home areas and they are hit while they are crossing the road. The cases are seasonal and I don't know why. As I speak now, we have four children with head injuries."
According to the 2022 Police Annual Crime Report, 650 children (395 males and 255 females) below the age of 18 died due to road crashes in the country. That year, there were about 20,394 road crashes that killed 3,901 people.
"The number of fatal crashes increased by 17 percent from 3,757 in 2021 to 3,901 in 2022," the 2022 report reads.
Spillover effects
Dr Nobert Orwotho, the head of surgical services at Mulago hospital, said earlier that the victims of road crashes are the major reason other patients (with ailments) delay to be operated [on]. This, he added, is because accident victims are handled as emergency cases.
A 2020 report of a study done in Mulago hospital by Sharif Kikomeko of Habib Medical School, Islamic University in Uganda, shows the overall mean waiting time to surgery was about one month.
"Of the 412 surgeries scheduled at the Mulago main hospital theatre between June and August 2014, one hundred nineteen were rescheduled. Healthcare system factors were mostly responsible for the rescheduling," the report reads, adding, "For most surgical conditions, prolongation of surgery leads to increased disease severity and probability of complications (resulting in deterioration of health status, and prolongation of suffering), and death."
The management of the facility also revealed in June this year that they spend more than Shs76 million daily to treat victims of road accidents. This money, Dr Gideon Kirugamba, a surgeon at the emergency unit of the facility, said goes to cater to human resources, blood tests, and purchasing medicine.
"We spend Shs3.6 million per severely injured patient who does not require surgery. If one has to undergo surgery, it goes to Shs13.6 million. Those moderately injured, require Shs2 million, and those mildly injured, it is between Shs1.5 million and Shs1.8 million," Dr Kirugamba said in June.
SP Michael Kananura, the spokesperson for the Directorate of Traffic and Road Safety at the Uganda police force (UPF), recently told Saturday Monitor that the causes of these accidents are "purely reckless driving—particularly speeding and improper overtaking."
"We have had the majority of them being single accidents. It is entirely the behaviour of these drivers on roads," he noted, adding that they are increasing awareness of road safety and enforcing traffic regulations to curb the cases.
Surgical camp
On the next week's surgical camp, Dr Orwotho said they have more than 80 surgeons who can handle patients.
"The hospital has about 16 sub-specialties, each of those units has around five surgeons. We have around 80 surgeons in Mulago. We shall also have colleagues from outside Mulago to make the work faster and easier," he said.
"The number of doctors on the ground will be big. We expect many patients to come. Those who can be operated will be handled and those who cannot be handled will be scheduled. We expect to do many surgeries. Some surgeries have already been planned. We shall handle about 4,000 patients," he added.
Dr Rosemary Byanyima, the director of the facility, told journalists on Thursday afternoon that the services will be free of charge.
"Come Monday, October 2 to October 6, Mulago National Referral Hospital will hold an open week where we are showcasing surgical services. We shall be receiving and screening patients, giving them health education, those who need surgical services, and we are able to offer them [the] same week, we shall," she said.
"Those who need to be booked, they will be booked. Those who need to undergo the surgery will go through the procedure of preparing them for surgery, including the screening tests and consenting the way we do it professionally. When you are running the surgical camp, the supporting services like the Intensive Care Unit (ICU) will be ready to receive those surgical cases which need ICU after surgery. Diagnostic services like laboratory tests and X-rays will be run. These will be free of charge," she added.
Prime Minister Robinah Nabbanja Applauds Gomba District's Thriving Agricultural Efforts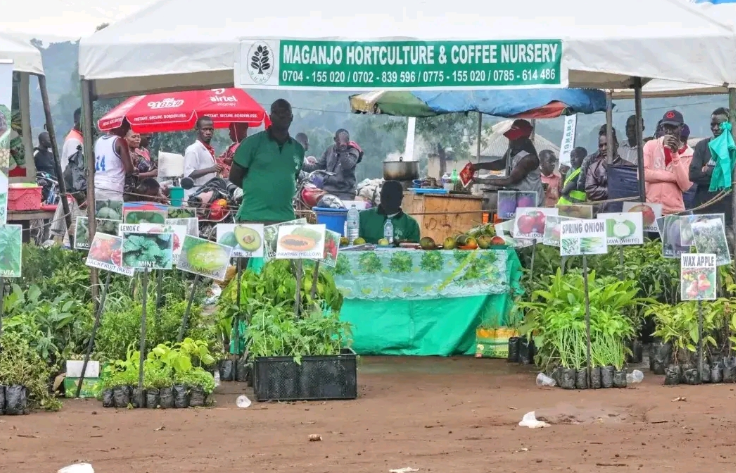 The Prime Minister of Uganda, The Right Honourable Robinah Nabbanja, expressed commendation for the residents of Gomba district, praising their active involvement in agriculture not just as a means of sustenance but as a pathway to economic prosperity.
During her address on Friday at the Gomba District Agricultural Expo organized by the Office of the Prime Minister, Nabbanja urged the community to diversify into high-value crops and adopt irrigation practices for year-round production. She emphasized that their commitment to agriculture is a crucial driver of economic growth.
The expo, attended by key figures in the agricultural sector, featured suppliers of agro-inputs and machinery, exemplary farmers, and specialists in agro-processing.
Addressing the necessity for improved electricity access, the Prime Minister reiterated the government's commitment to providing free power connections to homes. She encouraged residents to wire their houses, emphasizing that this initiative aims to elevate living standards and create economic opportunities.
Nabbanja also directed the District Health Officer to submit a letter requesting the elevation of Kanoni Health Center III to Health Center IV, aligning with the government's policy of establishing one Health Center IV in every constituency. She assured the people of Gomba West that steps would be taken to transform Kanoni Health Centre III into Health Center IV.
In a related context, Namayanja Rose Nsereko, the Deputy Secretary General of the National Resistance Movement (NRM), stressed the crucial role of community leaders in monitoring and following up on government projects. She emphasized the importance of leaders acquiring knowledge about these initiatives and effectively communicating with the public.
Namayanja underscored the significance of political participation, highlighting the NRM caucus as a key platform for strategic decision-making. She encouraged residents to support NRM flagbearers to ensure their voices are heard.
Sylvia Nayebale, the Gomba Woman MP, expressed gratitude for the government's efforts to improve electricity connectivity in the region. She acknowledged the positive impact of the reduced cost of the last-mile connection and urged for continued support and more connections to further enhance the lives of the residents.