50 Cent Acknowledges Ari Fletcher's Early Halloween Contender Costume, Calling for Creative Outfits
50 Cent, well-known for his inventive costumes and humorous comments, gave a shoutout to Ari Fletcher for her unique and eye-catching Jigsaw costume, even though Halloween is still a few weeks away.
Ari Fletcher decided to get a head start on the Halloween season by dressing up as Jigsaw, the sinister character from the horror movie series Saw. She wore a black suit top, stockings, and heels, and completed her eerie look by riding around on a mini bicycle with her face painted white and adorned with the signature red swirls of Jigsaw.
50 Cent was quick to appreciate her creativity and unique choice for a costume, stating that this was the level of creativity he'd like to see from women on Halloween. He humorously noted that he'd prefer not to see the typical "sleazy nurse" or "police officer" costumes. Instead, he encouraged more imaginative and unique costume ideas.
"Welp there go's Halloween ain't nobody gone top this LOL @therealkylesister got it with this one, we don't want to see ya naked nurse, and naked cop shit you gotta come better," 50 Cent wrote.
Fans of Ari Fletcher chimed in, with some referencing the ongoing meme that likens Jigsaw's look to Ari's past appearances.
One person humorously commented, "If she does Thomas the train next ima lose it," while another said, "Ari said if y'all telling a joke let's make it fun."
A fan even suggested another creative costume idea, "We need blue face baby mom to dress up as Stewie now!"
While 50 Cent is known to embrace the Halloween spirit, he shared earlier that he is unlikely to attend any of Diddy's parties if he hosts one on October 31. He once jokingly explained why he avoids Puffy's private bashes, mentioning an uncomfortable encounter.
50 Cent also stirred controversy recently when he implied that Diddy, known as "Brother Love" in the R&B world, was involved in the 1996 murder of 2Pac. He included a photo of 2Pac and Suge Knight sitting in a black BMW sedan the night of the drive-by shooting on September 7, 1996. 2Pac was fatally wounded in the attack, while Suge Knight sustained non-fatal injuries.
Omusawo Tintah To Host Renowned Swiss Artist Mr. Kamanzi on Metro fm 90.8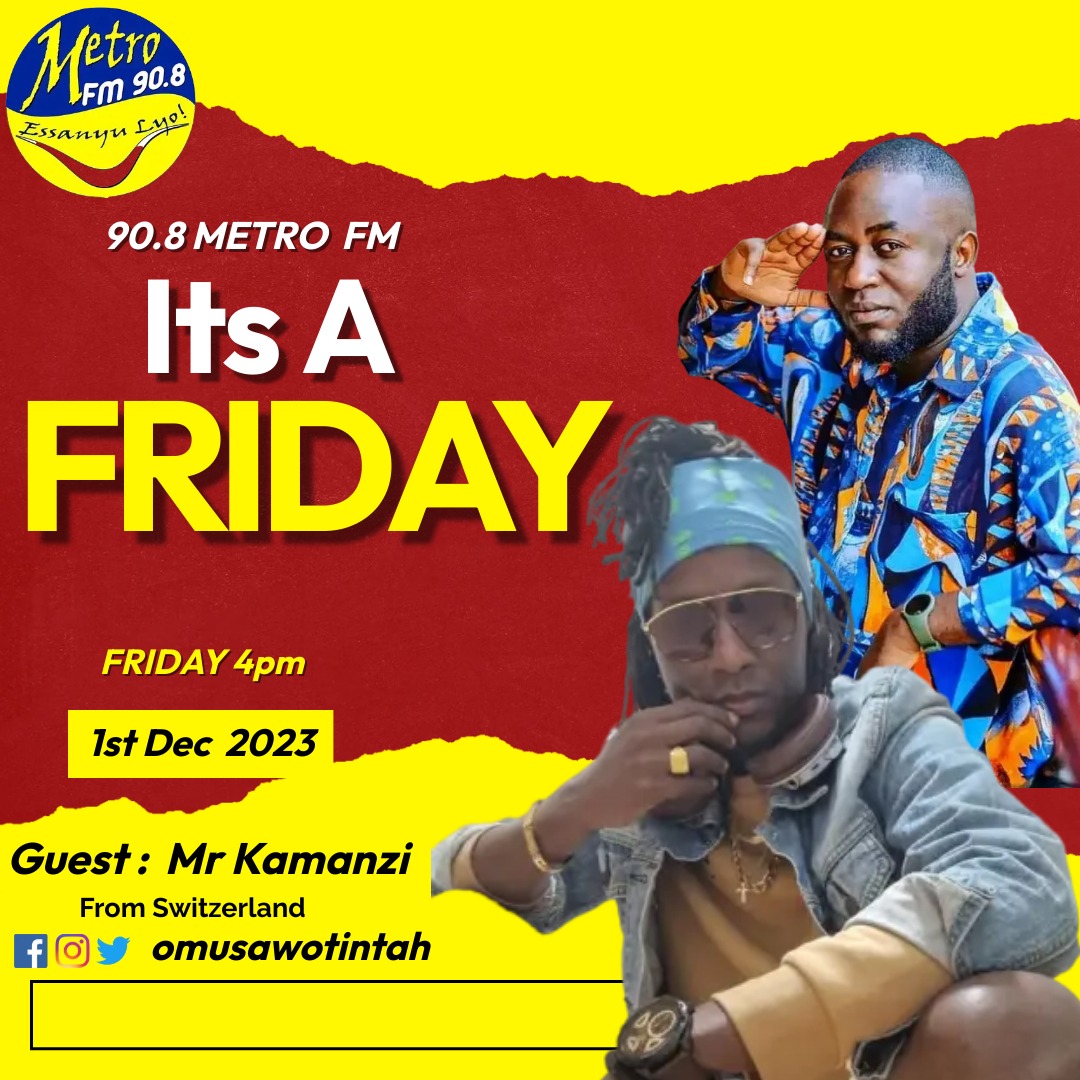 Metro FM 90.8's celebrated radio presenter and media activist, Omusawo Tintah, is gearing up to host the sensational Switzerland-based singer, Mr. Kamanzi, this Friday on his renowned radio show, Free Style Friday, running from 4 pm to 7 pm.
Omusawo Tintah's Free Style Friday has become a staple for music enthusiasts, featuring top-notch music and hosting internationally acclaimed artists. The show's popularity has soared, making it one of Uganda's most loved and trending radio programs.
Mr. Kamanzi, who is set to be the special guest on this week's episode, brings a wealth of musical talent and a captivating story to share. His journey in the world of music began at the age of 12, fueled by a deep passion for the art form. One of his childhood dreams was to perform on the grand stage, a dream that materialized in 1995 and marked the commencement of his music career.
Known for his distinctive vocal style, often referred to as "the husky voice of Africa," Mr. Kamanzi migrated to Switzerland a few years later. In 2008, he had the privilege of sharing the stage with T.o.k and Sean Paul in Dar es Salaam, Tanzania, a significant milestone in his musical journey.
With two published albums, namely "Unite" and "Today and Tomorrow," Mr. Kamanzi has made waves in the music industry. His track "Show Dem the Sign" received extensive airplay on local radio stations, solidifying his position as a notable artist. His performances have graced numerous stages across Africa and Europe, showcasing his versatility in musical genres, including Reggae, Afrobeat, Dancehall, and Pop Dancehall.
Beyond his musical accomplishments, Mr. Kamanzi's work with the Reggaenerators since 2021 has added a collaborative dimension to his career. His music carries a powerful message of upliftment, education, peace, and love, aligning with his personal motto: "Anywhere mi deh mi spread love."
As Free Style Friday prepares to host this illustrious artist, fans can anticipate an engaging and soulful session, blending Omusawo Tintah's charismatic hosting with the melodious tunes and inspiring story of Mr. Kamanzi. Tune in to Metro FM 90.8 this Friday for a musical experience that transcends borders and embraces the universal language of love through music.