Journey of Hope: Ugandan Children with Hydrocephalus and Spina Bifida Seek Vital Mobility Aids and Support
Jovia Lanyero, a determined 16-year-old student with dreams of becoming a lawyer, is among a group of nine children with hydrocephalus who embarked on a challenging journey from their remote villages in Northern Uganda, spanning districts like Apac, Gulu Kwania, and Lira, to reach Kampala's Corsu hospital. Their mission: to receive assessments and acquire modified wheelchairs, vital assistive devices that would enhance their daily lives.
Hydrocephalus is a medical condition characterized by the accumulation of fluid in the brain's ventricles, increasing pressure on the brain. Simultaneously, Spina bifida is a congenital defect affecting the spinal column's formation, resulting in a section of the spinal cord and spinal nerves exposed through an opening in the back.
For Jovia, who hails from Awich village, located 8 kilometers away from her boarding school, Over Champion Jesuit College in Gulu, these wheelchairs are not just mobility aids; they represent an opportunity to transform her life. Jovia's aspirations extend beyond personal mobility; she aspires to advocate for the rights of children with disabilities and provide them with a better home. The support from the Spina Bifida and Hydrocephalus Association of Uganda (SHAU) and Corsu Hospital in Entebbe, as well as the generosity of donors, has enabled her to move more comfortably and take a significant step toward realizing her dreams.
The arduous journey undertaken by Jovia and her companions mirrors the experiences of many children with Spina bifida and Hydrocephalus, their parents, and caregivers. To access essential healthcare and assistive mobility devices, they endure long and grueling journeys, often spanning up to 12 hours on the road.
Nyeko Robert Bob, a taxi driver hired to transport these children from northern Uganda to Kampala, recounted the challenges they faced on the road. The journey began at 7 am, picking children from various districts in town centers, but the conditions grew more difficult when they reached the rural areas. Impassable roads, dust, and the absence of restroom facilities added to their ordeal. Nyeko's dedication to these children, who require extra care and attention, reflects the profound need for support in these situations.
Harriet Ayugi Raps, a teacher from Apac district and a mother of a 13-year-old child with Hydrocephalus, shared a heart-wrenching story of delayed diagnosis and treatment. Despite visiting numerous hospitals in the northern region of Uganda, it took her over three months to find a diagnosis and secure treatment for her child at CURE Hospital in Mbale. By then, it was tragically too late to prevent her child's disability, leaving her unable to attend school. Expensive mobility devices, like wheelchairs, compounded the challenge as they were inaccessible in the region. Harriet's experience is emblematic of the struggles many parents face, and she attributes her family's hope to SHAU, which provides education and assistance.
However, access to mobility devices remains a critical issue in the region. Without modernized assistive devices, children with disabilities are often carried in wheelbarrows or left on the ground due to the sheer difficulty of mobility. Schools lack essential facilities to accommodate their needs, such as adapted toilets and bathing areas. Harriet called upon the government to mandate such facilities in schools to create a more inclusive educational environment.
Despite these challenges, there are success stories. Some children with Spina bifida and Hydrocephalus have defied the odds, completing their studies and pursuing careers. These achievements underscore the importance of understanding and accommodating these children's unique needs, both in terms of education and financial support.
Kawuma Fortunate Benjamin, who has lived with Hydrocephalus for 27 years, emphasized the significance of assistive devices, such as wheelchairs, walking crutches, and prone boards, in improving daily life. He urged individuals with disabilities to cherish these devices, treat them as extensions of their bodies, and resist using them for inappropriate tasks.
Hon. Mpindi Bumali, the Member of Parliament representing persons with disabilities, commended SHAU for its efforts to improve the lives of individuals with Hydrocephalus and Spina Bifida. Bumali stressed the importance of mobility appliances for persons with disabilities, calling for the revamping of rehabilitation centers to provide affordable or free artificial limbs, crutches, and wheelchairs.
Bumali also highlighted the need to make medication more affordable for individuals with these conditions, advocating for their inclusion in the list of free medications in government facilities.
Esther Kyoziira, CEO of the National Union of Disabled Persons of Uganda (NUDIPU), called for improved service delivery for children with Spina Bifida and Hydrocephalus, particularly when it comes to affordable or free surgeries at Cure Hospital.
Efforts are also underway to educate communities about these conditions and encourage early intervention during pregnancy. Ruth Nalugya, the National Coordinator for Spina Bifida and Hydrocephalus Association of Uganda (SHAU), emphasized the importance of government support for local manufacturers of orthopedic mobility devices. She suggested that reduced taxes on materials for manufacturing could lower the prices of these crucial devices, improving accessibility.
Transportation remains a significant challenge for individuals with disabilities, with public transport often lacking the necessary accommodations. Nalugya called for better facilities and respect for those using wheelchairs and crutches on the road.
Additionally, she stressed the need for improved access to information, including sign language interpreters and clear communication from healthcare providers.
Despite the challenges and misconceptions surrounding these conditions, there is hope for change. The Assistant Commissioner of the Disability and Rehabilitation Division in the Ministry of Health, Mubangizi Andrew, outlined the ministry's efforts to provide comprehensive healthcare services for individuals with Spina Bifida and Hydrocephalus. A new policy is in the final stages, aimed at enhancing coordination and quality service delivery.
As we approach World Spina Bifida and Hydrocephalus Day on October 25th, the theme of "Accessibility for All" underscores the need for improved support and awareness for those affected by these conditions. In Uganda, an estimated 6,000 to 8,000 children are born with Spina Bifida and Hydrocephalus annually, making accessibility to specialized healthcare and mobility devices critical to improving their quality of life.
Prime Minister Robinah Nabbanja Applauds Gomba District's Thriving Agricultural Efforts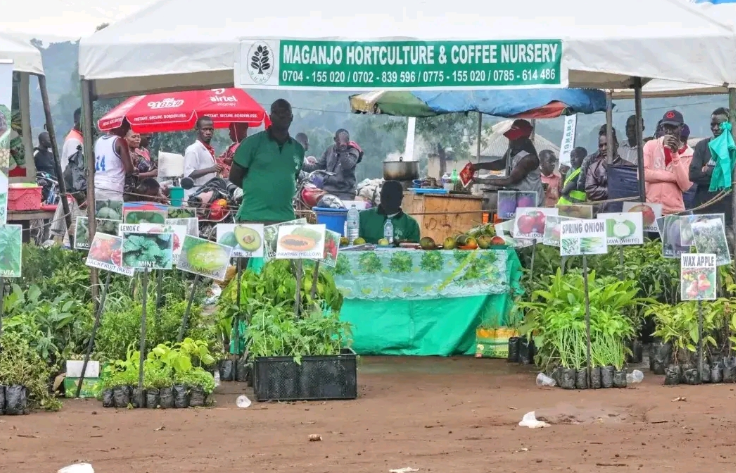 The Prime Minister of Uganda, The Right Honourable Robinah Nabbanja, expressed commendation for the residents of Gomba district, praising their active involvement in agriculture not just as a means of sustenance but as a pathway to economic prosperity.
During her address on Friday at the Gomba District Agricultural Expo organized by the Office of the Prime Minister, Nabbanja urged the community to diversify into high-value crops and adopt irrigation practices for year-round production. She emphasized that their commitment to agriculture is a crucial driver of economic growth.
The expo, attended by key figures in the agricultural sector, featured suppliers of agro-inputs and machinery, exemplary farmers, and specialists in agro-processing.
Addressing the necessity for improved electricity access, the Prime Minister reiterated the government's commitment to providing free power connections to homes. She encouraged residents to wire their houses, emphasizing that this initiative aims to elevate living standards and create economic opportunities.
Nabbanja also directed the District Health Officer to submit a letter requesting the elevation of Kanoni Health Center III to Health Center IV, aligning with the government's policy of establishing one Health Center IV in every constituency. She assured the people of Gomba West that steps would be taken to transform Kanoni Health Centre III into Health Center IV.
In a related context, Namayanja Rose Nsereko, the Deputy Secretary General of the National Resistance Movement (NRM), stressed the crucial role of community leaders in monitoring and following up on government projects. She emphasized the importance of leaders acquiring knowledge about these initiatives and effectively communicating with the public.
Namayanja underscored the significance of political participation, highlighting the NRM caucus as a key platform for strategic decision-making. She encouraged residents to support NRM flagbearers to ensure their voices are heard.
Sylvia Nayebale, the Gomba Woman MP, expressed gratitude for the government's efforts to improve electricity connectivity in the region. She acknowledged the positive impact of the reduced cost of the last-mile connection and urged for continued support and more connections to further enhance the lives of the residents.