Megan Thee Stallion Goes Independent for New Album Amid Label Dispute
Megan Thee Stallion, the chart-topping rapper, recently revealed in an Instagram Live session that she is now an independent artist without a record label. She disclosed that she will be self-funding her upcoming album. She expressed excitement about the prospect of working independently and emphasized her desire to create music on her terms.
In her Instagram Live session, she declared, "I have no label right now, we're doing everything funded straight out of Megan Thee Stallion's pocket." She shared her enthusiasm for embarking on this independent journey, noting that this feels like a return to her early days when it was just her and her mother.
Meg, who has been building anticipation for her new music, teased her return with a mysterious video clip on Twitter. The video featured her sporting vampire fangs without any accompanying audio. She captioned the post with "Let's begin." Additionally, on Instagram, she hinted at the release of "Act One" with a grid of three images that collectively spelled out the words "Act One." However, she didn't reveal a specific release date or song title.
Megan Thee Stallion recently released the lead single, "Out Alpha the Alpha," for the A24 film "Dicks: The Musical," in which she has a starring role. The film is known for its campy theme and subversive take on the classic 1998 movie "The Parent Trap.
Omusawo Tintah To Host Renowned Swiss Artist Mr. Kamanzi on Metro fm 90.8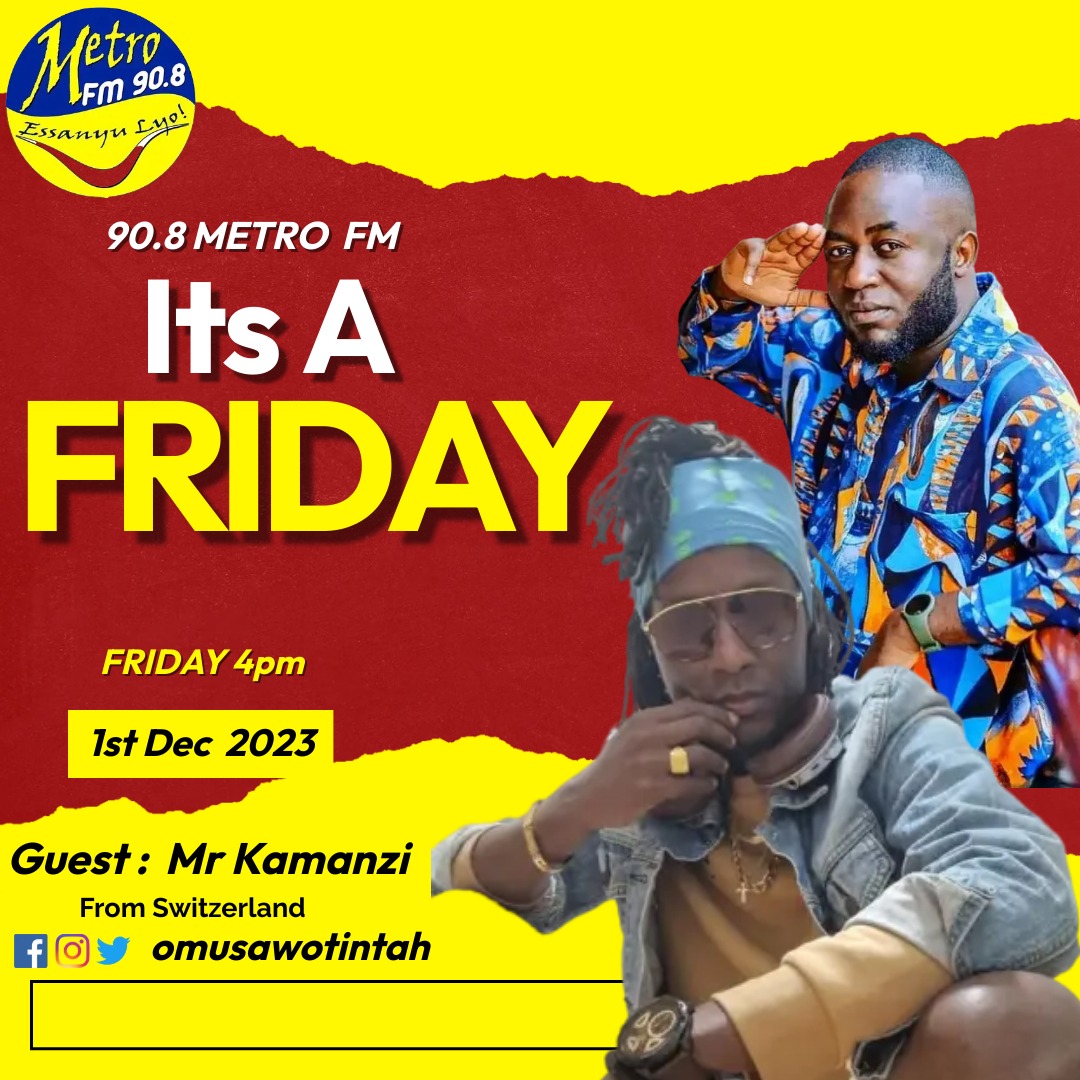 Metro FM 90.8's celebrated radio presenter and media activist, Omusawo Tintah, is gearing up to host the sensational Switzerland-based singer, Mr. Kamanzi, this Friday on his renowned radio show, Free Style Friday, running from 4 pm to 7 pm.
Omusawo Tintah's Free Style Friday has become a staple for music enthusiasts, featuring top-notch music and hosting internationally acclaimed artists. The show's popularity has soared, making it one of Uganda's most loved and trending radio programs.
Mr. Kamanzi, who is set to be the special guest on this week's episode, brings a wealth of musical talent and a captivating story to share. His journey in the world of music began at the age of 12, fueled by a deep passion for the art form. One of his childhood dreams was to perform on the grand stage, a dream that materialized in 1995 and marked the commencement of his music career.
Known for his distinctive vocal style, often referred to as "the husky voice of Africa," Mr. Kamanzi migrated to Switzerland a few years later. In 2008, he had the privilege of sharing the stage with T.o.k and Sean Paul in Dar es Salaam, Tanzania, a significant milestone in his musical journey.
With two published albums, namely "Unite" and "Today and Tomorrow," Mr. Kamanzi has made waves in the music industry. His track "Show Dem the Sign" received extensive airplay on local radio stations, solidifying his position as a notable artist. His performances have graced numerous stages across Africa and Europe, showcasing his versatility in musical genres, including Reggae, Afrobeat, Dancehall, and Pop Dancehall.
Beyond his musical accomplishments, Mr. Kamanzi's work with the Reggaenerators since 2021 has added a collaborative dimension to his career. His music carries a powerful message of upliftment, education, peace, and love, aligning with his personal motto: "Anywhere mi deh mi spread love."
As Free Style Friday prepares to host this illustrious artist, fans can anticipate an engaging and soulful session, blending Omusawo Tintah's charismatic hosting with the melodious tunes and inspiring story of Mr. Kamanzi. Tune in to Metro FM 90.8 this Friday for a musical experience that transcends borders and embraces the universal language of love through music.