VIDEO : Drake's Father, Dennis Graham, Supports His Son's Decision to Stay Silent on Israel-Palestine Conflict
Dennis Graham, father of the renowned artist Drake, has expressed his unwavering support for his son's decision to refrain from making public statements about the Israel-Palestine conflict. In a conversation with TMZ, Graham emphasized that celebrities frequently face criticism when they weigh in on contentious matters, and he believed that Drake addressing the Middle East conflict would be no exception.
Graham conveyed the notion that celebrities often find themselves "damned either way" when it comes to expressing their opinions on such contentious topics.
Drake, the Canadian rapper, has faced substantial scrutiny for his decision to remain silent regarding the ongoing conflict. Notably, DJ Vlad has been particularly vocal about Drake's silence. He pointed out that Drake, one of the most renowned Jewish figures globally, and DJ Khaled, a highly prominent Palestinian figure, have both refrained from commenting on the Gaza-Israel conflict.
In one of his remarks, DJ Vlad questioned, "Has anyone noticed that the most famous Jewish person on Earth, Drake, and the most famous Palestinian person on Earth, DJ Khaled, haven't said a single thing about the Gaza-Israel conflict?" He further remarked, "It's not like Drake is too busy. He's been writing paragraphs about Joe Budden hurting his feelings about his new album. DJ Khaled has been working overtime promoting his new Jordan sneakers. But both of them have been silent on this topic. Why is that?" DJ Vlad underscored the potential impact of their influential voices.
While Drake continues to maintain his silence on the matter, the situation in Gaza has grown increasingly dire. A United Nations report has indicated that fuel supplies in the enclave will only last for another two days, placing already overcrowded hospitals at even greater risk.
Meanwhile, the Israel Defense Forces (IDF) have instructed over one million residents of northern Gaza to evacuate to the south. However, many are hesitant to do so due to reports of Israel bombing refugee convoys.
Additionally, Israeli troops are amassing on the Gazan border, with a ground operation anticipated in the coming days. Tragically, a Reuters videographer lost his life when an Israeli shell struck a gathering of multinational journalists covering the fighting on the southern Lebanon border. Six others, identified as employees of Reuters, Al-Jazeera, and Agence France-Presse, were wounded in the incident.
Overall, over 3,600 lives have been lost in the week following a brutal Hamas incursion into Israel. Palestinian officials have emphasized that this conflict has resulted in the highest loss of life from the Palestinian side in any conflict with Israel to date.
Omusawo Tintah To Host Renowned Swiss Artist Mr. Kamanzi on Metro fm 90.8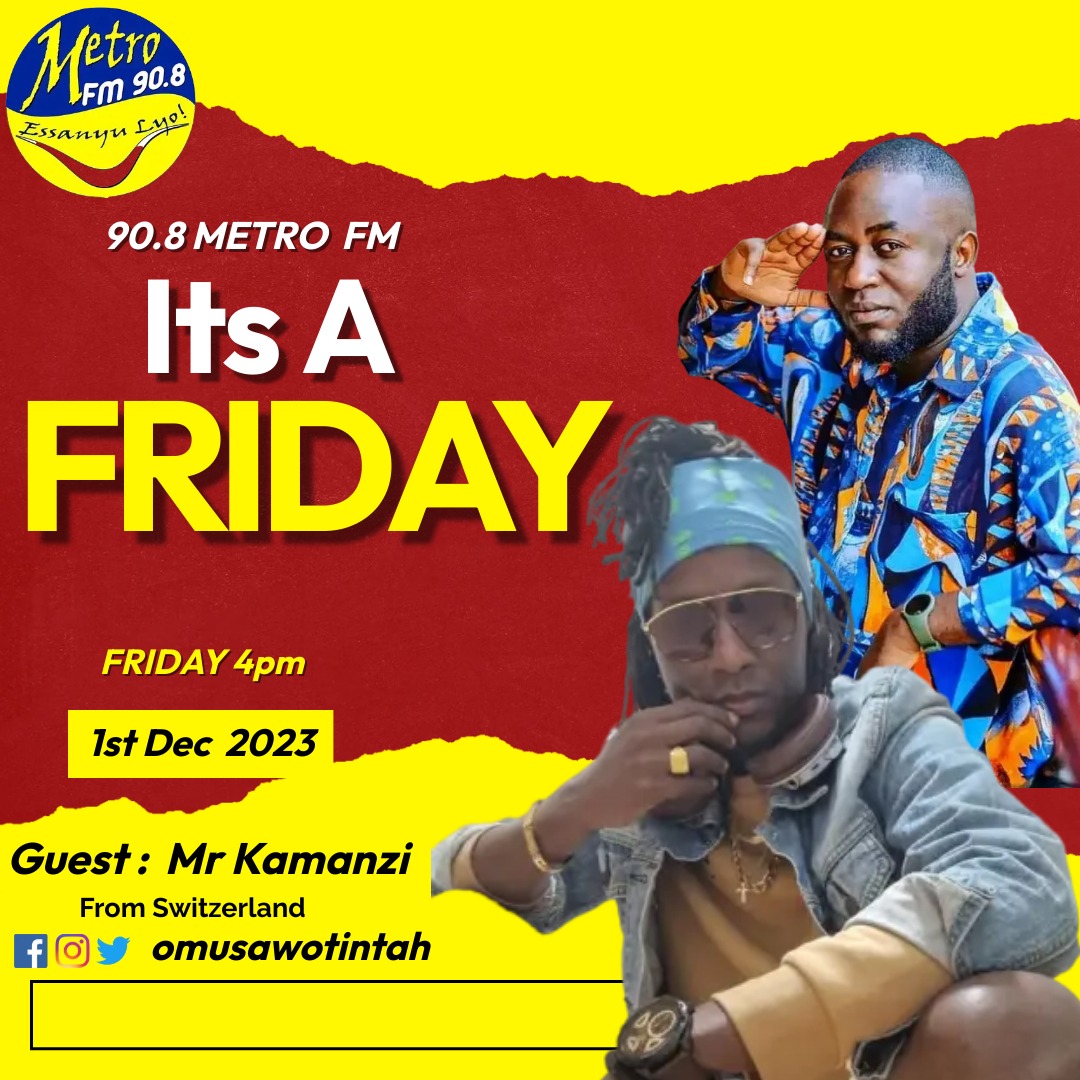 Metro FM 90.8's celebrated radio presenter and media activist, Omusawo Tintah, is gearing up to host the sensational Switzerland-based singer, Mr. Kamanzi, this Friday on his renowned radio show, Free Style Friday, running from 4 pm to 7 pm.
Omusawo Tintah's Free Style Friday has become a staple for music enthusiasts, featuring top-notch music and hosting internationally acclaimed artists. The show's popularity has soared, making it one of Uganda's most loved and trending radio programs.
Mr. Kamanzi, who is set to be the special guest on this week's episode, brings a wealth of musical talent and a captivating story to share. His journey in the world of music began at the age of 12, fueled by a deep passion for the art form. One of his childhood dreams was to perform on the grand stage, a dream that materialized in 1995 and marked the commencement of his music career.
Known for his distinctive vocal style, often referred to as "the husky voice of Africa," Mr. Kamanzi migrated to Switzerland a few years later. In 2008, he had the privilege of sharing the stage with T.o.k and Sean Paul in Dar es Salaam, Tanzania, a significant milestone in his musical journey.
With two published albums, namely "Unite" and "Today and Tomorrow," Mr. Kamanzi has made waves in the music industry. His track "Show Dem the Sign" received extensive airplay on local radio stations, solidifying his position as a notable artist. His performances have graced numerous stages across Africa and Europe, showcasing his versatility in musical genres, including Reggae, Afrobeat, Dancehall, and Pop Dancehall.
Beyond his musical accomplishments, Mr. Kamanzi's work with the Reggaenerators since 2021 has added a collaborative dimension to his career. His music carries a powerful message of upliftment, education, peace, and love, aligning with his personal motto: "Anywhere mi deh mi spread love."
As Free Style Friday prepares to host this illustrious artist, fans can anticipate an engaging and soulful session, blending Omusawo Tintah's charismatic hosting with the melodious tunes and inspiring story of Mr. Kamanzi. Tune in to Metro FM 90.8 this Friday for a musical experience that transcends borders and embraces the universal language of love through music.