VIDEO : Latto and Christina Aguilera Unveil Surprise Track and Video for Just Eat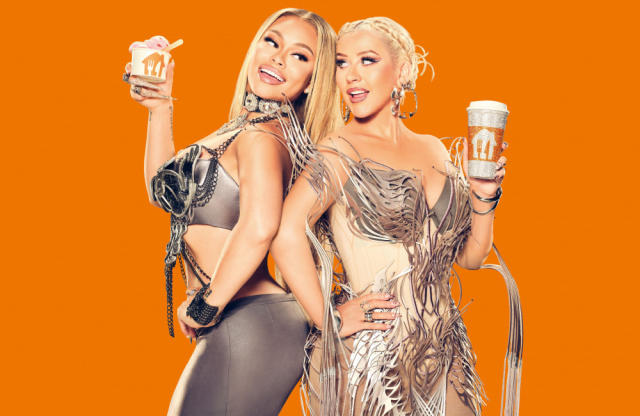 Latto and Christina Aguilera have dropped a delightful surprise for fans with a brand new song and an accompanying video that's set to whet your musical appetite. The dynamic duo released their latest project on Thursday (October 12), taking viewers on a journey down a grand staircase while dressed in elegant Victorian-style red gowns.
In the track, Latto raps, "Oh you thought it was just burgers and fries/ They got more flavors than you tasted or you heard in your life." She continues with, "Ooh — this is what the app do, It ain't only fast food, Switching styles like opera to rap too, Yummy. And it ain't only restaurants anymore, We can go bananas at the grocery store."
The unexpected collaboration is for Just Eat, a UK-based app that offers both meal delivery services from restaurants and grocery shopping, as highlighted in the song's lyrics.
Notably, Latto and Christina Aguilera aren't the first American superstars to partner with Just Eat. In November 2020, Snoop Dogg was commissioned to create a similar track and received a generous $7 million paycheck for his efforts.
The ladies initially teased the song with a mysterious exchange on Tuesday (October 10), generating excitement among their fans. Latto tweeted, "Should we tell them? [eyes and mouth covered emojis] @xtina," to which Aguilera responded, "I think it's time babe…"
Latto has established herself as a prominent collaborator in recent years. In 2022, she joined forces with Mariah Carey for a remix of her hit "Big Energy," which sampled Mariah's '90s classic "Fantasy" with the late Ol' Dirty Bastard.
Over the summer, Latto achieved a major milestone by becoming the first rapper to top the Billboard Hot 100 in 2023 with her collaboration with BTS star Jung Kook on "Seven." This marked the first No. 1 single for both Latto and Jung Kook, with "Big Energy" peaking at No. 3.
Interestingly, "Big Energy" was originally penned for Cardi B, but it found its home with Latto. Songwriter and producer Theron Thomas revealed the origin of the track, stating, "I wrote it for Cardi B. We went to Hawaii, I wrote it to that beat, and met Latto, and she was like, 'Yeah man, you know, I want to do some crossover shit.' When I meet an artist and they tell me they want to do something, it's like, okay cool. Cardi never got to hear it. We didn't get it to her."
The song featured on Latto's 777 album, released in March 2022, and garnered a Grammy nomination for Best Melodic Rap Performance at the 2023 Grammys. It also reached the No. 3 spot on the Billboard Hot 100 and topped various charts, including the Hot R&B/Hip-Hop Songs, US Mainstream Top 40, and US Rhythmic charts.
Omusawo Tintah To Host Renowned Swiss Artist Mr. Kamanzi on Metro fm 90.8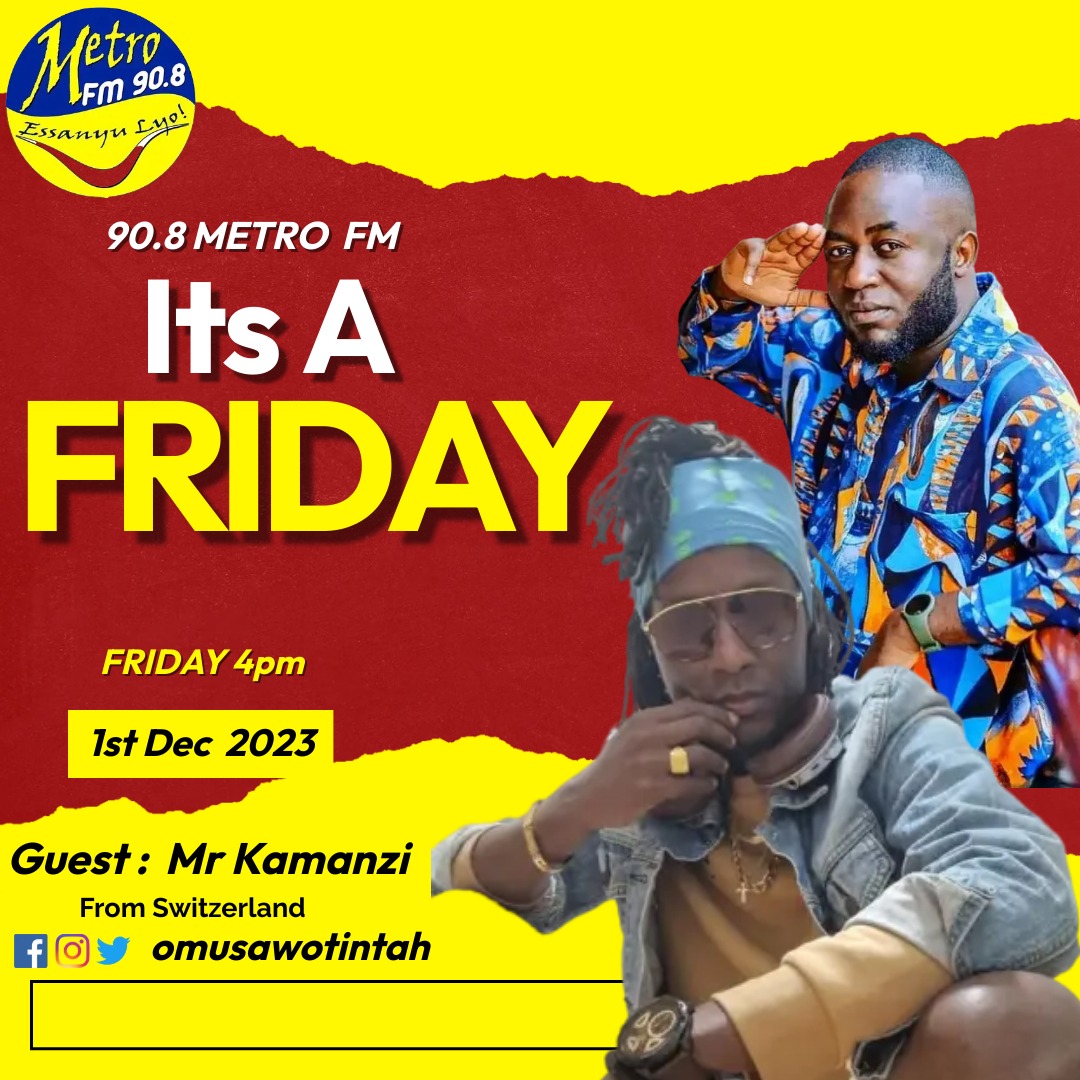 Metro FM 90.8's celebrated radio presenter and media activist, Omusawo Tintah, is gearing up to host the sensational Switzerland-based singer, Mr. Kamanzi, this Friday on his renowned radio show, Free Style Friday, running from 4 pm to 7 pm.
Omusawo Tintah's Free Style Friday has become a staple for music enthusiasts, featuring top-notch music and hosting internationally acclaimed artists. The show's popularity has soared, making it one of Uganda's most loved and trending radio programs.
Mr. Kamanzi, who is set to be the special guest on this week's episode, brings a wealth of musical talent and a captivating story to share. His journey in the world of music began at the age of 12, fueled by a deep passion for the art form. One of his childhood dreams was to perform on the grand stage, a dream that materialized in 1995 and marked the commencement of his music career.
Known for his distinctive vocal style, often referred to as "the husky voice of Africa," Mr. Kamanzi migrated to Switzerland a few years later. In 2008, he had the privilege of sharing the stage with T.o.k and Sean Paul in Dar es Salaam, Tanzania, a significant milestone in his musical journey.
With two published albums, namely "Unite" and "Today and Tomorrow," Mr. Kamanzi has made waves in the music industry. His track "Show Dem the Sign" received extensive airplay on local radio stations, solidifying his position as a notable artist. His performances have graced numerous stages across Africa and Europe, showcasing his versatility in musical genres, including Reggae, Afrobeat, Dancehall, and Pop Dancehall.
Beyond his musical accomplishments, Mr. Kamanzi's work with the Reggaenerators since 2021 has added a collaborative dimension to his career. His music carries a powerful message of upliftment, education, peace, and love, aligning with his personal motto: "Anywhere mi deh mi spread love."
As Free Style Friday prepares to host this illustrious artist, fans can anticipate an engaging and soulful session, blending Omusawo Tintah's charismatic hosting with the melodious tunes and inspiring story of Mr. Kamanzi. Tune in to Metro FM 90.8 this Friday for a musical experience that transcends borders and embraces the universal language of love through music.