VIDEO : Madonna Addresses Israel-Palestine Conflict During Celebration Tour Kickoff in London
Madonna kicked off her highly-anticipated Celebration Tour in London on Saturday, and amidst the electrifying performance, she took a moment to address the ongoing conflict in Israel and Palestine. The iconic singer expressed her heartfelt concerns over the situation and called for collective awareness to bring about peace.
As she stood before the crowd, Madonna conveyed her deep sorrow for the distressing events occurring in Israel and Palestine. She highlighted the suffering of children, teenagers, and elderly people in the region, emphasizing the heartbreaking nature of the situation. Madonna sought solidarity from the audience, asking if they shared her sentiments.
She went on to express her belief that, despite the heartbreak, their spirits must remain unbroken. Madonna acknowledged the common feelings of helplessness and hopelessness in the face of such conflicts and offered a message of empowerment. She stated, "A lot of people say, 'Well, what can I do? I'm just one person.' You feel hopeless. You feel helpless. What can we do? There's a lot we can do. First and foremost, we can say, 'I can make a difference because I individually can bring light into the world with my actions, with my words, each and every day.'"
Madonna emphasized that she was not there to lecture but to highlight the collective power that individuals possess. She encouraged the audience to unite from a place of light and love, expressing her belief in the transformative potential of collective consciousness. In her view, such unity could bring about change, not only in the Middle East but also across the entire world.
Madonna's remarks on the Israel-Palestine conflict added a somber note to the show, but she also took a moment to reflect on her own life, having faced a "serious bacterial infection" that led to her hospitalization in June. Additionally, she brought four of her children on stage to perform with her.
As The Celebration Tour continues in the coming months, audiences can anticipate further updates and memorable moments from the iconic artist.
Omusawo Tintah To Host Renowned Swiss Artist Mr. Kamanzi on Metro fm 90.8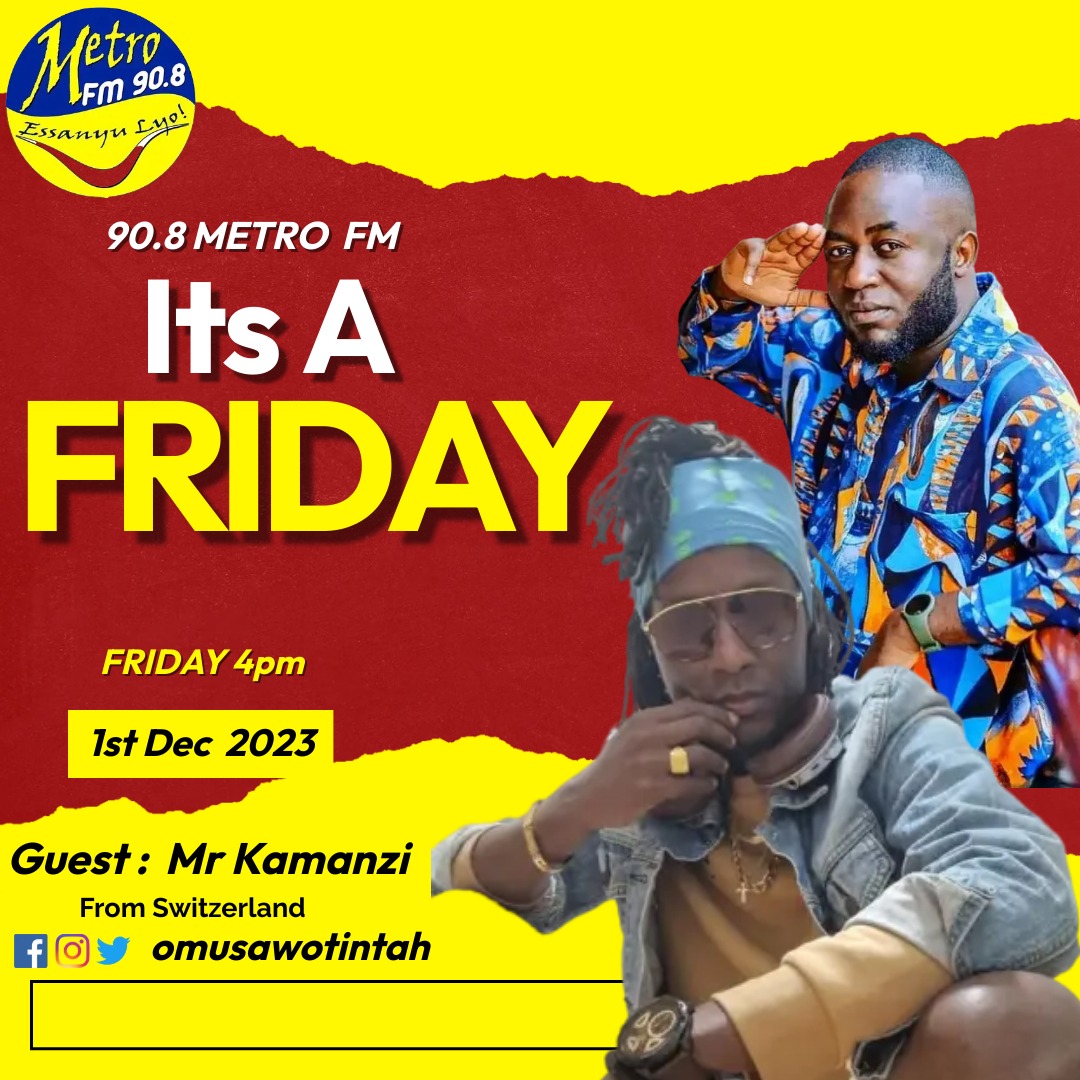 Metro FM 90.8's celebrated radio presenter and media activist, Omusawo Tintah, is gearing up to host the sensational Switzerland-based singer, Mr. Kamanzi, this Friday on his renowned radio show, Free Style Friday, running from 4 pm to 7 pm.
Omusawo Tintah's Free Style Friday has become a staple for music enthusiasts, featuring top-notch music and hosting internationally acclaimed artists. The show's popularity has soared, making it one of Uganda's most loved and trending radio programs.
Mr. Kamanzi, who is set to be the special guest on this week's episode, brings a wealth of musical talent and a captivating story to share. His journey in the world of music began at the age of 12, fueled by a deep passion for the art form. One of his childhood dreams was to perform on the grand stage, a dream that materialized in 1995 and marked the commencement of his music career.
Known for his distinctive vocal style, often referred to as "the husky voice of Africa," Mr. Kamanzi migrated to Switzerland a few years later. In 2008, he had the privilege of sharing the stage with T.o.k and Sean Paul in Dar es Salaam, Tanzania, a significant milestone in his musical journey.
With two published albums, namely "Unite" and "Today and Tomorrow," Mr. Kamanzi has made waves in the music industry. His track "Show Dem the Sign" received extensive airplay on local radio stations, solidifying his position as a notable artist. His performances have graced numerous stages across Africa and Europe, showcasing his versatility in musical genres, including Reggae, Afrobeat, Dancehall, and Pop Dancehall.
Beyond his musical accomplishments, Mr. Kamanzi's work with the Reggaenerators since 2021 has added a collaborative dimension to his career. His music carries a powerful message of upliftment, education, peace, and love, aligning with his personal motto: "Anywhere mi deh mi spread love."
As Free Style Friday prepares to host this illustrious artist, fans can anticipate an engaging and soulful session, blending Omusawo Tintah's charismatic hosting with the melodious tunes and inspiring story of Mr. Kamanzi. Tune in to Metro FM 90.8 this Friday for a musical experience that transcends borders and embraces the universal language of love through music.