VIDEO : Megan Thee Stallion Teases Upcoming Project with Snakes and Independent Spirit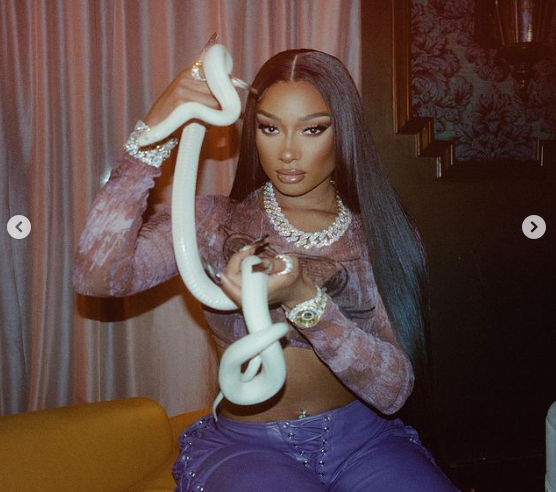 Megan Thee Stallion recently took to Instagram to share a series of photos, one of which prominently features her holding a snake. In the pictures, she is seen donning a cropped shirt and purple low-rise pants. Her caption simply consists of a snake emoji, leaving fans to speculate about the context of the post.
Although the post lacked further details, Megan's fans showered it with admiration in the comments section. One enthusiastic fan wrote, "The body is bodying, the face is facing, the look is looking, the give is absolutely giving." Another fan expressed their support for Megan's unstoppable spirit, stating, "The one thing I love about Megan is she never let anybody stop her glow."
Megan Thee Stallion's Instagram update comes as she prepares for the release of a new project. She recently confirmed on LilJuMadeDaBeat's Instagram Live that she is working independently, free from the constraints of a record label. Megan explained, "This part of my album is definitely very much funded by Megan because, you know, we're trying to get off… Y'all know what's the tea. But I have no label right now, and we're doing everything funded straight out of Megan Thee Stallion's pockets. So, the budget is coming from me. Motherfking Hot Girl Productions. The next sht y'all about to see is all straight from Megan Thee Stallion… We in my pockets, hotties, so let's do our big one. I'm so excited to be doing something for the first time independent since it was just me and my mama. So excited 'cause it's really just me this go-round until we sign to a new label. But I don't want to sign to a new label right now because I just want to do it myself… So hotties, do your f**king big one 'cause it's just us."
Megan's last album, "Traumazine," was released over a year ago, featuring a roster of guest appearances from artists such as Latto, Pooh Shiesty, Rico Nasty, Jhené Aiko, Lucky Daye, Sauce Walka, Lil' Keke, Key Glock, and Big Pokey. Her fans are eagerly anticipating her upcoming independent work.
Omusawo Tintah To Host Renowned Swiss Artist Mr. Kamanzi on Metro fm 90.8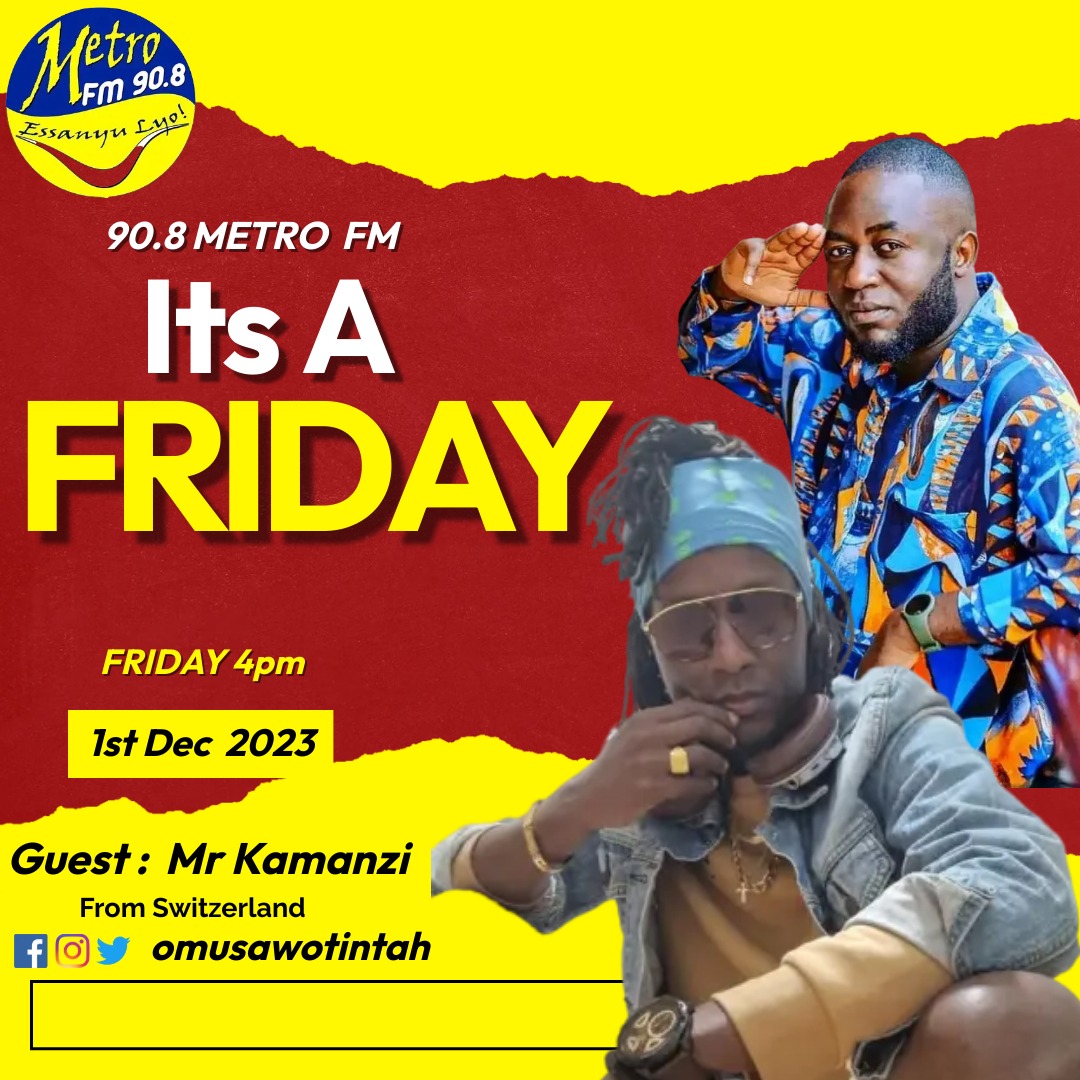 Metro FM 90.8's celebrated radio presenter and media activist, Omusawo Tintah, is gearing up to host the sensational Switzerland-based singer, Mr. Kamanzi, this Friday on his renowned radio show, Free Style Friday, running from 4 pm to 7 pm.
Omusawo Tintah's Free Style Friday has become a staple for music enthusiasts, featuring top-notch music and hosting internationally acclaimed artists. The show's popularity has soared, making it one of Uganda's most loved and trending radio programs.
Mr. Kamanzi, who is set to be the special guest on this week's episode, brings a wealth of musical talent and a captivating story to share. His journey in the world of music began at the age of 12, fueled by a deep passion for the art form. One of his childhood dreams was to perform on the grand stage, a dream that materialized in 1995 and marked the commencement of his music career.
Known for his distinctive vocal style, often referred to as "the husky voice of Africa," Mr. Kamanzi migrated to Switzerland a few years later. In 2008, he had the privilege of sharing the stage with T.o.k and Sean Paul in Dar es Salaam, Tanzania, a significant milestone in his musical journey.
With two published albums, namely "Unite" and "Today and Tomorrow," Mr. Kamanzi has made waves in the music industry. His track "Show Dem the Sign" received extensive airplay on local radio stations, solidifying his position as a notable artist. His performances have graced numerous stages across Africa and Europe, showcasing his versatility in musical genres, including Reggae, Afrobeat, Dancehall, and Pop Dancehall.
Beyond his musical accomplishments, Mr. Kamanzi's work with the Reggaenerators since 2021 has added a collaborative dimension to his career. His music carries a powerful message of upliftment, education, peace, and love, aligning with his personal motto: "Anywhere mi deh mi spread love."
As Free Style Friday prepares to host this illustrious artist, fans can anticipate an engaging and soulful session, blending Omusawo Tintah's charismatic hosting with the melodious tunes and inspiring story of Mr. Kamanzi. Tune in to Metro FM 90.8 this Friday for a musical experience that transcends borders and embraces the universal language of love through music.