VIDEO : Sexyy Red Shares Baby Bump Photos, Fueling Pregnancy Speculations
Sexyy Red has ignited speculation about her pregnancy after sharing a series of Instagram photos on Saturday, October 14. In the images, the "Pound Town" rapper is seen cradling her growing belly, while in one of the photos, she's joined by SZA, who is down on one knee, gently holding Sexyy Red's arm and placing her other hand below her stomach.
In the comment section, Red wrote, "Team boy or team girl @SZA." In a subsequent post, Sexyy Red posted a photo of herself indulging in some food with the caption, "Fat Ma."
Sexyy Red has faced a tumultuous month, with recent incidents stirring public attention. Last week, explicit footage of her appeared on her Instagram Story, sparking questions about whether she had intentionally leaked the content. She later addressed the situation on Twitter, expressing her dismay and stating, "I'm so heartbroken anybody that knows me knows I wouldn't do no goofy s### like that."
Prior to this incident, a video of Sexyy Red endorsing Republican politician Donald Trump went viral. During an appearance on the This Past Weekend podcast, she expressed her support for Trump and his policies, particularly those related to criminal justice reform and financial assistance. She stated, "I like Trump. Yeah, they support him in the hood. At first, I don't think people were messing with him. They thought he was racist, saying little stuff against women. But once he started getting Black people out of jail and giving people that free money. Awe, baby, we love Trump. We need him back in office. We need him back, because, baby, them checks. Ooh yes, them stimulus checks. Trump, we miss you. I love Trump, he funny to me. We need people like him."
Following the controversy surrounding the sex tape, some speculated that its release was a tactic to divert attention from her remarks about Trump, while others suspected it was a result of revenge pornography. Regardless, these recent events have added to the challenges and scrutiny Sexyy Red currently faces.
Omusawo Tintah To Host Renowned Swiss Artist Mr. Kamanzi on Metro fm 90.8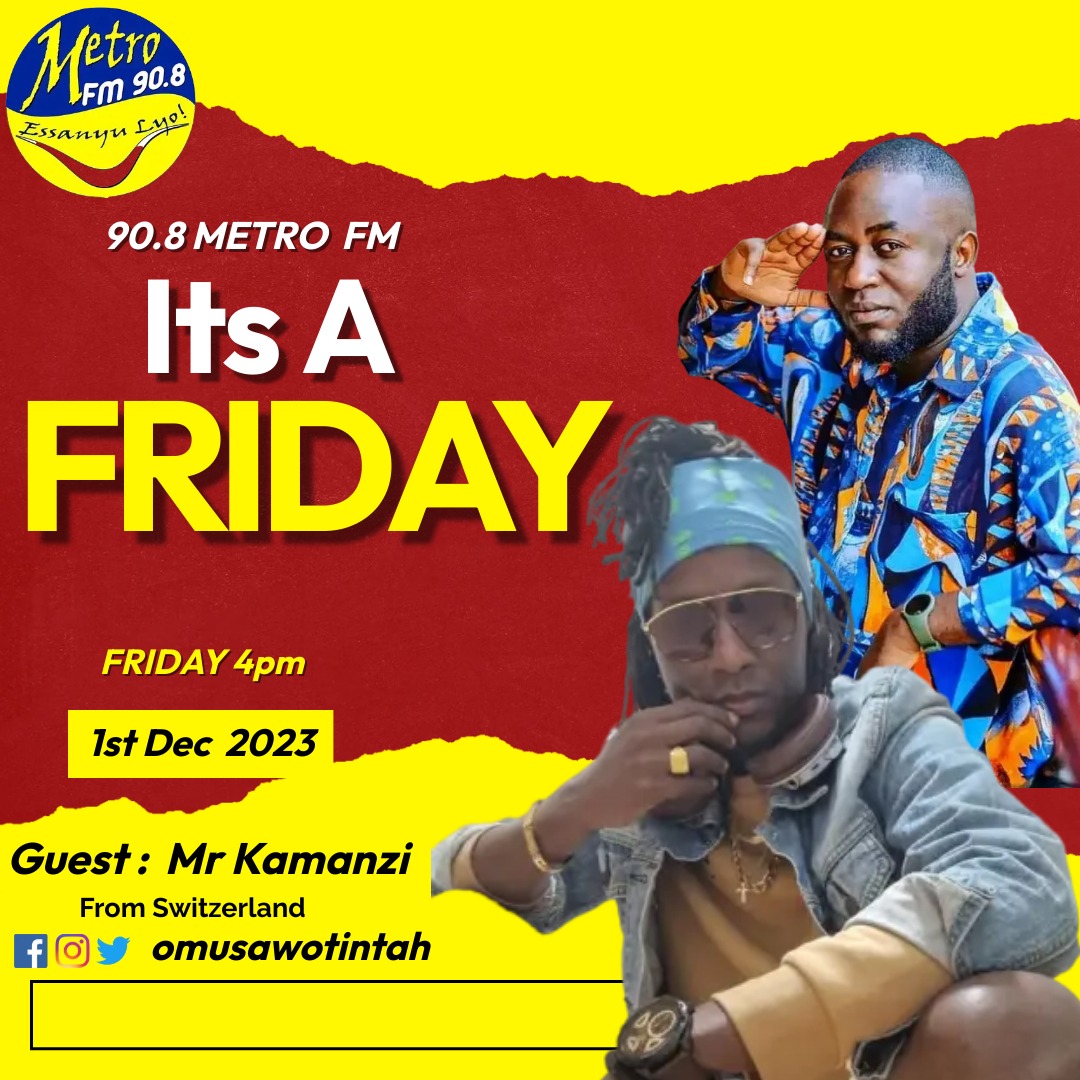 Metro FM 90.8's celebrated radio presenter and media activist, Omusawo Tintah, is gearing up to host the sensational Switzerland-based singer, Mr. Kamanzi, this Friday on his renowned radio show, Free Style Friday, running from 4 pm to 7 pm.
Omusawo Tintah's Free Style Friday has become a staple for music enthusiasts, featuring top-notch music and hosting internationally acclaimed artists. The show's popularity has soared, making it one of Uganda's most loved and trending radio programs.
Mr. Kamanzi, who is set to be the special guest on this week's episode, brings a wealth of musical talent and a captivating story to share. His journey in the world of music began at the age of 12, fueled by a deep passion for the art form. One of his childhood dreams was to perform on the grand stage, a dream that materialized in 1995 and marked the commencement of his music career.
Known for his distinctive vocal style, often referred to as "the husky voice of Africa," Mr. Kamanzi migrated to Switzerland a few years later. In 2008, he had the privilege of sharing the stage with T.o.k and Sean Paul in Dar es Salaam, Tanzania, a significant milestone in his musical journey.
With two published albums, namely "Unite" and "Today and Tomorrow," Mr. Kamanzi has made waves in the music industry. His track "Show Dem the Sign" received extensive airplay on local radio stations, solidifying his position as a notable artist. His performances have graced numerous stages across Africa and Europe, showcasing his versatility in musical genres, including Reggae, Afrobeat, Dancehall, and Pop Dancehall.
Beyond his musical accomplishments, Mr. Kamanzi's work with the Reggaenerators since 2021 has added a collaborative dimension to his career. His music carries a powerful message of upliftment, education, peace, and love, aligning with his personal motto: "Anywhere mi deh mi spread love."
As Free Style Friday prepares to host this illustrious artist, fans can anticipate an engaging and soulful session, blending Omusawo Tintah's charismatic hosting with the melodious tunes and inspiring story of Mr. Kamanzi. Tune in to Metro FM 90.8 this Friday for a musical experience that transcends borders and embraces the universal language of love through music.