VIDEO : Yebba Responds to Drake's Demand, Unveils Sampled Song from "Polar Opposites"
Yebba has put a smile on Drake's face by fulfilling his request for the release of a sampled song. The request stemmed from an Instagram Stories post by Drake in which he urged the Arkansas singer to release the full song that appeared at the end of "Polar Opposites," a track from his eighth studio album, "For All the Dogs."
In his Stories, Drake wrote, "@yebbasmith drop the full song from the end of 'Polar Opposites.' This is not a request; it's a demand [lock emoji]."
Yebba acknowledged Drake's demand by reposting his message and responding with crying laughing and pink hearts emojis, signaling her willingness to oblige.
In a subsequent Instagram story, Yebba shared a snippet of the track, titled "Waterfall (I adore you)," and tagged all the collaborators involved in its creation to seek their permission for the full track's release. She explained her decision by saying, "Drake said it, so we must."
Yebba then posted the same part of the song that appears at the end of "Polar Opposites" on her Instagram feed, this time in its regular pitch. Drake, elated by her prompt response, commented with a series of "Yes" expressions.
Drake and Yebba previously collaborated on the soulful fan-favorite track, "Yebba's Heartbreak," featured on Drake's sixth album, "Certified Lover Boy."
While Drake is making specific requests for tracks, he's also embroiled in a friendly competition with J. Cole on their collaborative project "For All the Dogs." When asked about the winner in the Drake vs. J. Cole face-off on the J. Cole-assisted "First Person Shooter," JID, an artist under J. Cole's Dreamville label, sided with his boss.
"I'ma go with J. Cole all day. It wasn't even close," JID stated. "We love Drake though, but I don't know."
Before revealing his choice, JID also gave a shoutout to Yeat, but he didn't specify if he thought Yeat outperformed Drake on their collaboration "IDGAF."
"First Person Shooter" marks the first Drake-Cole collaboration since 2013's "Jodeci Freestyle." The track is vying for the No. 1 spot on the Billboard Hot 100, which would mark J. Cole's first chart-topper.
Drake has another track in the running for No. 1, his collaboration with Yeat on "IDGAF." If either of these tracks reaches the top spot, Drake will tie Michael Jackson for the most No. 1 hits by a male soloist on the Billboard Hot 100, drawing him closer to Rihanna and Mariah Carey, who currently hold more No. 1 hits in this category.
Omusawo Tintah To Host Renowned Swiss Artist Mr. Kamanzi on Metro fm 90.8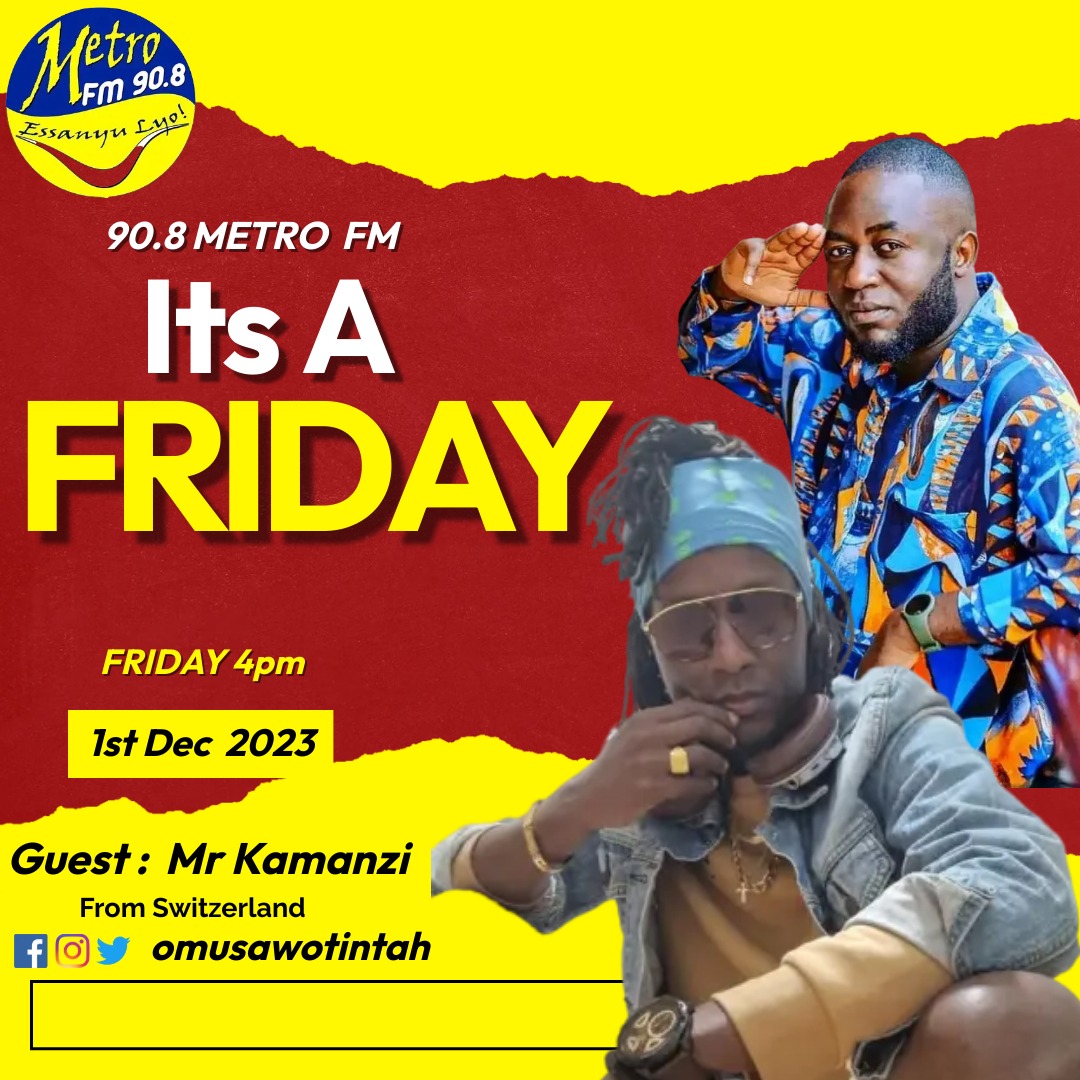 Metro FM 90.8's celebrated radio presenter and media activist, Omusawo Tintah, is gearing up to host the sensational Switzerland-based singer, Mr. Kamanzi, this Friday on his renowned radio show, Free Style Friday, running from 4 pm to 7 pm.
Omusawo Tintah's Free Style Friday has become a staple for music enthusiasts, featuring top-notch music and hosting internationally acclaimed artists. The show's popularity has soared, making it one of Uganda's most loved and trending radio programs.
Mr. Kamanzi, who is set to be the special guest on this week's episode, brings a wealth of musical talent and a captivating story to share. His journey in the world of music began at the age of 12, fueled by a deep passion for the art form. One of his childhood dreams was to perform on the grand stage, a dream that materialized in 1995 and marked the commencement of his music career.
Known for his distinctive vocal style, often referred to as "the husky voice of Africa," Mr. Kamanzi migrated to Switzerland a few years later. In 2008, he had the privilege of sharing the stage with T.o.k and Sean Paul in Dar es Salaam, Tanzania, a significant milestone in his musical journey.
With two published albums, namely "Unite" and "Today and Tomorrow," Mr. Kamanzi has made waves in the music industry. His track "Show Dem the Sign" received extensive airplay on local radio stations, solidifying his position as a notable artist. His performances have graced numerous stages across Africa and Europe, showcasing his versatility in musical genres, including Reggae, Afrobeat, Dancehall, and Pop Dancehall.
Beyond his musical accomplishments, Mr. Kamanzi's work with the Reggaenerators since 2021 has added a collaborative dimension to his career. His music carries a powerful message of upliftment, education, peace, and love, aligning with his personal motto: "Anywhere mi deh mi spread love."
As Free Style Friday prepares to host this illustrious artist, fans can anticipate an engaging and soulful session, blending Omusawo Tintah's charismatic hosting with the melodious tunes and inspiring story of Mr. Kamanzi. Tune in to Metro FM 90.8 this Friday for a musical experience that transcends borders and embraces the universal language of love through music.