Reggae Dancehall Veteran Jah Teff Soars with His Latest Album, "Money Grow Wing"
Jamaican artist Jah Teff, a prominent figure in the Reggae Dancehall genre, is on the verge of promoting his newest musical masterpiece, "Money Grow Wing." This marks his second album, which saw its release on August 17, 2023, under his own label, Up Deh Music Productions. Comprising nine distinct tracks, the album showcases Jah Teff's artistic evolution as he collaborates with a variety of producers in an endeavor to expand his reach beyond the confines of the Dancehall realm.
Speaking about his latest offering, Jah Teff eagerly expressed, "This album is brimming with infectious vibes and head-nodding beats." What sets "Money Grow Wing" apart, he notes, is its reflection of his personal growth and over 25 years of experience in the music industry.
He further elaborates, saying, "This album is dedicated to my life's journey and my evolution within the music industry. The tremendous growth and invaluable experience I've gained over the years are deeply embedded in every track."
Among the standout tracks on "Money Grow Wing" is "Chop A Chop," produced by Jermaine Frazer, and "Erectile Dysfunction," brought to life by the skilled hands of Omarie Lawrence. Jah Teff's inaugural album, "Pan A Knock," made its debut in 2015, an era when the Jamaican artist had already made significant strides in his homeland and the United States. Notably, it was Bounty Killer, a renowned producer, who gave birth to "Exercise," Jah Teff's debut track, back in 1996.
Jah Teff's music journey boasts several milestones, with his most prominent song to date being "Can't Sleep," featuring Kiesha Martin. Released in January 2023, this track has garnered over 4,500 streams, attesting to the artist's enduring appeal.
Born as Gary Johnson in the scenic city of Montego Bay, renowned for its contribution to Jamaican tourism and music culture, Jah Teff hails from a place with a rich musical legacy. This region has given birth to iconic acts like The Blues Busters, singer A J Brown, singer/bassist Benjy Myaz, and the acclaimed session drummer Kirk Bennett, who is instrumental in contemporary Reggae.
However, for an artist with aspirations to make it big in Jamaican music, Kingston becomes the ultimate destination, and Jah Teff made this move in the early 1990s. In the capital city, he rubbed shoulders with esteemed producers like Jack Scorpio and shared stages with legendary acts such as Bounty Killer and Anthony B. Notably, it was Anthony B, a fellow Western Jamaica native, who took Jah Teff on his first U.S. tour over a decade ago.
Over the years, Jah Teff has graced the stages of prestigious events, including the Bob Marley Concert in Los Angeles, the Miami Sound Fest, and the New York City Benefit Concert.
Currently residing in the United States, Jah Teff has introduced "Money Grow Wing" to the world through his very own label, Up Deh Music Productions. The album serves as a testament to his unwavering dedication to Reggae Dancehall and his ceaseless quest for artistic growth.
Omusawo Tintah To Host Renowned Swiss Artist Mr. Kamanzi on Metro fm 90.8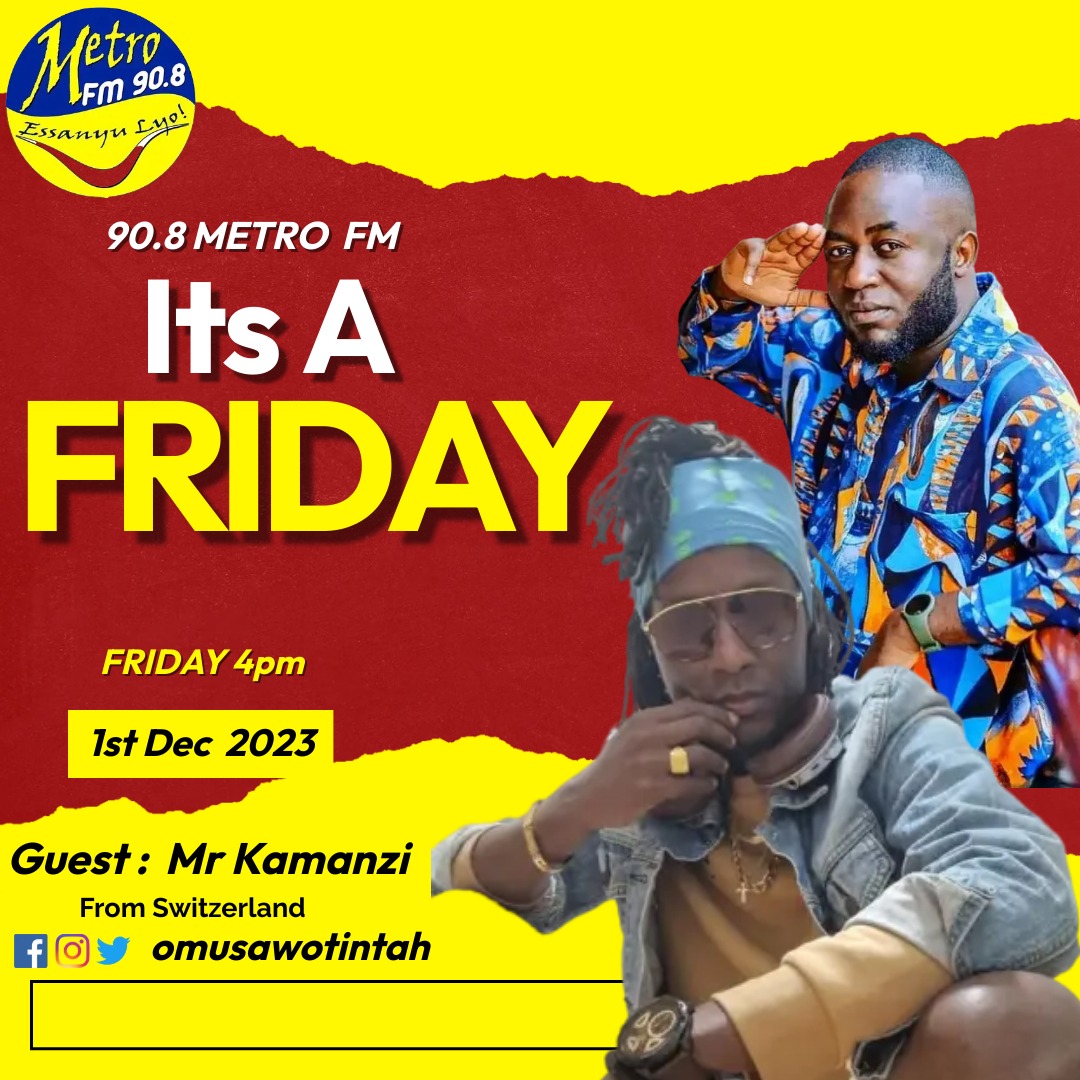 Metro FM 90.8's celebrated radio presenter and media activist, Omusawo Tintah, is gearing up to host the sensational Switzerland-based singer, Mr. Kamanzi, this Friday on his renowned radio show, Free Style Friday, running from 4 pm to 7 pm.
Omusawo Tintah's Free Style Friday has become a staple for music enthusiasts, featuring top-notch music and hosting internationally acclaimed artists. The show's popularity has soared, making it one of Uganda's most loved and trending radio programs.
Mr. Kamanzi, who is set to be the special guest on this week's episode, brings a wealth of musical talent and a captivating story to share. His journey in the world of music began at the age of 12, fueled by a deep passion for the art form. One of his childhood dreams was to perform on the grand stage, a dream that materialized in 1995 and marked the commencement of his music career.
Known for his distinctive vocal style, often referred to as "the husky voice of Africa," Mr. Kamanzi migrated to Switzerland a few years later. In 2008, he had the privilege of sharing the stage with T.o.k and Sean Paul in Dar es Salaam, Tanzania, a significant milestone in his musical journey.
With two published albums, namely "Unite" and "Today and Tomorrow," Mr. Kamanzi has made waves in the music industry. His track "Show Dem the Sign" received extensive airplay on local radio stations, solidifying his position as a notable artist. His performances have graced numerous stages across Africa and Europe, showcasing his versatility in musical genres, including Reggae, Afrobeat, Dancehall, and Pop Dancehall.
Beyond his musical accomplishments, Mr. Kamanzi's work with the Reggaenerators since 2021 has added a collaborative dimension to his career. His music carries a powerful message of upliftment, education, peace, and love, aligning with his personal motto: "Anywhere mi deh mi spread love."
As Free Style Friday prepares to host this illustrious artist, fans can anticipate an engaging and soulful session, blending Omusawo Tintah's charismatic hosting with the melodious tunes and inspiring story of Mr. Kamanzi. Tune in to Metro FM 90.8 this Friday for a musical experience that transcends borders and embraces the universal language of love through music.