Sama Sojah Unveils Mesmerizing "Nalukwago" Music Video – A Reggae Afrobeat
Ugandan artist Sama Sojah, renowned for his boundless innovation and musical creativity, has returned with a captivating offering that's set to leave an indelible mark on the music scene. The official music video for "Nalukwago," released in September 2023, is a testament to Sama Sojah's versatility and his unique ability to blend traditional Ugandan music with the pulsating rhythms of afrobeat and dancehall reggae. This artistic fusion creates a mesmerizing soundscape that is both refreshing and entrancing.
As an artist with a prolific career in the realms of Reggae and Dancehall, Sama Sojah is celebrated for his exceptional lyricism and his capacity to craft musical dialogues that push the boundaries of conventional sound. His willingness to infuse traditional Ugandan melodies with the vibrant energy of afro-beats and the distinctive pulse of dancehall reggae showcases his versatility, making him a collaborative gem in the world of music.
The "Nalukwago" music video is more than just a visual representation of Sama Sojah's musical artistry; it's a vivid journey into a world where sound and culture collide. The reggae afrobeat genre, to which Sama Sojah has breathed fresh life, brings forth an eclectic mix of rhythms, harmonies, and influences that are as diverse as the artist himself.
The collaboration between Sama Sojah and the talented producers Rinex, Basta, and Herbert Skillz has yielded a musical tapestry that captivates from the very first note. It's a testament to the artist's knack for pushing the boundaries and experimenting with sounds to create a unique sonic experience.
The official music video for "Nalukwago" was brought to life under the keen direction of Zyga Phix, a visionary in the world of visual storytelling. Zyga Phix's direction perfectly complements the song's pulsating energy, creating a visual narrative that resonates with the fusion of tradition and modernity that defines Sama Sojah's music.
Sama Sojah's "Nalukwago" is more than just a song; it's a cultural and musical exploration. It is an invitation to traverse the rich tapestry of Ugandan sounds and contemporary afrobeat and dancehall reggae. As this Ugandan artist continues to make strides in the industry, "Nalukwago" stands as a testament to his innovative spirit, and its release in September 2023 is a testament to his unwavering commitment to pushing the boundaries of music.
Omusawo Tintah To Host Renowned Swiss Artist Mr. Kamanzi on Metro fm 90.8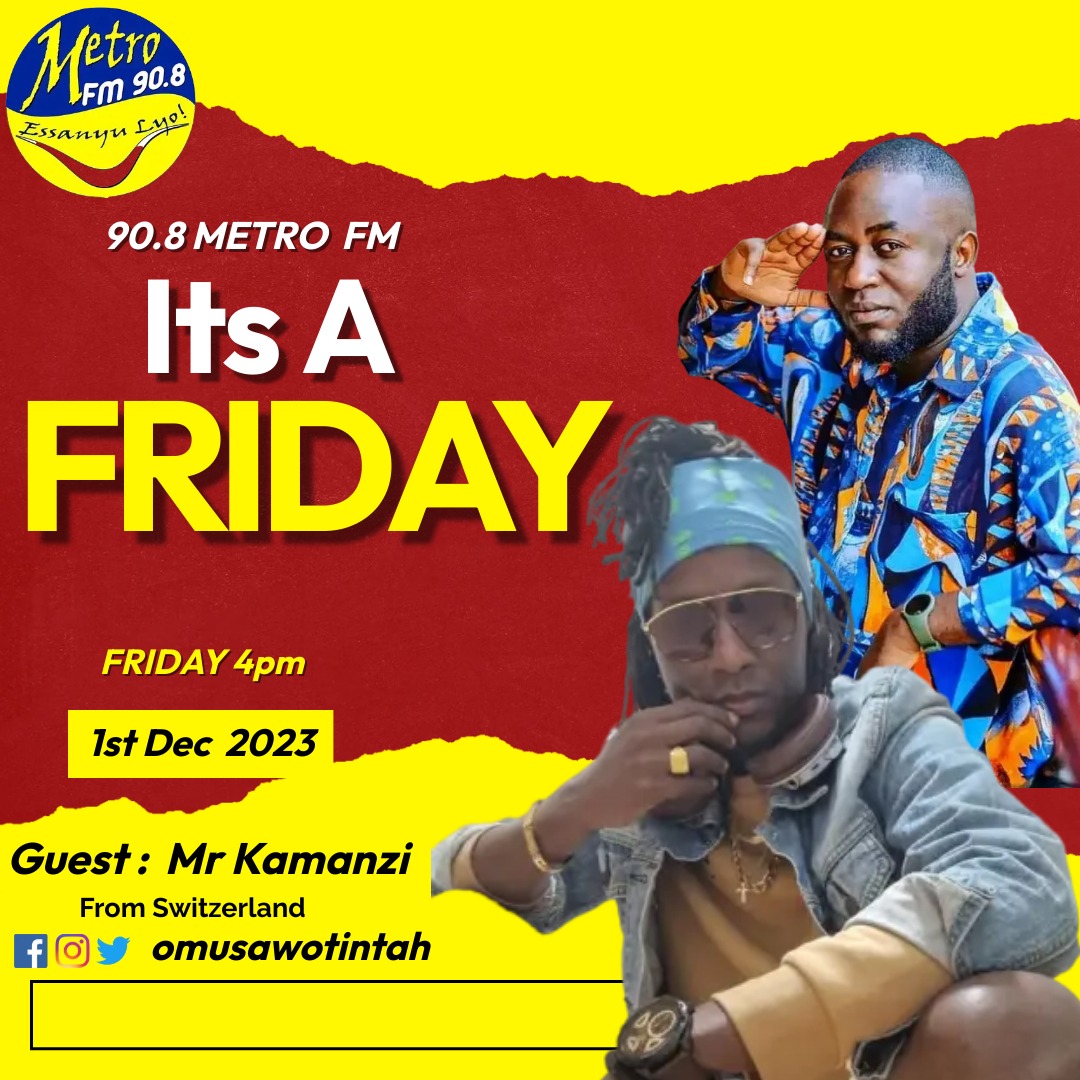 Metro FM 90.8's celebrated radio presenter and media activist, Omusawo Tintah, is gearing up to host the sensational Switzerland-based singer, Mr. Kamanzi, this Friday on his renowned radio show, Free Style Friday, running from 4 pm to 7 pm.
Omusawo Tintah's Free Style Friday has become a staple for music enthusiasts, featuring top-notch music and hosting internationally acclaimed artists. The show's popularity has soared, making it one of Uganda's most loved and trending radio programs.
Mr. Kamanzi, who is set to be the special guest on this week's episode, brings a wealth of musical talent and a captivating story to share. His journey in the world of music began at the age of 12, fueled by a deep passion for the art form. One of his childhood dreams was to perform on the grand stage, a dream that materialized in 1995 and marked the commencement of his music career.
Known for his distinctive vocal style, often referred to as "the husky voice of Africa," Mr. Kamanzi migrated to Switzerland a few years later. In 2008, he had the privilege of sharing the stage with T.o.k and Sean Paul in Dar es Salaam, Tanzania, a significant milestone in his musical journey.
With two published albums, namely "Unite" and "Today and Tomorrow," Mr. Kamanzi has made waves in the music industry. His track "Show Dem the Sign" received extensive airplay on local radio stations, solidifying his position as a notable artist. His performances have graced numerous stages across Africa and Europe, showcasing his versatility in musical genres, including Reggae, Afrobeat, Dancehall, and Pop Dancehall.
Beyond his musical accomplishments, Mr. Kamanzi's work with the Reggaenerators since 2021 has added a collaborative dimension to his career. His music carries a powerful message of upliftment, education, peace, and love, aligning with his personal motto: "Anywhere mi deh mi spread love."
As Free Style Friday prepares to host this illustrious artist, fans can anticipate an engaging and soulful session, blending Omusawo Tintah's charismatic hosting with the melodious tunes and inspiring story of Mr. Kamanzi. Tune in to Metro FM 90.8 this Friday for a musical experience that transcends borders and embraces the universal language of love through music.