Soulful Sensation Pipelyne Releases Heartfelt Single "She Deserve (Married)
Singer-songwriter Pipelyne, celebrated for his soulful and emotive music, is all set to enchant the world with his latest single, "She Deserve (Married)." This touching and deeply personal track, based on a true story, is a heartfelt tribute to Pipelyne's beloved wife, a testament to the profound love and appreciation he holds for her. Produced in collaboration with the renowned DJ Treasure Music, "She Deserve (Married)" is a harmonious fusion of soulful melodies and poignant lyrics that is sure to strike a chord with listeners.
Pipelyne's signature smooth vocals and emotionally charged delivery breathe life into the narrative, creating an enchanting and deeply moving musical journey. Fans of Pipelyne, as well as music enthusiasts from all walks of life, are eagerly anticipating the release of this much-anticipated single.
At the core of "She Deserve (Married)" lies a captivating love story. It's not just a song; it's a heartfelt expression of love and gratitude, which makes it all the more special. Pipelyne's ability to weave meaningful stories into his music has always been a hallmark of his artistry, and this latest offering is no exception.
Pipelyne's decision to collaborate with DJ Treasure Music, a renowned figure in the music industry, adds a layer of excellence to the single. Their combined creative energies have resulted in a track that boasts both depth and authenticity. The melodies and rhythms in "She Deserve (Married)" are sure to resonate with a wide audience, transcending genres and boundaries.
As the release date of "She Deserve (Married)" draws near, anticipation is building within Pipelyne's fan base. His music has the unique ability to connect with people on a profound level, and this single is expected to be no different. It promises to be a memorable addition to his discography, shining a spotlight on the power of love and devotion.
For those eagerly awaiting this musical gem, the wait is nearly over. Pipelyne's "She Deserve (Married)" is set to take you on an emotional journey through the power of music and the beauty of a love story. Stay tuned for its release and immerse yourself in the captivating narrative crafted by Pipelyne.
Omusawo Tintah To Host Renowned Swiss Artist Mr. Kamanzi on Metro fm 90.8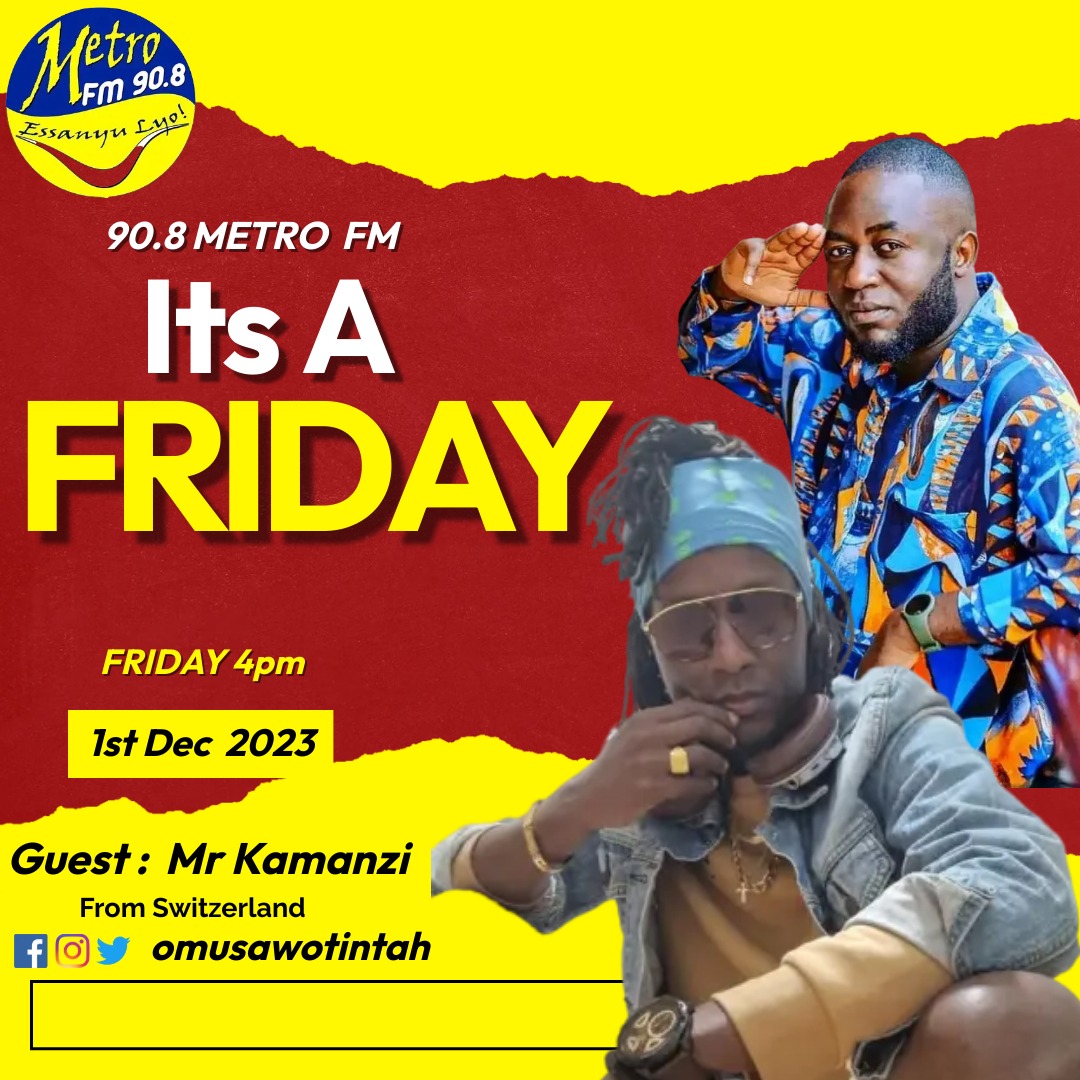 Metro FM 90.8's celebrated radio presenter and media activist, Omusawo Tintah, is gearing up to host the sensational Switzerland-based singer, Mr. Kamanzi, this Friday on his renowned radio show, Free Style Friday, running from 4 pm to 7 pm.
Omusawo Tintah's Free Style Friday has become a staple for music enthusiasts, featuring top-notch music and hosting internationally acclaimed artists. The show's popularity has soared, making it one of Uganda's most loved and trending radio programs.
Mr. Kamanzi, who is set to be the special guest on this week's episode, brings a wealth of musical talent and a captivating story to share. His journey in the world of music began at the age of 12, fueled by a deep passion for the art form. One of his childhood dreams was to perform on the grand stage, a dream that materialized in 1995 and marked the commencement of his music career.
Known for his distinctive vocal style, often referred to as "the husky voice of Africa," Mr. Kamanzi migrated to Switzerland a few years later. In 2008, he had the privilege of sharing the stage with T.o.k and Sean Paul in Dar es Salaam, Tanzania, a significant milestone in his musical journey.
With two published albums, namely "Unite" and "Today and Tomorrow," Mr. Kamanzi has made waves in the music industry. His track "Show Dem the Sign" received extensive airplay on local radio stations, solidifying his position as a notable artist. His performances have graced numerous stages across Africa and Europe, showcasing his versatility in musical genres, including Reggae, Afrobeat, Dancehall, and Pop Dancehall.
Beyond his musical accomplishments, Mr. Kamanzi's work with the Reggaenerators since 2021 has added a collaborative dimension to his career. His music carries a powerful message of upliftment, education, peace, and love, aligning with his personal motto: "Anywhere mi deh mi spread love."
As Free Style Friday prepares to host this illustrious artist, fans can anticipate an engaging and soulful session, blending Omusawo Tintah's charismatic hosting with the melodious tunes and inspiring story of Mr. Kamanzi. Tune in to Metro FM 90.8 this Friday for a musical experience that transcends borders and embraces the universal language of love through music.