VIDEO : Chris Evans Reveals the Delightful Details of His Two Secret Wedding Ceremonies with Wife Alba Baptista
In a heartwarming revelation, actor Chris Evans shared some intimate details of his recent nuptials during a New York Comic Con appearance. The Avenger star confirmed his marriage to Alba Baptista and charmed the audience by disclosing that the couple actually had not one but two wedding ceremonies, one on the picturesque shores of Cape Cod and another in the enchanting land of Portugal.
"I got married; it was really, really great. We kind of had two ceremonies. We had one on the east coast, and we did one in Portugal," Chris told the captivated audience. He went on to express, "They were wonderful and beautiful. It's a lot of planning a wedding. For those of you who are married, you know it takes a lot out of you. But now we're through it, we've just been enjoying life, gearing up for Autumn, my favorite season. Now we're just relaxing, enjoying life, and reflecting."
The couple exchanged their vows during a charming Cape Cod ceremony on September 9th, which undoubtedly left a lasting impression on all who attended. While this charming revelation delights fans of the Marvel star, the couple's journey to matrimony was not without its share of intrigue and speculation.
The world became aware of their relationship when Chris Evans, aged 42, confirmed his romance with the 26-year-old Alba Baptista. This confirmation came through a heartwarming video compilation shared on Chris's Instagram, a gesture that instantly warmed the hearts of many. It was in November 2022, almost a year before this confirmation, that reports first surfaced regarding their budding relationship, raising the curiosity of fans and onlookers alike.
Their love story appears to have unfolded amidst the bright spotlight, with Chris having been named "Sexiest Man Alive" for 2022 by People magazine, a title that added an extra layer of charm and appeal to his already considerable charisma. The news prompted amusing reactions from Chris's co-stars in the movie "Knives Out," Daniel Craig and director Rian Johnson, who playfully speculated about the role of Chris's iconic sweater in sealing the romantic deal.
"Knives Out" served as a significant turning point in Chris Evans' career, as it allowed him to return to his roots and rekindle his passion for acting. The film's success and the reconnection with his artistic essence marked a new chapter in his journey, leaving friends and fans excited about what the future holds for the newlywed actor.
As Chris Evans and Alba Baptista embark on this exciting new chapter of their lives, the world shares in their joy and looks forward to witnessing the beautiful love story they continue to write together.
Omusawo Tintah To Host Renowned Swiss Artist Mr. Kamanzi on Metro fm 90.8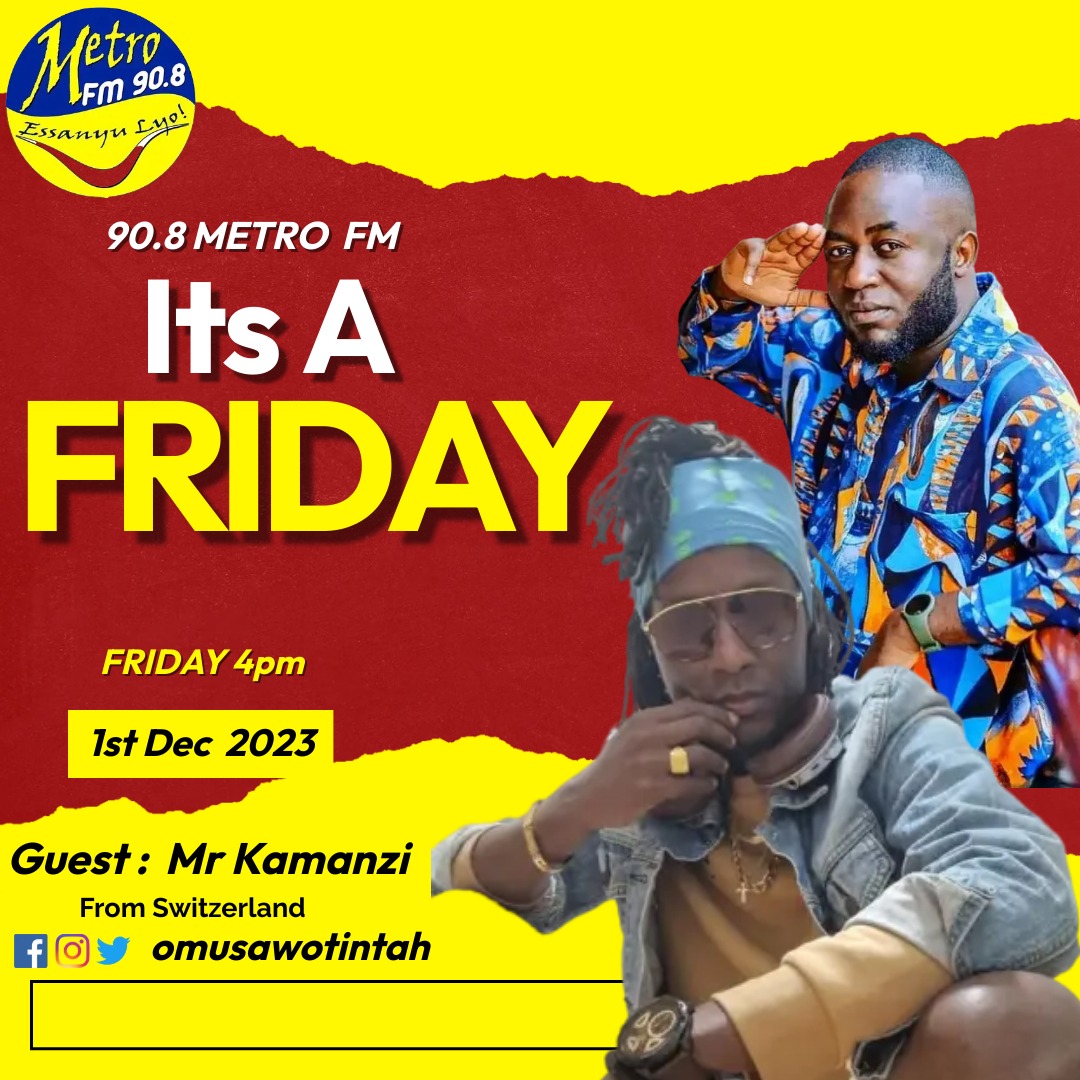 Metro FM 90.8's celebrated radio presenter and media activist, Omusawo Tintah, is gearing up to host the sensational Switzerland-based singer, Mr. Kamanzi, this Friday on his renowned radio show, Free Style Friday, running from 4 pm to 7 pm.
Omusawo Tintah's Free Style Friday has become a staple for music enthusiasts, featuring top-notch music and hosting internationally acclaimed artists. The show's popularity has soared, making it one of Uganda's most loved and trending radio programs.
Mr. Kamanzi, who is set to be the special guest on this week's episode, brings a wealth of musical talent and a captivating story to share. His journey in the world of music began at the age of 12, fueled by a deep passion for the art form. One of his childhood dreams was to perform on the grand stage, a dream that materialized in 1995 and marked the commencement of his music career.
Known for his distinctive vocal style, often referred to as "the husky voice of Africa," Mr. Kamanzi migrated to Switzerland a few years later. In 2008, he had the privilege of sharing the stage with T.o.k and Sean Paul in Dar es Salaam, Tanzania, a significant milestone in his musical journey.
With two published albums, namely "Unite" and "Today and Tomorrow," Mr. Kamanzi has made waves in the music industry. His track "Show Dem the Sign" received extensive airplay on local radio stations, solidifying his position as a notable artist. His performances have graced numerous stages across Africa and Europe, showcasing his versatility in musical genres, including Reggae, Afrobeat, Dancehall, and Pop Dancehall.
Beyond his musical accomplishments, Mr. Kamanzi's work with the Reggaenerators since 2021 has added a collaborative dimension to his career. His music carries a powerful message of upliftment, education, peace, and love, aligning with his personal motto: "Anywhere mi deh mi spread love."
As Free Style Friday prepares to host this illustrious artist, fans can anticipate an engaging and soulful session, blending Omusawo Tintah's charismatic hosting with the melodious tunes and inspiring story of Mr. Kamanzi. Tune in to Metro FM 90.8 this Friday for a musical experience that transcends borders and embraces the universal language of love through music.