VIDEO : Justin Timberlake Expresses Concern Over Britney Spears' Upcoming Memoir, "The Woman In Me"
Britney Spears' highly anticipated memoir, "The Woman In Me," set to release on October 24, has stirred up a wave of curiosity and speculation among fans and the public alike. Many are eager to discover what revelations and insights Britney will share, as well as how her story will be received upon its commercial debut.
Meanwhile, individuals close to her, such as her father and ex-husband, have seemingly shown indifference to the forthcoming memoir, although these sentiments are largely based on speculation and secondhand reports. Adding to the intrigue, a recent report from Page Six suggests that her former boyfriend, Justin Timberlake, is "concerned" about the contents of the book.
According to a source cited by Page Six, Timberlake is inquisitive about what Britney might disclose regarding their past relationship. The source alleges, "He's very curious about what she'll reveal from their relationship. It's eating at him." Such a statement may seem melodramatic, but it stems from the anticipation that "The Woman In Me" may not paint a flattering picture of the people who played significant roles in Britney's life. Given the considerable personal challenges, feuds with close family members, friends, and past partners that Britney Spears has faced, it's understandable why many are on edge about what the memoir will reveal. Notably, a recent report from Us Weekly suggested that the memoir delves "hard" into Britney's past with Justin Timberlake.
Contrary to the concerns expressed by Timberlake and others, there are reports that present a different perspective. A publishing insider cited by Page Six insists that "The Woman In Me" is not intended as a takedown of any particular individual. According to this source, "This is Britney finally getting a chance to tell her empowering story, and it's nothing more than that." Despite the complicated history between Britney Spears and Justin Timberlake, including their high-profile breakup in 2002 after three years of dating, it remains unclear whether the memoir will unearth more details or skeletons from their past. Their public exchange of songs about each other, refusal to divulge the specifics of their split, and cryptic comments about the circumstances surrounding their breakup have added to the ongoing fascination with their relationship.
The release of "The Woman In Me" promises to shed light on many aspects of Britney Spears' life, and as the countdown continues, the public remains curious and eager to gain a deeper understanding of the pop icon's journey. Share your thoughts on the upcoming memoir and the potential revelations it may contain in the comments section below.
Omusawo Tintah To Host Renowned Swiss Artist Mr. Kamanzi on Metro fm 90.8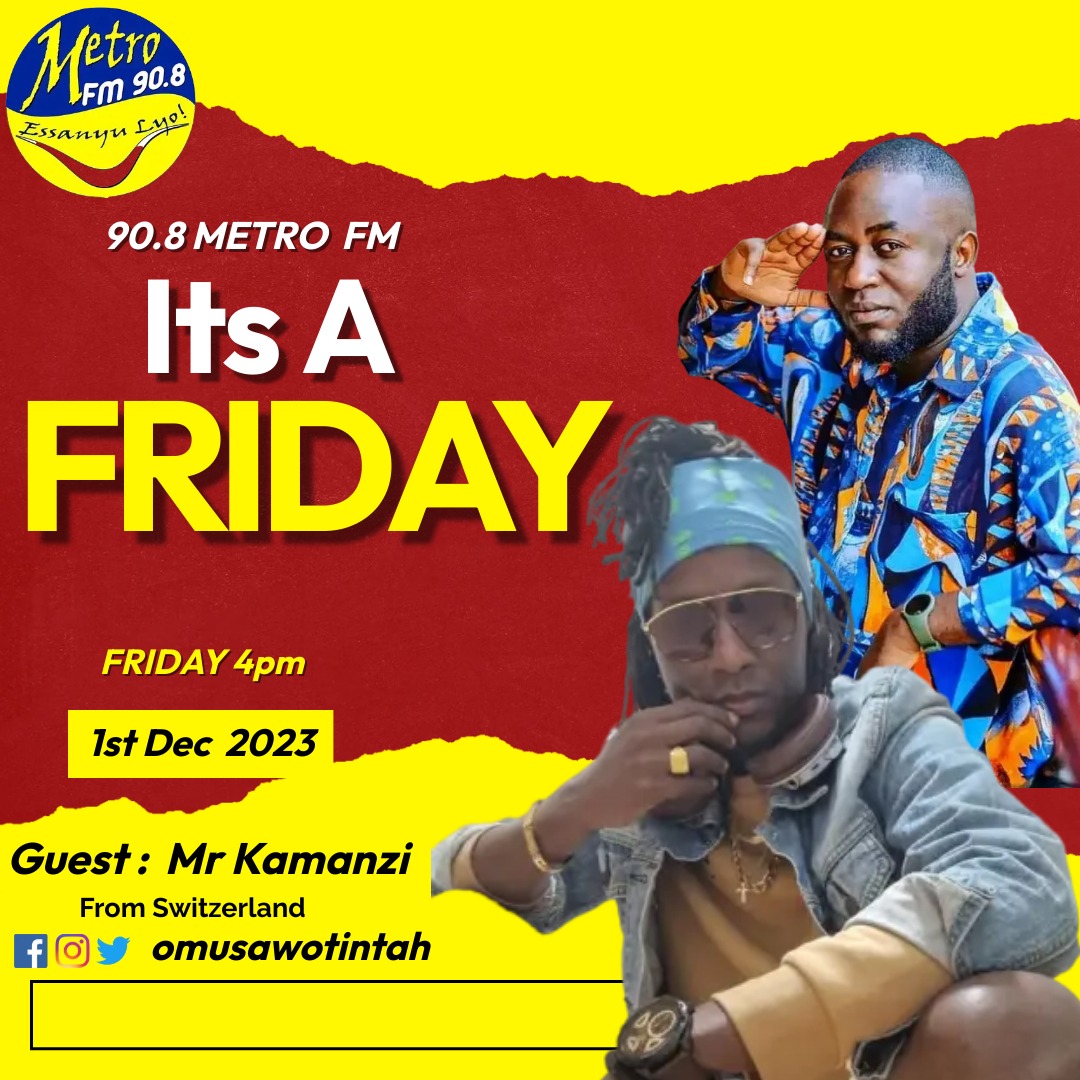 Metro FM 90.8's celebrated radio presenter and media activist, Omusawo Tintah, is gearing up to host the sensational Switzerland-based singer, Mr. Kamanzi, this Friday on his renowned radio show, Free Style Friday, running from 4 pm to 7 pm.
Omusawo Tintah's Free Style Friday has become a staple for music enthusiasts, featuring top-notch music and hosting internationally acclaimed artists. The show's popularity has soared, making it one of Uganda's most loved and trending radio programs.
Mr. Kamanzi, who is set to be the special guest on this week's episode, brings a wealth of musical talent and a captivating story to share. His journey in the world of music began at the age of 12, fueled by a deep passion for the art form. One of his childhood dreams was to perform on the grand stage, a dream that materialized in 1995 and marked the commencement of his music career.
Known for his distinctive vocal style, often referred to as "the husky voice of Africa," Mr. Kamanzi migrated to Switzerland a few years later. In 2008, he had the privilege of sharing the stage with T.o.k and Sean Paul in Dar es Salaam, Tanzania, a significant milestone in his musical journey.
With two published albums, namely "Unite" and "Today and Tomorrow," Mr. Kamanzi has made waves in the music industry. His track "Show Dem the Sign" received extensive airplay on local radio stations, solidifying his position as a notable artist. His performances have graced numerous stages across Africa and Europe, showcasing his versatility in musical genres, including Reggae, Afrobeat, Dancehall, and Pop Dancehall.
Beyond his musical accomplishments, Mr. Kamanzi's work with the Reggaenerators since 2021 has added a collaborative dimension to his career. His music carries a powerful message of upliftment, education, peace, and love, aligning with his personal motto: "Anywhere mi deh mi spread love."
As Free Style Friday prepares to host this illustrious artist, fans can anticipate an engaging and soulful session, blending Omusawo Tintah's charismatic hosting with the melodious tunes and inspiring story of Mr. Kamanzi. Tune in to Metro FM 90.8 this Friday for a musical experience that transcends borders and embraces the universal language of love through music.