Kanye West Believes Car Accident Contributed to Autism, Shares Text with Elon Musk
Kanye West, the renowned Chicago rap artist, revealed his belief that his 2002 car accident, which famously inspired his hit "Through the Wire," may have contributed to him being slightly autistic. The revelation came in a recent text message sent to Elon Musk, and it was later shared on social media by fashion designer and model Ian Connor, a close collaborator of Kanye's.
Connor posted screenshots of the text message exchange on Instagram, where Ye's contact name read "President YE." In the text to Musk, West requested a conversation with the Tesla CEO and Twitter (now X) chairman. He also called out Musk for not publicly supporting him during his divorce from Kim Kardashian.
Furthermore, West expressed his desire for a change in the nature of their relationship. He denied his bipolar diagnosis and asserted that he has "signs of autism" stemming from his car accident. In the text, he expressed concerns about Kim Kardashian's role in keeping his children from him and urged Musk to address the situation publicly. West emphasized that he aimed to bring his audience to Musk's "struggling platform."
After sending the text message to Connor, Kanye instructed him to "Get this out to the public." Connor responded with a simple "Say Less" and the time of the exchange, 2:22 a.m.
Kanye West and Elon Musk have had a longstanding, albeit unconventional, friendship for over a decade. They've publicly praised each other in interviews, on social media, and even attended events together. However, tensions arose late last year when Musk suspended West from Twitter due to a controversial post, causing a rift in their relationship. West's speculation about Musk's ethnicity also strained their friendship.
Nonetheless, Musk reinstated Kanye's X account in July after an eight-month suspension. While their friendship has seen its share of ups and downs, their recent exchange highlights a new facet of Kanye's personal journey as he opens up about his beliefs regarding autism and his ongoing divorce from Kim Kardashian.
Omusawo Tintah To Host Renowned Swiss Artist Mr. Kamanzi on Metro fm 90.8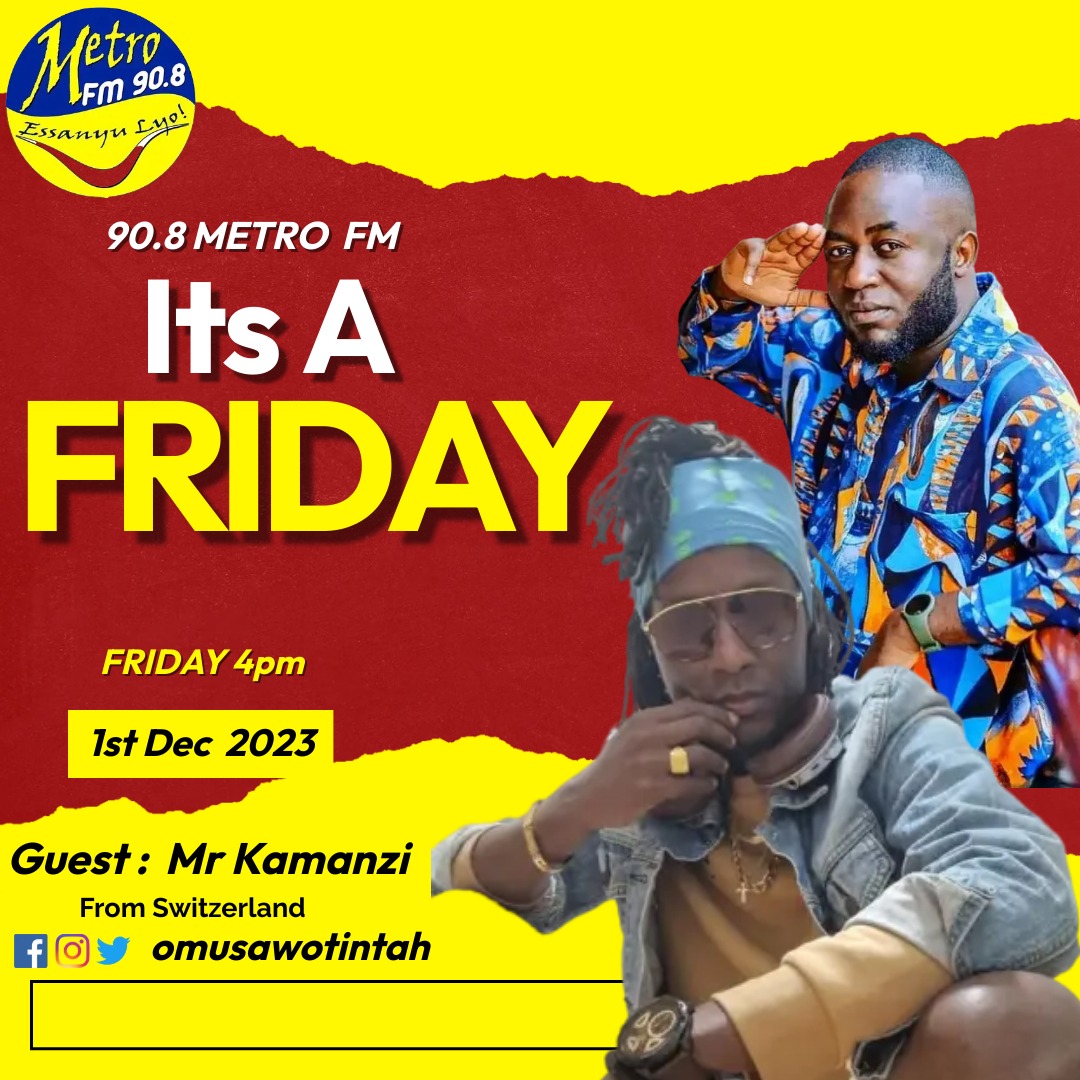 Metro FM 90.8's celebrated radio presenter and media activist, Omusawo Tintah, is gearing up to host the sensational Switzerland-based singer, Mr. Kamanzi, this Friday on his renowned radio show, Free Style Friday, running from 4 pm to 7 pm.
Omusawo Tintah's Free Style Friday has become a staple for music enthusiasts, featuring top-notch music and hosting internationally acclaimed artists. The show's popularity has soared, making it one of Uganda's most loved and trending radio programs.
Mr. Kamanzi, who is set to be the special guest on this week's episode, brings a wealth of musical talent and a captivating story to share. His journey in the world of music began at the age of 12, fueled by a deep passion for the art form. One of his childhood dreams was to perform on the grand stage, a dream that materialized in 1995 and marked the commencement of his music career.
Known for his distinctive vocal style, often referred to as "the husky voice of Africa," Mr. Kamanzi migrated to Switzerland a few years later. In 2008, he had the privilege of sharing the stage with T.o.k and Sean Paul in Dar es Salaam, Tanzania, a significant milestone in his musical journey.
With two published albums, namely "Unite" and "Today and Tomorrow," Mr. Kamanzi has made waves in the music industry. His track "Show Dem the Sign" received extensive airplay on local radio stations, solidifying his position as a notable artist. His performances have graced numerous stages across Africa and Europe, showcasing his versatility in musical genres, including Reggae, Afrobeat, Dancehall, and Pop Dancehall.
Beyond his musical accomplishments, Mr. Kamanzi's work with the Reggaenerators since 2021 has added a collaborative dimension to his career. His music carries a powerful message of upliftment, education, peace, and love, aligning with his personal motto: "Anywhere mi deh mi spread love."
As Free Style Friday prepares to host this illustrious artist, fans can anticipate an engaging and soulful session, blending Omusawo Tintah's charismatic hosting with the melodious tunes and inspiring story of Mr. Kamanzi. Tune in to Metro FM 90.8 this Friday for a musical experience that transcends borders and embraces the universal language of love through music.