Media Personality Ibrah K Mukasa Seeks Refuge in Canada Amidst Political Turmoil
In an unexpected twist of events, the renowned Ugandan media personality Ibrah K Mukasa has chosen to leave his flourishing career behind and seek refuge in Canada. Many are left wondering why a man with three well-paying jobs would make such a drastic decision. Mukasa had been a prominent figure on Star FM 87.5, a host on Spark TV's 'Koona ne Spark TV' program, and the creator of the highly popular YouTube channel 'Extra Digest – Mugoba Nsonga,' which had garnered a significant following and substantial earnings.
For years, Mukasa had conducted interviews with a diverse range of personalities, covering fields such as sports, entertainment, agriculture, and politics. However, it was a fateful interview on December 20, 2022, with former Youth Member of Parliament Sarah Babirye Kityo that would change the course of his life. This interview shed light on corruption, scandals, and improprieties within Uganda's National Council of Sports, with allegations implicating its General Secretary, Dr. Bernad Patrick Ogwel.
The consequences of this revelatory interview were swift and severe. On April 18, 2023, Mukasa was summoned to the Central Police Station in Kampala, where he was detained for two days to record a statement regarding the corruption allegations at the National Council of Sports. Subsequently, the matter gained the attention of the Parliamentary Accounts Committee (PAC) after the interview was broadcast on NTV News. PAC summoned all involved parties for questioning, marking the file with the number GEF 029/2023.
The fallout from PAC's investigation was significant. On May 17 and 18, 2023, Sarah Babirye Kityo and Moses Muhangi, the heads of the Netball Federation and Boxing Federation, respectively, found themselves incarcerated at Luzira Prison. With growing concerns that he might be the next target after exposing corruption within the National Council of Sports, Mukasa's life took a dramatic turn. He began receiving threats from unidentified sources, and his YouTube content suffered as a result.
Matters escalated further with the replacement of Sarah Babirye Kityo by Brig. Flavia Byekwaso. Rumors circulated that Mukasa would face imminent arrest, and a tip-off compelled him to make the decision to leave Uganda. He chose to depart via the Jomo Kenyatta International Airport in Nairobi, Kenya, in an effort to avoid potential arrest at Entebbe Airport.
Ibrah K Mukasa's decision to steer clear of political campaigns, particularly with regards to the presidential bid of the First Son Muhoozi, further exacerbated his situation. He faced mounting pressure from his workplace at Star FM, a state-owned radio station. In Uganda, many bloggers have faced government influence, coercion, and intimidation due to financial incentives and threats, which added to the challenges Mukasa was grappling with.
In making the journey to Canada, Ibrah K Mukasa joins the ranks of numerous Ugandans who have been forced into exile due to the political pressures of the NRM regime. This list includes individuals such as Dr. Stellah Nyanzi in Germany, Kakwenza Rukirabashaija in Germany, and the late Dr. Aggrey Kiyingi in Australia. These individuals have sought safety and refuge from the challenges they faced in their homeland, highlighting the complex dynamics at play in Ugandan politics and the sacrifices made by those who dare to speak out.
Omusawo Tintah To Host Renowned Swiss Artist Mr. Kamanzi on Metro fm 90.8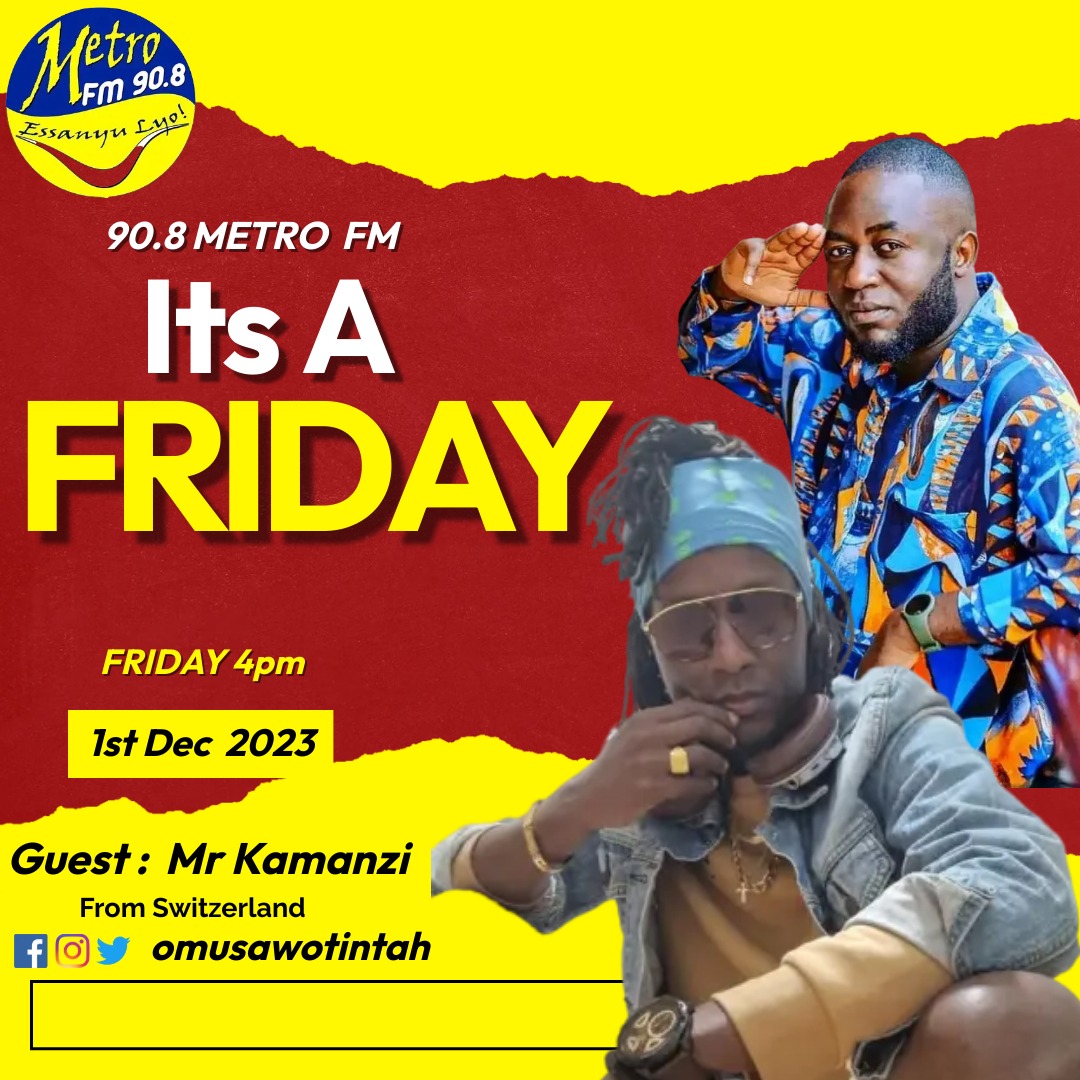 Metro FM 90.8's celebrated radio presenter and media activist, Omusawo Tintah, is gearing up to host the sensational Switzerland-based singer, Mr. Kamanzi, this Friday on his renowned radio show, Free Style Friday, running from 4 pm to 7 pm.
Omusawo Tintah's Free Style Friday has become a staple for music enthusiasts, featuring top-notch music and hosting internationally acclaimed artists. The show's popularity has soared, making it one of Uganda's most loved and trending radio programs.
Mr. Kamanzi, who is set to be the special guest on this week's episode, brings a wealth of musical talent and a captivating story to share. His journey in the world of music began at the age of 12, fueled by a deep passion for the art form. One of his childhood dreams was to perform on the grand stage, a dream that materialized in 1995 and marked the commencement of his music career.
Known for his distinctive vocal style, often referred to as "the husky voice of Africa," Mr. Kamanzi migrated to Switzerland a few years later. In 2008, he had the privilege of sharing the stage with T.o.k and Sean Paul in Dar es Salaam, Tanzania, a significant milestone in his musical journey.
With two published albums, namely "Unite" and "Today and Tomorrow," Mr. Kamanzi has made waves in the music industry. His track "Show Dem the Sign" received extensive airplay on local radio stations, solidifying his position as a notable artist. His performances have graced numerous stages across Africa and Europe, showcasing his versatility in musical genres, including Reggae, Afrobeat, Dancehall, and Pop Dancehall.
Beyond his musical accomplishments, Mr. Kamanzi's work with the Reggaenerators since 2021 has added a collaborative dimension to his career. His music carries a powerful message of upliftment, education, peace, and love, aligning with his personal motto: "Anywhere mi deh mi spread love."
As Free Style Friday prepares to host this illustrious artist, fans can anticipate an engaging and soulful session, blending Omusawo Tintah's charismatic hosting with the melodious tunes and inspiring story of Mr. Kamanzi. Tune in to Metro FM 90.8 this Friday for a musical experience that transcends borders and embraces the universal language of love through music.