T.I. Announces Retirement from Music with Upcoming Double Album: A Farewell to an Icon
The world of hip-hop is about to witness the exit of a legendary rapper and one of the prominent figures in the trap subgenre. T.I., a true OG of the rap game, is gearing up to pass the torch to the next generation of artists. While it's undeniably bittersweet news that T.I. won't be making any more music, it's a fitting culmination for a career that's spanned over two decades, with countless contributions to the rap community. T.I.'s swan song is in the making, and it's set to be monumental, solidifying his legacy.
In a recent conversation with the We In Miami podcast, as reported by AllHipHop, the Atlanta, Georgia native revealed his plans for his retirement from music. Alongside closing the chapter on his rap career, he's also eager to explore various business ventures to further elevate his professional journey.
T.I.'s final act in the music industry will be a powerful one, as he's set to release a double album, aptly titled "Kill The King" and "Kiss The King." This dual offering is not just a send-off; it's a grand finale, a testament to the artistry and dedication T.I. has poured into the rap game.
Furthermore, T.I. dropped the exciting revelation that one of the singles aimed at promoting the double LP will feature a collaboration with NBA Youngboy. However, the rapper hinted that this collaboration would take an unexpected and unique approach, leaving fans in anticipation of what the creative minds of these artists will conjure up.
But that's not the end of the story. T.I. had previously been working on a collaborative album with his close friend Boosie Badazz, creating a wave of excitement among fans. However, he shared that the chances of this album ever coming to fruition appear to be quite slim, as they've let the designated window for the project pass by. Nevertheless, T.I. expressed optimism that this window may present itself again in the future, leaving a glimmer of hope for fans who were looking forward to this dynamic partnership.
While it's a moment of mixed emotions for T.I.'s fans, who are both saddened by his retirement from music and excited to witness his final artistic endeavor, it's undoubtedly a fitting farewell to an icon who has left an indelible mark on the world of hip-hop. T.I.'s legacy and contributions will continue to reverberate through the culture he helped shape, as fans eagerly await the release of his swan song double album. Share your thoughts and opinions on T.I.'s retirement announcement and his upcoming projects; the comments section below is yours to express your sentiments.
Omusawo Tintah To Host Renowned Swiss Artist Mr. Kamanzi on Metro fm 90.8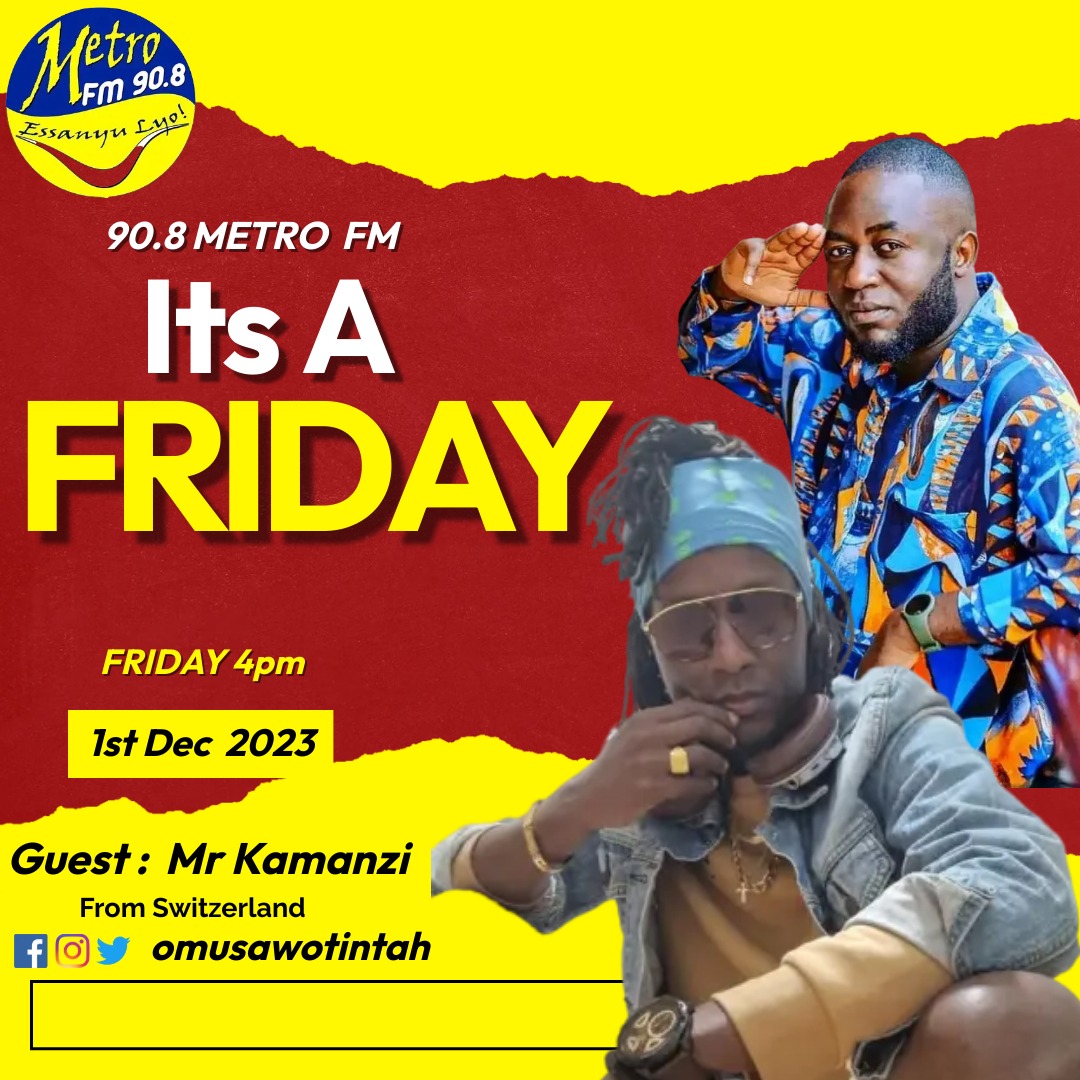 Metro FM 90.8's celebrated radio presenter and media activist, Omusawo Tintah, is gearing up to host the sensational Switzerland-based singer, Mr. Kamanzi, this Friday on his renowned radio show, Free Style Friday, running from 4 pm to 7 pm.
Omusawo Tintah's Free Style Friday has become a staple for music enthusiasts, featuring top-notch music and hosting internationally acclaimed artists. The show's popularity has soared, making it one of Uganda's most loved and trending radio programs.
Mr. Kamanzi, who is set to be the special guest on this week's episode, brings a wealth of musical talent and a captivating story to share. His journey in the world of music began at the age of 12, fueled by a deep passion for the art form. One of his childhood dreams was to perform on the grand stage, a dream that materialized in 1995 and marked the commencement of his music career.
Known for his distinctive vocal style, often referred to as "the husky voice of Africa," Mr. Kamanzi migrated to Switzerland a few years later. In 2008, he had the privilege of sharing the stage with T.o.k and Sean Paul in Dar es Salaam, Tanzania, a significant milestone in his musical journey.
With two published albums, namely "Unite" and "Today and Tomorrow," Mr. Kamanzi has made waves in the music industry. His track "Show Dem the Sign" received extensive airplay on local radio stations, solidifying his position as a notable artist. His performances have graced numerous stages across Africa and Europe, showcasing his versatility in musical genres, including Reggae, Afrobeat, Dancehall, and Pop Dancehall.
Beyond his musical accomplishments, Mr. Kamanzi's work with the Reggaenerators since 2021 has added a collaborative dimension to his career. His music carries a powerful message of upliftment, education, peace, and love, aligning with his personal motto: "Anywhere mi deh mi spread love."
As Free Style Friday prepares to host this illustrious artist, fans can anticipate an engaging and soulful session, blending Omusawo Tintah's charismatic hosting with the melodious tunes and inspiring story of Mr. Kamanzi. Tune in to Metro FM 90.8 this Friday for a musical experience that transcends borders and embraces the universal language of love through music.