VIDEO : Air Jordan 5 "Navy" Set to Drop in Fresh Colorway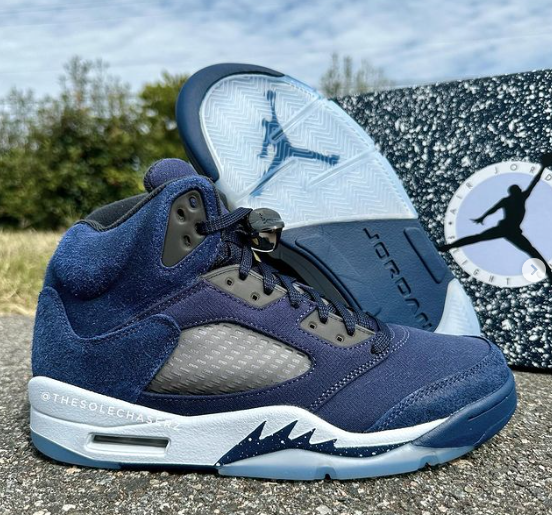 Since its debut in the early '90s, the Air Jordan 5 has remained an iconic sneaker, managing to stay fresh and relevant over the years. Designed by the legendary Tinker Hatfield, the AJ5 brought significant innovations to the Air Jordan line, ensuring its enduring popularity. The introduction of the first-ever translucent outsole, inspired by World War II fighter jets, and the unique "shark teeth" design on the midsole set it apart.
But how does a sneaker from that era maintain its hype and appeal? The answer is evolution. The Air Jordan 5 continues to drop in fresh colorways that cater to both nostalgic sneakerheads and newer style enthusiasts, ensuring its continued relevance.
A key factor in the Air Jordan 5's enduring popularity is its impressive performance features. With innovative use of reflective materials on the tongue and a comfortable fit, it quickly became a favorite on the basketball court. Yet, its cultural impact extended beyond sports, making appearances in movies and music videos.
As the AJ5 continues to release in exciting new colorways, it's evident that its legacy is far from fading, securing its place as an all-time favorite among sneaker enthusiasts.
The upcoming Air Jordan 5 "Navy" edition showcases a translucent, icy blue sole alongside a white midsole, with the signature shark teeth design in navy blue. The uppers are constructed from dark navy suede, while dark grey netting adds a touch of style on the sides and under the laces. Subtle Jordan Brand accents in a dark shade embellish both the tongue and the heels, maintaining a discreet and understated aesthetic.
According to Sneaker Bar Detroit, sneakerheads can anticipate the release of the Air Jordan 5 "Navy" on November 10th, with a retail price of $210. Share your thoughts on these kicks in the comments below.
Xavier Beats Makeup : Becoming a Lipstick Pro: Unleash Your Lip Color Expertise
Lipstick is a powerful tool in the world of makeup, capable of transforming your look with just a few swipes. However, sometimes, a single lipstick shade may not be enough to achieve the desired effect. This is where the art of lipstick blending comes into play. Blending lipsticks can help you create custom shades, gradients, and unique looks that suit any occasion. In this article, we'll guide you through the process of blending lipsticks like a pro.
Materials You'll Need:
Two or more lipstick shades of your choice
Lip balm or lip primer
A lip brush
Tissue paper or cotton swabs
Makeup remover (optional)
Lip liner (optional)
Step 1: Prep Your Lips
Before you start blending, it's essential to prep your lips for a flawless finish. Begin by exfoliating your lips to remove any dead skin and create a smooth canvas. Apply a thin layer of lip balm or lip primer to moisturize and ensure that the lipstick glides on effortlessly.
Step 2: Choose Your Lipstick Shades
Select the lipstick shades you want to blend. You can choose complementary colors or experiment with contrasting shades for a bold look. Make sure the lipsticks you choose have a similar texture and finish for easier blending.
Step 3: Apply the Base Shade
Start by applying the lighter or base lipstick shade all over your lips. This will serve as the foundation for your blended look. You can use a lip brush for precision or apply it directly from the bullet.
Step 4: Apply the Second Shade
Now, take the second lipstick shade, which is typically darker than the base shade, and apply it to the center of your lips. You can use the same lip brush or your fingertip for a softer effect.
Step 5: Blend the Colors
Gently press your lips together to blend the two shades. Use a lip brush or your fingertip to blend the edges where the colors meet. The goal is to create a seamless transition between the two shades, avoiding any harsh lines.
Step 6: Optional: Add a Third Shade or Details
For added depth or creativity, you can introduce a third lipstick shade to the center of your lips or create ombre effects. You can also use a lip liner to define your lip shape further.
Step 7: Clean Up and Refine
To perfect your blended lipstick look, use a tissue paper or cotton swab to clean up any smudges or excess product. You can also use makeup remover on a small brush for precision cleanup.
Step 8: Set Your Lipstick
To ensure your blended lipstick lasts all day, lightly blot your lips with a tissue and then set the color with a translucent setting powder. This step helps prevent feathering and ensures a long-lasting finish.
Conclusion:
Blending lipsticks opens up a world of possibilities for creating unique and customized lip looks. Whether you're going for a subtle gradient or a bold ombré effect, mastering the art of lipstick blending is a valuable skill for any makeup enthusiast. With the right shades and techniques, you can confidently experiment and express your creativity through your lips. So, go ahead, blend away, and let your lips become your canvas for self-expression and beauty.