VIDEO : Cardi B's Legal Battle with Security Guard Over Alleged 2018 Attack Takes a Mediation Turn
Cardi B has been ensnared in a protracted legal dispute with a security guard since 2020, stemming from an alleged assault incident in 2018. Recent developments suggest there may be a glimmer of hope in resolving this matter.
Documents obtained by Radar Online reveal that Cardi B's legal team has informed the court that they've collectively agreed to postpone the trial until next year, with the hope that the issue can be resolved through mediation.
The legal feud initiated in 2020 when security guard Emani Ellis filed a lawsuit against the Bronx rapper, accusing her of assault, battery, and infliction of emotional distress. Ellis alleged that Cardi B had attacked her in Los Angeles in February 2018, a time when the rapper was pregnant with her first child, Kulture, alongside Offset. The purported incident transpired as Cardi was departing from her obstetrician's office for a scheduled appointment.
According to Ellis' claims, Cardi allegedly scratched her with her fingernail, uttered racial slurs, and even spit on her, all after Ellis began recording her. Notably, Cardi's pregnancy had not yet been publicly disclosed, aligning with her debut album's theme, "Invasion of Privacy."
Ellis contended that she experienced "physical, emotional, and psychological damages" due to the alleged attack, further asserting that she bore a scar on her cheek, although no photographic evidence or medical attention records were provided. The security guard also alleged that Cardi "leveraged her celebrity status" to secure her dismissal from employment.
Contradicting these allegations, a spokesperson for the medical building denied Ellis' claims, asserting that she was terminated for breaching Cardi B's privacy. Additionally, an eyewitness relayed to TMZ that while an argument did occur, it never escalated to physical violence, and racial slurs were never uttered.
In a separate legal matter, Cardi B awaits the full $4 million judgment awarded in her favor in a case against blogger Tasha K.
Court documents obtained by HipHopDX disclosed the recent ruling, with Judge Scott Grossman of the Southern District of Florida, Fort Lauderdale division determining that Tasha K, host of "Unwine with Tasha K," may retain her Chapter 11 bankruptcy status but cannot discharge her debt to Cardi B, as the judgment dictates.
This means that, regardless of the bankruptcy proceedings, Tasha K remains obligated to pay Cardi B the sum she owes. Cardi's legal team successfully argued that the awards in the defamation judgment against Tasha K are non-dischargeable.
Notably, Tasha K had initially proposed to settle for a considerably smaller sum of $220,000 out of the $3.9 million owed to Cardi B. The rationale behind this offer was Tasha K's Chapter 11 bankruptcy filing, which necessitates the submission of a proposed repayment plan within 30 days of the filing. However, Cardi disputed this proposal, asserting that Tasha K's actions were the cause of her debt and that the judgment should stand unaltered.
Omusawo Tintah To Host Renowned Swiss Artist Mr. Kamanzi on Metro fm 90.8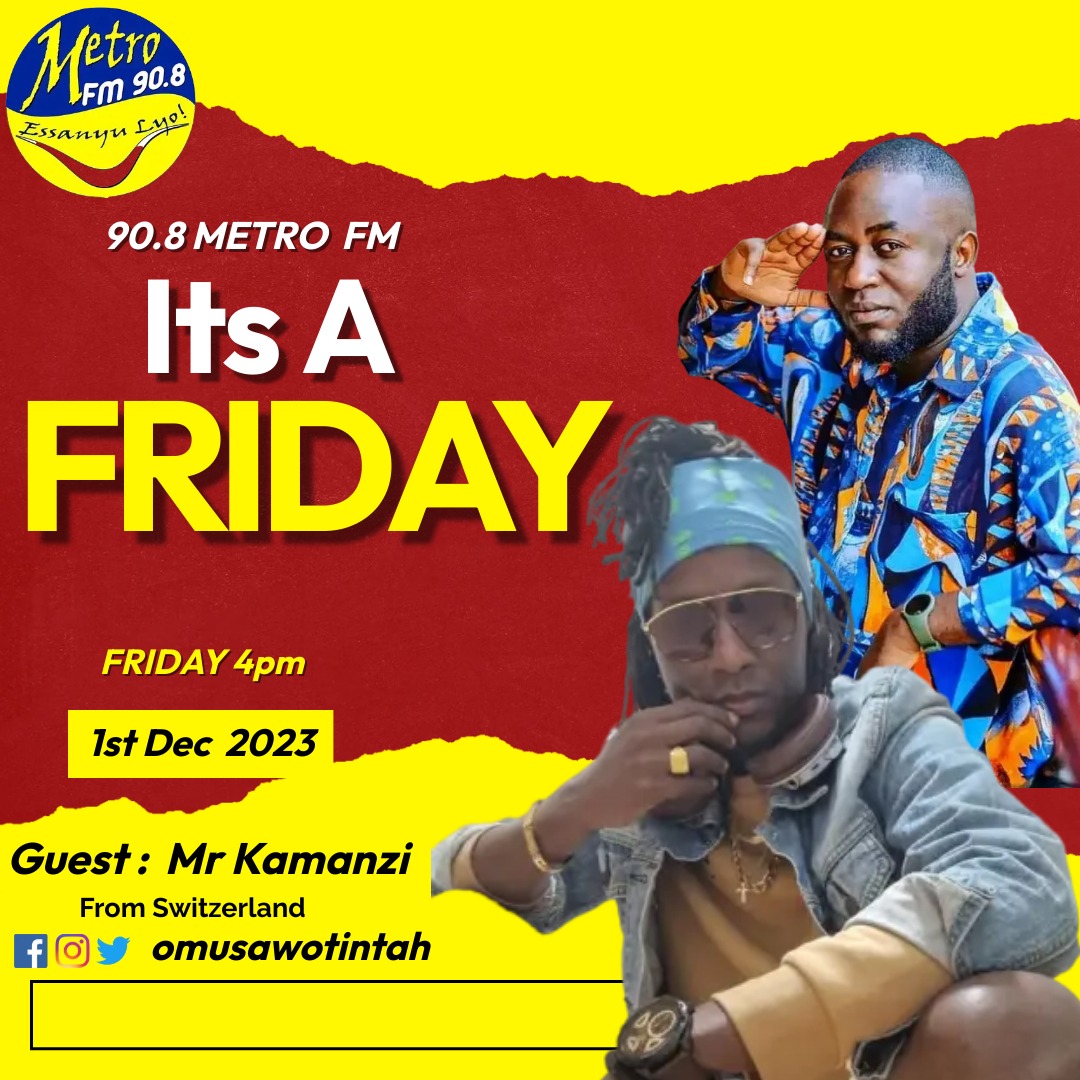 Metro FM 90.8's celebrated radio presenter and media activist, Omusawo Tintah, is gearing up to host the sensational Switzerland-based singer, Mr. Kamanzi, this Friday on his renowned radio show, Free Style Friday, running from 4 pm to 7 pm.
Omusawo Tintah's Free Style Friday has become a staple for music enthusiasts, featuring top-notch music and hosting internationally acclaimed artists. The show's popularity has soared, making it one of Uganda's most loved and trending radio programs.
Mr. Kamanzi, who is set to be the special guest on this week's episode, brings a wealth of musical talent and a captivating story to share. His journey in the world of music began at the age of 12, fueled by a deep passion for the art form. One of his childhood dreams was to perform on the grand stage, a dream that materialized in 1995 and marked the commencement of his music career.
Known for his distinctive vocal style, often referred to as "the husky voice of Africa," Mr. Kamanzi migrated to Switzerland a few years later. In 2008, he had the privilege of sharing the stage with T.o.k and Sean Paul in Dar es Salaam, Tanzania, a significant milestone in his musical journey.
With two published albums, namely "Unite" and "Today and Tomorrow," Mr. Kamanzi has made waves in the music industry. His track "Show Dem the Sign" received extensive airplay on local radio stations, solidifying his position as a notable artist. His performances have graced numerous stages across Africa and Europe, showcasing his versatility in musical genres, including Reggae, Afrobeat, Dancehall, and Pop Dancehall.
Beyond his musical accomplishments, Mr. Kamanzi's work with the Reggaenerators since 2021 has added a collaborative dimension to his career. His music carries a powerful message of upliftment, education, peace, and love, aligning with his personal motto: "Anywhere mi deh mi spread love."
As Free Style Friday prepares to host this illustrious artist, fans can anticipate an engaging and soulful session, blending Omusawo Tintah's charismatic hosting with the melodious tunes and inspiring story of Mr. Kamanzi. Tune in to Metro FM 90.8 this Friday for a musical experience that transcends borders and embraces the universal language of love through music.