35-Year-Old Boda Boda Boss and Businessman Pursues UCE Education
Shedrack Masaaka, the Chairperson of the Busulwa Boda Boda Stage in Tsekululu, Namisindwa District, is defying age constraints as he embarks on his educational journey by sitting for the Uganda Certificate Of Education (UCE) examinations. At the age of 35, Masaaka, who also operates a wholesale shop in Busulwa trading center, recognized the importance of mastering the fundamentals of English and mathematics, prompting his return to school.
Masaaka disclosed that he had discontinued his education in 2008 but felt compelled to resume it due to the rapidly evolving world. His determination to expand his knowledge and acquire essential skills to enhance his livelihood is what propels him forward. He remains confident in his ability to excel in the exams, emphasizing the value of continuous learning, regardless of one's age.
In an encouraging message to both students and mature individuals contemplating a return to education, Masaaka stressed that they should not be swayed by negative opinions. He firmly believes that education knows no age restrictions.
William Lusayi, the Namisindwa District Inspector of Schools, reported that a total of 1766 candidates began their Uganda Certificate of Education examinations in Namisindwa. Of this number, 961 (54%) are male, and 805 (46%) are female, all registered to take their exams at 7 examination centers across 14 secondary schools in the district.
Prof. Mary Okwakol Steps Down as Chairperson of Uganda National Examinations Board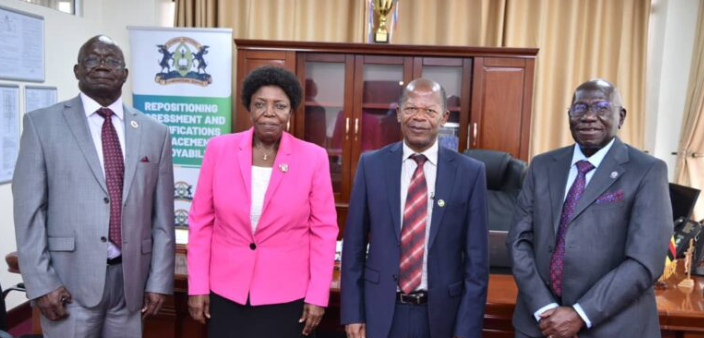 Prof. Mary Okwakol has concluded her tenure as the Chairperson of the Uganda National Examinations Board (UNEB), a position she held since 2014.
The formal handover ceremony took place, with Prof. Okwakol passing the reins to Prof. Celestino Obua, the Vice Chancellor of Mbarara University of Science and Technology. The Minister of State for Higher Education, Hon. John Chrysestom Muyingo, graced the occasion to witness the transition.
Prof. Obua's appointment was made by the Minister of Education and Sports, Hon. Janet Kataha Museveni, on October 12, 2023.
In a statement released by UNEB on November 3, 2023, the Examinations body expressed its appreciation for Prof. Okwakol, who is also recognized as the founding Vice Chancellor of Busitema University, one of Uganda's nine public universities.
Dan Odongo, the UNEB Executive Director, bid a fond farewell to Prof. Okwakol and acknowledged her service, saying, "We give thanks and praise to the Almighty God for the peaceful years that Professor Mary Okwakol has served as the Chairperson. I say 'peaceful' because she was appointed and took over at a time when UNEB had gone through nearly two turbulent years in its governance."
Odongo further lauded Prof. Okwakol's leadership, citing her adherence to the principles of good governance. He emphasized that she avoided becoming overly involved in the daily management of the institution, setting a positive example.
Prof. Okwakol assumed the role in 2014, succeeding Fagil Mandy, who had resigned due to President Museveni's decision to extend the contract of the then UNEB Executive Director, Matthew Bukenya.