Ishmael I's Musical Heritage: A Journey from Jamaica's Ska and Rocksteady Era
Ishmael I's Roots in Jamaican Music Run Deep
Ishmael I, the talented musician, has a rich musical heritage that can be traced back to Jamaica's iconic Ska and Rocksteady era. His family tree is intertwined with the pioneers and legends of that time, and their influence has left an indelible mark on his artistic journey.
One of Ishmael's elder cousins is none other than Justin Hinds, a pivotal figure in the Jamaican music scene during the 1960s and 70s, known for his band "Justin Hinds & The Dominoes." This musical lineage flows in Ishmael's veins, connecting him to the golden era of Jamaican music.
In addition to Justin Hinds, Ishmael has another esteemed elder cousin, Horace "Sleepy" Andy (Horace Hinds), a renowned roots reggae singer, songwriter, and musician with a career dating back to 1967. Their dedication to the Rastafarian tradition and faith has significantly shaped Ishmael's artistic vision and career trajectory.
Raised in Kingston's Waterhouse inner-city community in Jamaica, Ishmael I hails from a place that has also nurtured musical greats like King Tubby, King Jammy, Black Uhuru, Wailing Souls, The Jays, Don Carlos, Mykal Rose, Junior Reid, Beenie Man, and Shelly-Ann Fraser Pryce, among many others. This vibrant environment has undoubtedly left a lasting impact on Ishmael's musical sensibilities.
Ishmael's Music: A Magical Experience
Listening to Ishmael I's music, one is captivated by the enchanting quality of his voice. His melodies are silky, and his vocals exude a golden charm that is simply irresistible. His artistry has a magical quality that is hard to ignore.
In many ways, Ishmael reminds us of some of the most beloved figures in Jamaican music. He carries the calming presence of Garnett Silk, an assured resonance reminiscent of Dennis Brown and Justin Hinds, and the fiery spirit of Peter Tosh. His mere presence lights up a room, and his energy has the power to uplift everyone around him. This essence is displayed not only in his music but also in his ability to command the stage during performances. He often emphasizes that "we are all here to serve, guide, and protect each other," reflecting his deep-rooted sense of community and unity.
Honoring His Cousin: "Sweet Loraine"
In a touching tribute to his cousin Justin Hinds, with whom he shares a birthday, Ishmael I recorded his first cover song, "Sweet Loraine." This song, originally performed and recorded by Hinds in 1984, holds a special place in Ishmael's heart. The cover was released on November 19, 2021, and serves as the first single from his upcoming EP, "Taurean," scheduled for release in the summer of 2022 under the World Conquerors Inc collection.
Debut EP: "Mister Sun"
Ishmael I's musical journey took a significant step with the release of his debut EP, "Mister Sun," on July 23, 2020. This release, dedicated to the birthday of Emperor Haile Selassie I of Ethiopia, is available on all major listening platforms. It marked the beginning of Ishmael's ascent as a promising artist, and his subsequent work continues to resonate with the rich heritage and traditions of Jamaican music.
For bookings & inquiries:
[email protected]
Omusawo Tintah To Host Renowned Swiss Artist Mr. Kamanzi on Metro fm 90.8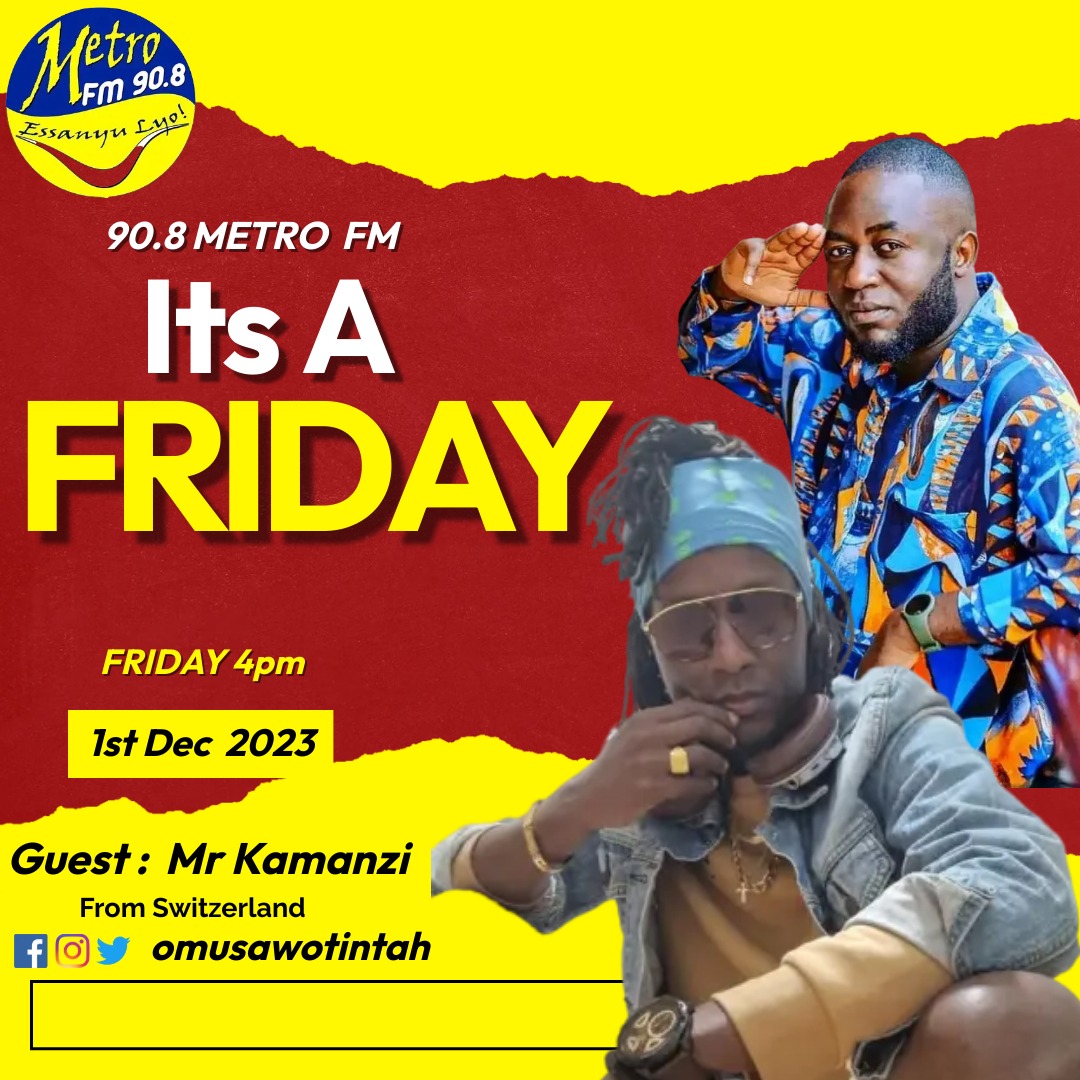 Metro FM 90.8's celebrated radio presenter and media activist, Omusawo Tintah, is gearing up to host the sensational Switzerland-based singer, Mr. Kamanzi, this Friday on his renowned radio show, Free Style Friday, running from 4 pm to 7 pm.
Omusawo Tintah's Free Style Friday has become a staple for music enthusiasts, featuring top-notch music and hosting internationally acclaimed artists. The show's popularity has soared, making it one of Uganda's most loved and trending radio programs.
Mr. Kamanzi, who is set to be the special guest on this week's episode, brings a wealth of musical talent and a captivating story to share. His journey in the world of music began at the age of 12, fueled by a deep passion for the art form. One of his childhood dreams was to perform on the grand stage, a dream that materialized in 1995 and marked the commencement of his music career.
Known for his distinctive vocal style, often referred to as "the husky voice of Africa," Mr. Kamanzi migrated to Switzerland a few years later. In 2008, he had the privilege of sharing the stage with T.o.k and Sean Paul in Dar es Salaam, Tanzania, a significant milestone in his musical journey.
With two published albums, namely "Unite" and "Today and Tomorrow," Mr. Kamanzi has made waves in the music industry. His track "Show Dem the Sign" received extensive airplay on local radio stations, solidifying his position as a notable artist. His performances have graced numerous stages across Africa and Europe, showcasing his versatility in musical genres, including Reggae, Afrobeat, Dancehall, and Pop Dancehall.
Beyond his musical accomplishments, Mr. Kamanzi's work with the Reggaenerators since 2021 has added a collaborative dimension to his career. His music carries a powerful message of upliftment, education, peace, and love, aligning with his personal motto: "Anywhere mi deh mi spread love."
As Free Style Friday prepares to host this illustrious artist, fans can anticipate an engaging and soulful session, blending Omusawo Tintah's charismatic hosting with the melodious tunes and inspiring story of Mr. Kamanzi. Tune in to Metro FM 90.8 this Friday for a musical experience that transcends borders and embraces the universal language of love through music.