Kanye West Reveals the Unspoken Reason Behind Jay-Z's Disdain for Tupac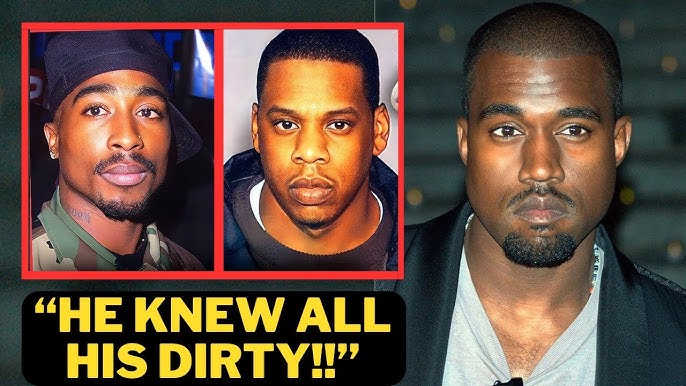 In the world of hip-hop, legends like Tupac Shakur and Jay-Z have left an indelible mark. However, recent revelations suggest that their relationship was not as harmonious as some may have thought. While Kanye West, another influential figure in the music industry, has always spoken highly of Tupac and cited him as a significant inspiration, Jay-Z reportedly harbored deep-seated animosity towards the late rapper. This revelation has sent shockwaves through the hip-hop community, raising questions about the complex dynamics in the industry.
Tupac Shakur, known for his thought-provoking lyrics and his fearless approach to criticizing the music industry, was a polarizing figure. In various interviews, Tupac didn't hold back when discussing the dark side of the industry and the corporate control over black artists. He was a vocal advocate for change, believing that the industry stifled creativity and authenticity. Kanye West, like Tupac, shares a similar fearlessness and has also criticized the music industry's practices and its impact on artists.
On the other hand, Jay-Z, a lyrical powerhouse, has often been seen as a more calculated figure who prioritizes his financial interests. This divergence in attitudes towards the industry may have contributed to the animosity between Tupac and Jay-Z.
Reports have surfaced in recent years, suggesting that Jay-Z and Diddy were not just passive observers of the events surrounding Tupac's life and death. Some fans have found it suspicious that several high-profile figures who rose to fame alongside Jay and Diddy have either met unfortunate ends or disappeared, while the two have maintained a close relationship.
The recent controversy surrounding the arrest of Diddy's former associate, Kei D, in connection with Tupac's murder has reignited discussions about Jay-Z's feud with Tupac. Many fans believe that if Tupac and Biggie hadn't passed away prematurely, Jay-Z wouldn't have achieved the level of success he enjoys today. These circumstances have led to speculation that Jay-Z might have benefited from Tupac's untimely demise.
The feud between Jay-Z and Tupac began when Jay collaborated with Biggie on the track "Brooklyn's Finest." This collaboration, according to Irv Gotti, who contributed to Jay's debut album "Reasonable Doubt," triggered the conflict between Jay and Tupac. Gotti had warned Jay about including Biggie on the track, given the already heightened tensions in the East Coast versus West Coast feud.
Despite the warnings, Jay released "Brooklyn's Finest," a track in which Biggie referred to Tupac as his son. Tupac interpreted this as a direct diss, further escalating tensions in the East Coast-West Coast rivalry.
In retaliation, Tupac started directly dissing Jay-Z in songs like "Bomb First" and "My Second Reply." Fans expected Jay to respond with a diss track, but he never did. Some believe this was because he was terrified of Tupac and understood that he could never match Tupac's charisma and natural charm.
One prevailing theory suggests that Jay-Z might have felt a sense of relief following Tupac's death. It's believed that Jay was aware of the formidable competition Tupac represented, and he didn't want to face him in a direct rap battle.
While the rivalry between Tupac and Jay-Z had all the ingredients of a legendary hip-hop feud, Jay's silence during Tupac's lifetime and his alleged involvement in a scathing diss track after Tupac's passing have left fans questioning his true feelings and motives.
Kanye West's close association with Tupac's legacy and his outspokenness against industry practices make him a unique voice in this discussion. As the story unfolds, it becomes evident that the hip-hop world is filled with intricate relationships, rivalries, and secrets that continue to shape the industry's narrative.
As we revisit these moments in hip-hop history, one thing is clear: the relationship between Tupac, Jay-Z, and Kanye West is just one chapter in the ever-evolving saga of the music industry, where the lines between friend and foe are often blurred, and where success can be as elusive as it is rewarding.
Omusawo Tintah To Host Renowned Swiss Artist Mr. Kamanzi on Metro fm 90.8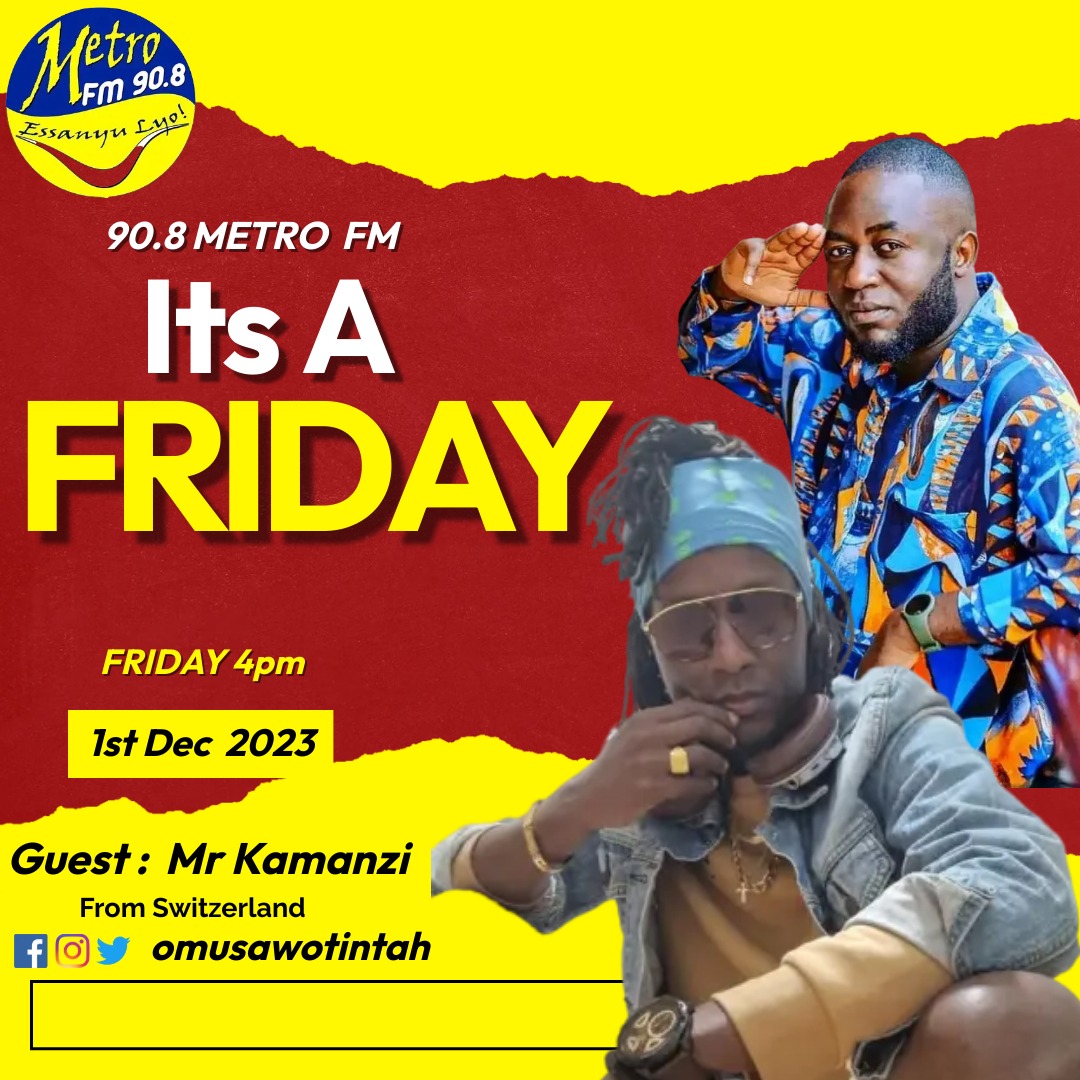 Metro FM 90.8's celebrated radio presenter and media activist, Omusawo Tintah, is gearing up to host the sensational Switzerland-based singer, Mr. Kamanzi, this Friday on his renowned radio show, Free Style Friday, running from 4 pm to 7 pm.
Omusawo Tintah's Free Style Friday has become a staple for music enthusiasts, featuring top-notch music and hosting internationally acclaimed artists. The show's popularity has soared, making it one of Uganda's most loved and trending radio programs.
Mr. Kamanzi, who is set to be the special guest on this week's episode, brings a wealth of musical talent and a captivating story to share. His journey in the world of music began at the age of 12, fueled by a deep passion for the art form. One of his childhood dreams was to perform on the grand stage, a dream that materialized in 1995 and marked the commencement of his music career.
Known for his distinctive vocal style, often referred to as "the husky voice of Africa," Mr. Kamanzi migrated to Switzerland a few years later. In 2008, he had the privilege of sharing the stage with T.o.k and Sean Paul in Dar es Salaam, Tanzania, a significant milestone in his musical journey.
With two published albums, namely "Unite" and "Today and Tomorrow," Mr. Kamanzi has made waves in the music industry. His track "Show Dem the Sign" received extensive airplay on local radio stations, solidifying his position as a notable artist. His performances have graced numerous stages across Africa and Europe, showcasing his versatility in musical genres, including Reggae, Afrobeat, Dancehall, and Pop Dancehall.
Beyond his musical accomplishments, Mr. Kamanzi's work with the Reggaenerators since 2021 has added a collaborative dimension to his career. His music carries a powerful message of upliftment, education, peace, and love, aligning with his personal motto: "Anywhere mi deh mi spread love."
As Free Style Friday prepares to host this illustrious artist, fans can anticipate an engaging and soulful session, blending Omusawo Tintah's charismatic hosting with the melodious tunes and inspiring story of Mr. Kamanzi. Tune in to Metro FM 90.8 this Friday for a musical experience that transcends borders and embraces the universal language of love through music.