Kim Kardashian's Decision to Hire a Male Nanny for Son Saint West Revealed
The latest episode of "The Kardashians" provided insight into Kim Kardashian's approach to parenting after her separation from Kanye. Kim revealed that she had hired a male nanny, affectionately referred to as a "manny," for her son, Saint. Her decision was based on a desire for a male presence in the children's lives, particularly when it comes to activities like sports. Kim explained, "It's really hard for me to be really strict and to discipline a lot. My parents weren't strict at all, and sometimes, because I'm really busy, it would be amazing if I had a partner who would tap me out and take over and handle it, but you know, it can't happen like that. I do think that my household and even our family is very female-dominated."
Interestingly, Kim admitted that she was initially apprehensive about sharing this choice with her ex-husband Kanye but was pleasantly surprised by his reaction. When he met the male nanny and interacted with him and Saint, Kanye introduced himself and joined in their activities. He even offered some of his personal rules for raising their children.
Despite Kim's attempt to introduce a positive male influence into her children's lives, there was some controversy surrounding her portrayal of Tristan Thompson, Khloé Kardashian's ex-boyfriend. In the same episode, Kim spoke highly of Thompson and his qualities as a friend and father, but she did acknowledge his past infidelity issues. She emphasized her belief in personal growth and the potential for people to evolve.
However, not everyone was pleased with Kim's praise of Thompson. A family member of Jordan Craig, Thompson's ex-girlfriend and the mother of his child, took to social media to express their discontent. The post highlighted the challenges Craig had faced regarding co-parenting and questioned Kim Kardashian's defense of Thompson's character on a global platform. Additionally, the post disputed the claims that Thompson provided consistent child support.
This episode of "The Kardashians" provided a glimpse into the family dynamics and personal decisions that continue to generate public discussion and controversy.
Omusawo Tintah To Host Renowned Swiss Artist Mr. Kamanzi on Metro fm 90.8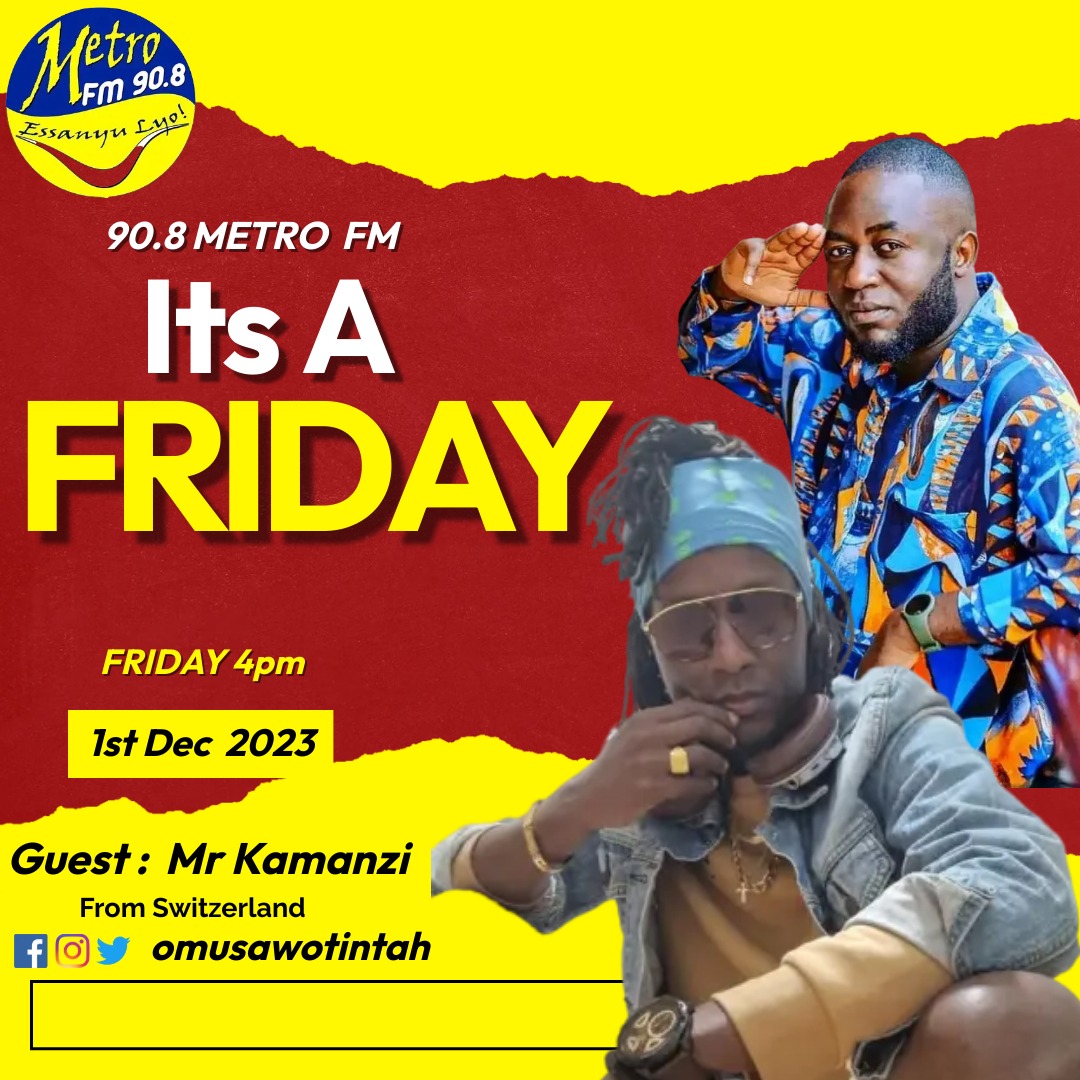 Metro FM 90.8's celebrated radio presenter and media activist, Omusawo Tintah, is gearing up to host the sensational Switzerland-based singer, Mr. Kamanzi, this Friday on his renowned radio show, Free Style Friday, running from 4 pm to 7 pm.
Omusawo Tintah's Free Style Friday has become a staple for music enthusiasts, featuring top-notch music and hosting internationally acclaimed artists. The show's popularity has soared, making it one of Uganda's most loved and trending radio programs.
Mr. Kamanzi, who is set to be the special guest on this week's episode, brings a wealth of musical talent and a captivating story to share. His journey in the world of music began at the age of 12, fueled by a deep passion for the art form. One of his childhood dreams was to perform on the grand stage, a dream that materialized in 1995 and marked the commencement of his music career.
Known for his distinctive vocal style, often referred to as "the husky voice of Africa," Mr. Kamanzi migrated to Switzerland a few years later. In 2008, he had the privilege of sharing the stage with T.o.k and Sean Paul in Dar es Salaam, Tanzania, a significant milestone in his musical journey.
With two published albums, namely "Unite" and "Today and Tomorrow," Mr. Kamanzi has made waves in the music industry. His track "Show Dem the Sign" received extensive airplay on local radio stations, solidifying his position as a notable artist. His performances have graced numerous stages across Africa and Europe, showcasing his versatility in musical genres, including Reggae, Afrobeat, Dancehall, and Pop Dancehall.
Beyond his musical accomplishments, Mr. Kamanzi's work with the Reggaenerators since 2021 has added a collaborative dimension to his career. His music carries a powerful message of upliftment, education, peace, and love, aligning with his personal motto: "Anywhere mi deh mi spread love."
As Free Style Friday prepares to host this illustrious artist, fans can anticipate an engaging and soulful session, blending Omusawo Tintah's charismatic hosting with the melodious tunes and inspiring story of Mr. Kamanzi. Tune in to Metro FM 90.8 this Friday for a musical experience that transcends borders and embraces the universal language of love through music.