Missy Elliott Donates $50,000 to Prevent Evictions in Hometown of Portsmouth
Grammy Award-winning musician and rap icon Missy Elliott is showing her charitable side by giving back to her hometown of Portsmouth, Virginia. On Tuesday (October 17), Missy Elliott made a generous donation of $50,000 to the Portsmouth Redevelopment and Housing Authority (PRHA) to help families on the brink of eviction.
Alisa Winston, the director of PRHA, shared that this significant contribution will be used to cover the past-due rent for 26 families in need.
Missy Elliott's act of kindness coincided with the one-year anniversary of her receiving the honor of having a street and day named in her honor in Portsmouth. During the ceremony, she expressed her desire to celebrate the day in a special way.
"Instead of it being a celebration of Missy Elliott — you know, about me — I wanted to give back and let that be the celebration of Missy Elliott, just to show that I love everybody out here," Missy Elliott stated. "Just know that P-Town is with me no matter where I go."
"I love my city. I love my state. I love everything about it," she added. "Everything about Missy comes from here — the hospitality, the humility, the confidence. If you mess with me, it's a problem. We're sweet, but don't try us."
Missy Elliott's mother, Patricia Elliott, also spoke about her daughter's generous gesture following the ceremony, emphasizing the importance of giving back.
"So when you give, you give because you remember those days when you didn't have," she said. "If each person would give when they get to the top, then, what a really beautiful world we would be in."
In October 2022, the "Work It" hitmaker proudly shared a photo on Instagram where she was seen beaming in a golden Versace outfit while holding a "Missy Elliott BLVD" street sign.
"ATTENTION MISSY ELLIOTT BLVD is on the Google Map #VA baybeeeeee #757 P-TOWN WAIT a WHOLE BLVD! God is good," she expressed. "I am not perfect, and I've had ups and downs when some doubted me and thought I would give up. I PRAYED and got back up every time. Hopefully, this will INSPIRE someone else to KEEP PUSHING!"
In recognition of her achievements, Missy was also honored with a key to the city of Portsmouth, officially renaming McLean Street to Missy Elliott Boulevard.
"I've ridden down that boulevard so many times, so make sure y'all don't get any misdemeanors on my street," she playfully quipped during the ceremony. "I have always been told to dream big. I couldn't have dreamed this big. Though I have accomplished many things, I have won many awards, but this trumps all when you get the love from your home." Missy Elliott's latest act of kindness is just one more example of her love and commitment to her community.
Omusawo Tintah To Host Renowned Swiss Artist Mr. Kamanzi on Metro fm 90.8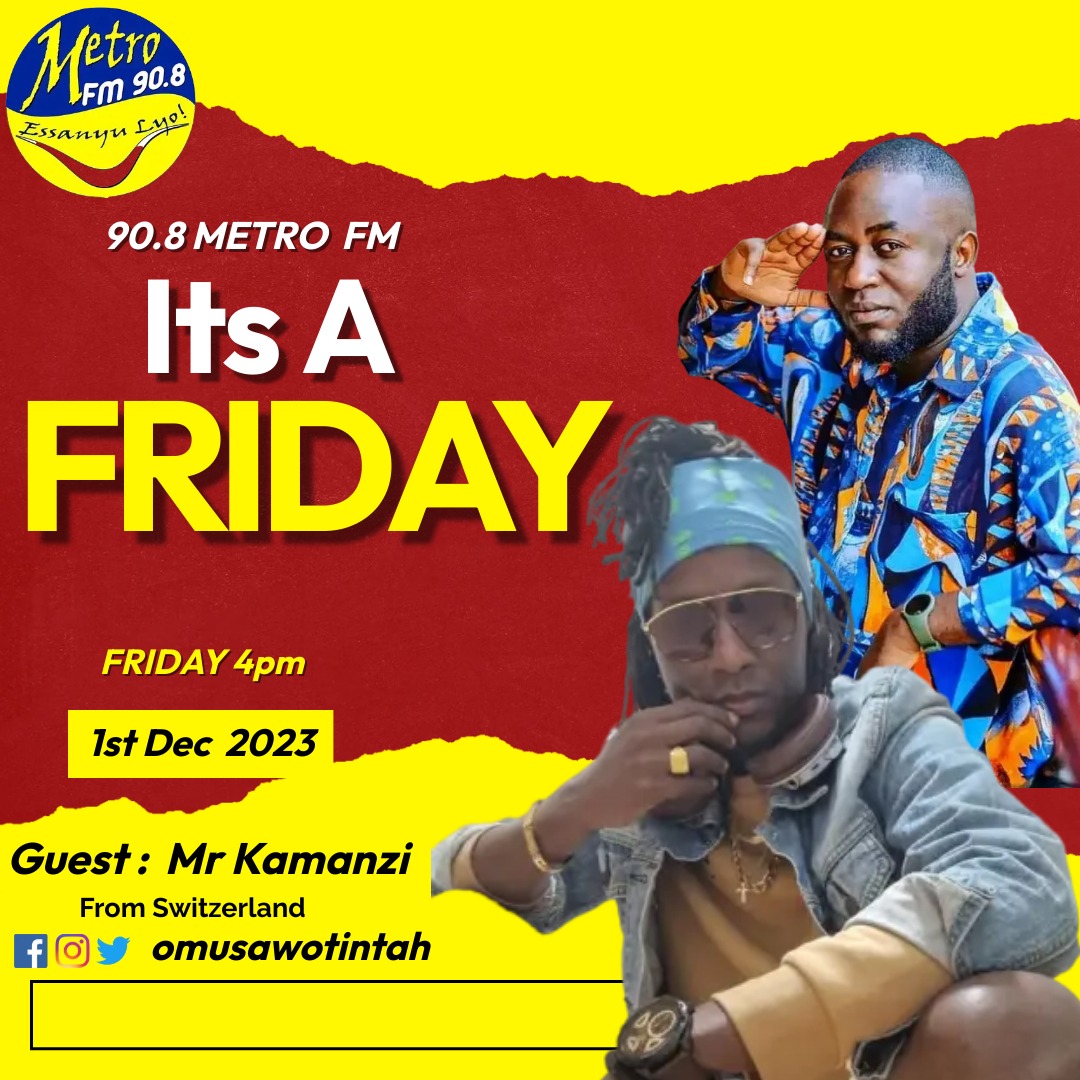 Metro FM 90.8's celebrated radio presenter and media activist, Omusawo Tintah, is gearing up to host the sensational Switzerland-based singer, Mr. Kamanzi, this Friday on his renowned radio show, Free Style Friday, running from 4 pm to 7 pm.
Omusawo Tintah's Free Style Friday has become a staple for music enthusiasts, featuring top-notch music and hosting internationally acclaimed artists. The show's popularity has soared, making it one of Uganda's most loved and trending radio programs.
Mr. Kamanzi, who is set to be the special guest on this week's episode, brings a wealth of musical talent and a captivating story to share. His journey in the world of music began at the age of 12, fueled by a deep passion for the art form. One of his childhood dreams was to perform on the grand stage, a dream that materialized in 1995 and marked the commencement of his music career.
Known for his distinctive vocal style, often referred to as "the husky voice of Africa," Mr. Kamanzi migrated to Switzerland a few years later. In 2008, he had the privilege of sharing the stage with T.o.k and Sean Paul in Dar es Salaam, Tanzania, a significant milestone in his musical journey.
With two published albums, namely "Unite" and "Today and Tomorrow," Mr. Kamanzi has made waves in the music industry. His track "Show Dem the Sign" received extensive airplay on local radio stations, solidifying his position as a notable artist. His performances have graced numerous stages across Africa and Europe, showcasing his versatility in musical genres, including Reggae, Afrobeat, Dancehall, and Pop Dancehall.
Beyond his musical accomplishments, Mr. Kamanzi's work with the Reggaenerators since 2021 has added a collaborative dimension to his career. His music carries a powerful message of upliftment, education, peace, and love, aligning with his personal motto: "Anywhere mi deh mi spread love."
As Free Style Friday prepares to host this illustrious artist, fans can anticipate an engaging and soulful session, blending Omusawo Tintah's charismatic hosting with the melodious tunes and inspiring story of Mr. Kamanzi. Tune in to Metro FM 90.8 this Friday for a musical experience that transcends borders and embraces the universal language of love through music.