Producer Mark 'The 45 King' James Passes Away at 62: A Music Icon Remembered
The music world is mourning the loss of iconic producer Mark "The 45 King" James, renowned for his groundbreaking work with artists such as Eminem, JAY-Z, and many others. Tragically, it was announced on Thursday (October 19) that the Bronx-born producer and DJ had passed away. This somber news came just days after he celebrated his 62nd birthday.
The cause of Mark's passing has not been disclosed, although DJ Premier took to Instagram to share the heartbreaking news and mentioned that the prolific producer had been hospitalized earlier in the week.
In a heartfelt and poignant post, DJ Premier, the legendary artist and member of Gang Starr, expressed his deep admiration and respect for Mark James, who was also known as DJ Mark the 45 King. Premier also provided a detailed account of Mark's illustrious career, paying homage to his influence on the music industry.
"R.I.P. DJ Mark The 45 King who passed this morning. An ICON. His 62nd Birthday was Monday," Premier wrote. "I never heard of Gang Starr until I heard DJ Red Alert play their 2nd single Produced by Mark on 98.7 Kiss in NYC while shopping my demos looking to get a record deal."
He continued to recall his discovery of Gang Starr's music, saying, "Red Alert was playing 'Bust A Move Boy,' cutting it up crazy, and I heard Guru's voice wondering who the heck is Gang Starr? I immediately went and bought the 12-inch single to discover the label Wild Pitch Records. From there, my friend Carlos Garza in Houston, TX, told Stu Fine, who owned Wild Pitch about me, and I connected with them in 1988 when Guru was looking for a new DJ and a permanent Producer."
Premier acknowledged Mark's significant contributions to the music industry, including his role in the iconic crew FLAVOR UNIT, which featured notable artists such as Queen Latifah, Latee, Chill Rob G., Lakim Shabazz, and many others. Mark's distinct sound, characterized by heavy drums and unique horn arrangements, left an indelible mark on countless classic productions. He secured a substantial deal with Warner Bros. and produced remarkable remixes for artists like Madonna and Eric B. and Rakim.
Mark's production credits include Eminem's "Stan," JAY-Z's "Hard Knock Life (Ghetto Anthem)," Queen Latifah's "Ladies First," and numerous other tracks that have become legendary in the world of hip-hop and beyond.
Premier also acknowledged Mark's remarkable contributions to the world of DJing. Mark's vinyl releases of breakbeats are revered among DJs of the 80s and 90s, earning him an enduring legacy.
In closing his tribute, Premier extended his condolences to Mark's brother Mike and sister. He remarked that there is much more to say but left it at this heartfelt tribute, adding, "Sleep Peacefully Mark, thank you for all that you've done. Such a nice person. You're such a special part of our culture, chiseled in the stone of the greatest parts of us. LOVE YOU MARK."
Tributes to Mark "The 45 King" James poured in from across the music industry, with artists such as Diamond D, Young Guru, Mad Skillz, A-Trak, Roc-A-Fella Records co-founder Kareem "Biggs" Burke, author Dan Charnas, and many more remembering the lasting impact of this musical icon. Mark's innovative work and unmistakable sound will continue to resonate in the hearts and ears of music lovers for generations to come.
Omusawo Tintah To Host Renowned Swiss Artist Mr. Kamanzi on Metro fm 90.8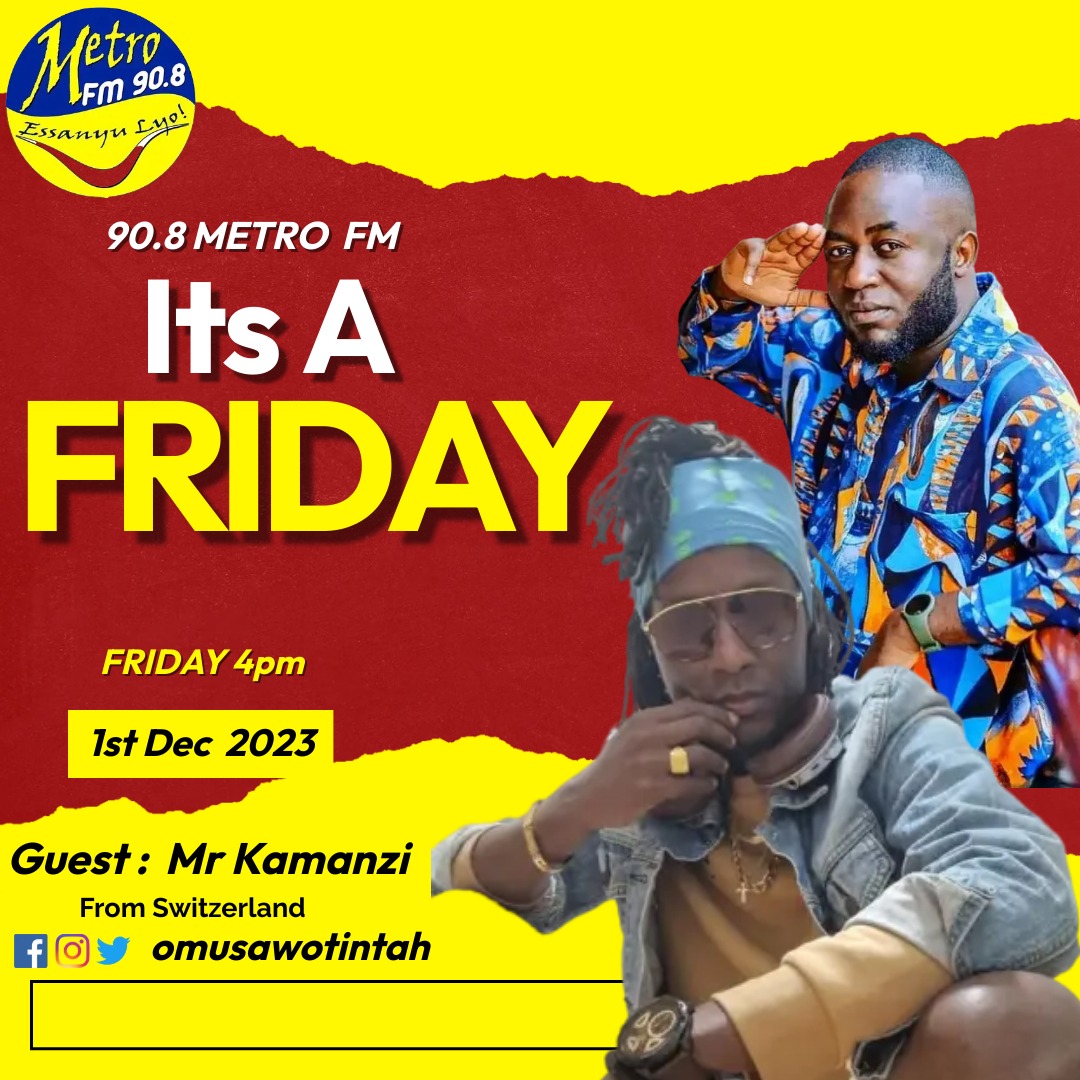 Metro FM 90.8's celebrated radio presenter and media activist, Omusawo Tintah, is gearing up to host the sensational Switzerland-based singer, Mr. Kamanzi, this Friday on his renowned radio show, Free Style Friday, running from 4 pm to 7 pm.
Omusawo Tintah's Free Style Friday has become a staple for music enthusiasts, featuring top-notch music and hosting internationally acclaimed artists. The show's popularity has soared, making it one of Uganda's most loved and trending radio programs.
Mr. Kamanzi, who is set to be the special guest on this week's episode, brings a wealth of musical talent and a captivating story to share. His journey in the world of music began at the age of 12, fueled by a deep passion for the art form. One of his childhood dreams was to perform on the grand stage, a dream that materialized in 1995 and marked the commencement of his music career.
Known for his distinctive vocal style, often referred to as "the husky voice of Africa," Mr. Kamanzi migrated to Switzerland a few years later. In 2008, he had the privilege of sharing the stage with T.o.k and Sean Paul in Dar es Salaam, Tanzania, a significant milestone in his musical journey.
With two published albums, namely "Unite" and "Today and Tomorrow," Mr. Kamanzi has made waves in the music industry. His track "Show Dem the Sign" received extensive airplay on local radio stations, solidifying his position as a notable artist. His performances have graced numerous stages across Africa and Europe, showcasing his versatility in musical genres, including Reggae, Afrobeat, Dancehall, and Pop Dancehall.
Beyond his musical accomplishments, Mr. Kamanzi's work with the Reggaenerators since 2021 has added a collaborative dimension to his career. His music carries a powerful message of upliftment, education, peace, and love, aligning with his personal motto: "Anywhere mi deh mi spread love."
As Free Style Friday prepares to host this illustrious artist, fans can anticipate an engaging and soulful session, blending Omusawo Tintah's charismatic hosting with the melodious tunes and inspiring story of Mr. Kamanzi. Tune in to Metro FM 90.8 this Friday for a musical experience that transcends borders and embraces the universal language of love through music.