R. Kelly Revealed to Be the Original Choice for R&B Supergroup LSG, Says Johnny Gill
In a recent interview with VladTV, original LSG (Levert-Sweat-Gill) member Johnny Gill disclosed that R. Kelly was initially approached to join the legendary R&B supergroup before it was officially formed in the mid-'90s. LSG was renowned for its abbreviation, representing the last names of its three founding members: Gerald Levert, Keith Sweat, and Johnny Gill.
Johnny Gill explained the group's origins and the change in its lineup, saying, "Originally, it was supposed to be Keith, Gerald, and R. Kelly. And some kind of way, Rob [R. Kelly] pulled out of it from what I was told, and I know Gerald talked to me, and he was like, 'Man, Keith wants to do a group thing.'"
While R. Kelly was initially considered for LSG, he has since faced numerous legal issues and has been incarcerated for an extended period. Recently, the royalties from his music were reallocated to the victims of his sex abuse crimes as a result of these ongoing legal woes.
In late August, U.S. District Judge Ann Donnelly issued an order demanding that R. Kelly and his record label, Universal Music Group, relinquish more than $500,000 in royalties. The prosecutors in Brooklyn, NY, filed a writ of continuing garnishment to collect money owed in a judgment from the disgraced singer, who is in debt to the government, acting on behalf of R. Kelly's victims.
"The outstanding balance on the aforesaid judgment is $504,289.73, including interest, as of June 1, 2023. Interest is continuing to accrue," the documents stated.
The court filed the writ of continuing garnishment against R. Kelly's label because they have control of assets belonging to the singer that could be used to settle his debts.
In March, the Illinois Supreme Court ruled in favor of Heather Williams, granting her access to R. Kelly's label fund, which was reportedly valued at $1.5 million in 2020. Williams had won a $4 million judgment against Kelly in 2020 after filing a civil lawsuit, alleging that R. Kelly lured her to his studio when she was 16 under the promise of participating in a music video, after which he engaged in sexual activity with her as a minor. The ruling allowed her to access the fund before another creditor, Midwest Commercial Funding, which won a $3.5 million judgment against R. Kelly for unpaid rent on a Chicago studio.
In February, R. Kelly was sentenced to two decades behind bars by a Chicago judge for his federal sexual assault case. During the sentencing, the judge determined that all but one year of the sentence would be served concurrently with the 30-year sentence he is currently serving in New York, where he was found guilty of racketeering and sex trafficking.
The grand jury verdict in Chicago found R. Kelly guilty on six of the 13 federal charges, including three child pornography charges related to the sexual abuse of four girls, three of whom were minors. He was also found guilty of producing three videos of himself sexually assaulting his 14-year-old goddaughter, leading to an additional three charges for producing sex tapes involving a minor.
Omusawo Tintah To Host Renowned Swiss Artist Mr. Kamanzi on Metro fm 90.8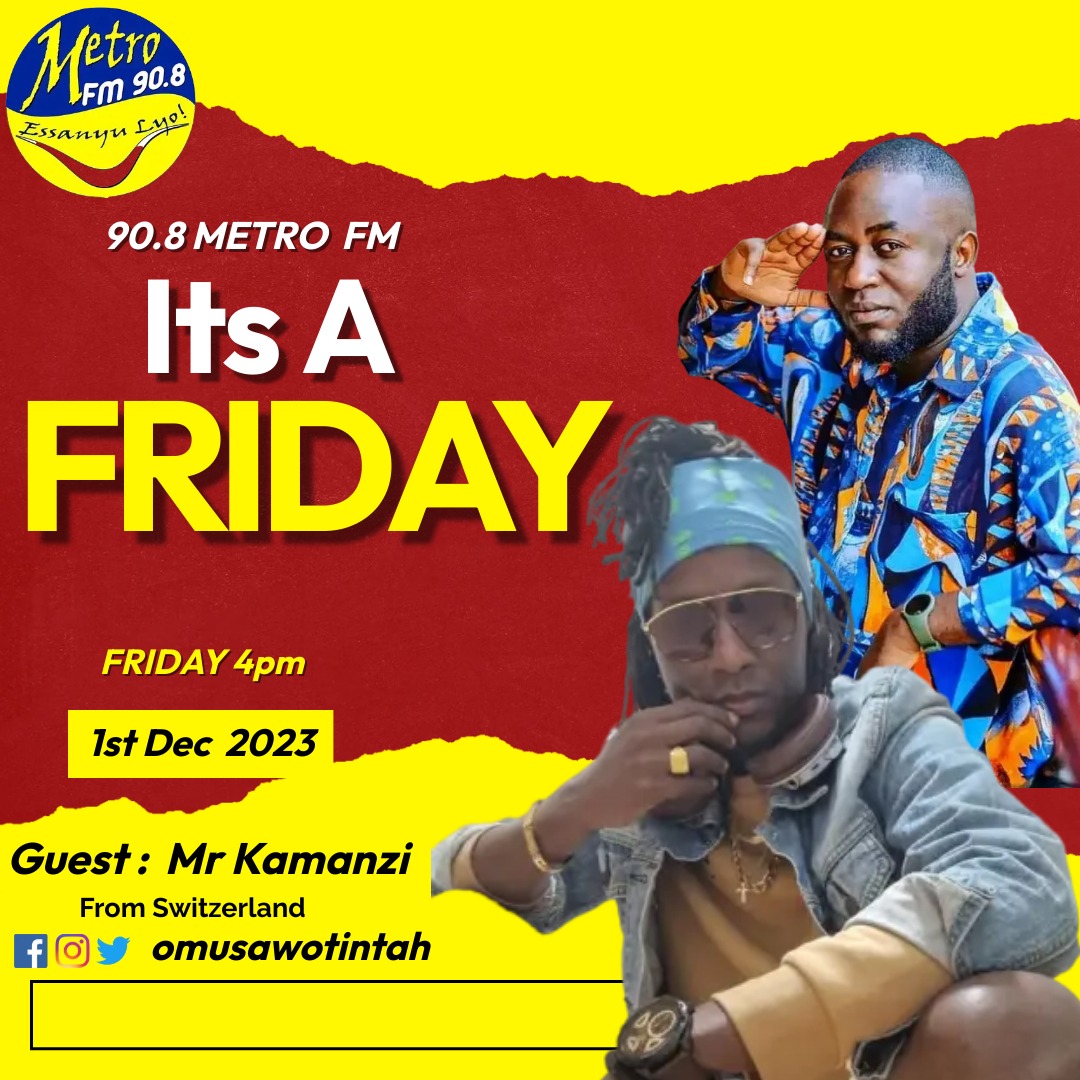 Metro FM 90.8's celebrated radio presenter and media activist, Omusawo Tintah, is gearing up to host the sensational Switzerland-based singer, Mr. Kamanzi, this Friday on his renowned radio show, Free Style Friday, running from 4 pm to 7 pm.
Omusawo Tintah's Free Style Friday has become a staple for music enthusiasts, featuring top-notch music and hosting internationally acclaimed artists. The show's popularity has soared, making it one of Uganda's most loved and trending radio programs.
Mr. Kamanzi, who is set to be the special guest on this week's episode, brings a wealth of musical talent and a captivating story to share. His journey in the world of music began at the age of 12, fueled by a deep passion for the art form. One of his childhood dreams was to perform on the grand stage, a dream that materialized in 1995 and marked the commencement of his music career.
Known for his distinctive vocal style, often referred to as "the husky voice of Africa," Mr. Kamanzi migrated to Switzerland a few years later. In 2008, he had the privilege of sharing the stage with T.o.k and Sean Paul in Dar es Salaam, Tanzania, a significant milestone in his musical journey.
With two published albums, namely "Unite" and "Today and Tomorrow," Mr. Kamanzi has made waves in the music industry. His track "Show Dem the Sign" received extensive airplay on local radio stations, solidifying his position as a notable artist. His performances have graced numerous stages across Africa and Europe, showcasing his versatility in musical genres, including Reggae, Afrobeat, Dancehall, and Pop Dancehall.
Beyond his musical accomplishments, Mr. Kamanzi's work with the Reggaenerators since 2021 has added a collaborative dimension to his career. His music carries a powerful message of upliftment, education, peace, and love, aligning with his personal motto: "Anywhere mi deh mi spread love."
As Free Style Friday prepares to host this illustrious artist, fans can anticipate an engaging and soulful session, blending Omusawo Tintah's charismatic hosting with the melodious tunes and inspiring story of Mr. Kamanzi. Tune in to Metro FM 90.8 this Friday for a musical experience that transcends borders and embraces the universal language of love through music.