VIDEO : Fat Joe Faces Lawsuit Over Alleged Improper Songwriting Credits for 'All The Way Up
Fat Joe's 2016 hit song "All The Way Up" was a collaborative effort that featured French Montana, Remy Ma, and Infared, but recent claims suggest that not all contributors received their fair share. Miami rapper Fly Havana has emerged with allegations that he worked on the original track with Remy Ma and Infared back in 2016, before Fat Joe became involved and the song turned into a chart-topping hit. However, Fly Havana asserts that he was never adequately compensated for his role.
According to All Hip Hop, Fly Havana is taking legal action against Fat Joe to secure proper credit and payment as a songwriter for the track. In a statement regarding the lawsuit, his lawyer cleverly played on the title of the hit song, stating that his client's "career should have gone 'all the way up' after writing a major hit. Instead, defendants caused it to go all the way down." The lawsuit, which had been publicly discussed for some time, was officially approved to proceed to court earlier this week.
It's worth noting that Fly Havana did receive an initial payment of $5,000 for his contribution to the song, with the promise of more compensation in the future. However, according to a document presented by Fat Joe's legal team, Fly Havana waived his right to any additional payments related to the track.
Notably, Fat Joe made a significant donation just last month to students in the Bronx. He provided over $100,000 worth of new clothing to students and personally surprised more than 600 of them. This lawsuit could potentially result in him having to pay out additional funds. What are your thoughts on the lawsuit against Fat Joe for alleged improper songwriting credits on his hit "All The Way Up"? Share your opinions in the comments section below.
Omusawo Tintah To Host Renowned Swiss Artist Mr. Kamanzi on Metro fm 90.8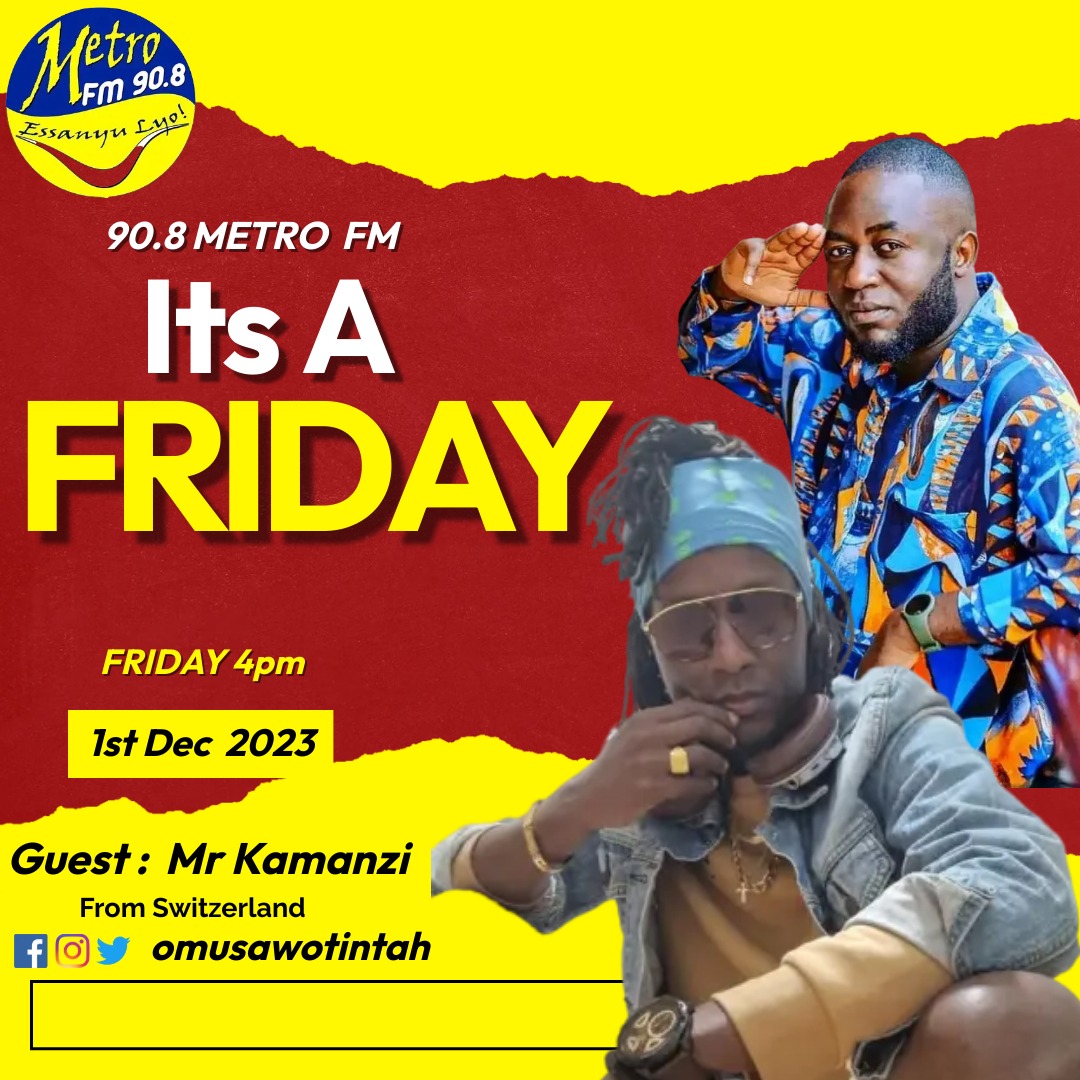 Metro FM 90.8's celebrated radio presenter and media activist, Omusawo Tintah, is gearing up to host the sensational Switzerland-based singer, Mr. Kamanzi, this Friday on his renowned radio show, Free Style Friday, running from 4 pm to 7 pm.
Omusawo Tintah's Free Style Friday has become a staple for music enthusiasts, featuring top-notch music and hosting internationally acclaimed artists. The show's popularity has soared, making it one of Uganda's most loved and trending radio programs.
Mr. Kamanzi, who is set to be the special guest on this week's episode, brings a wealth of musical talent and a captivating story to share. His journey in the world of music began at the age of 12, fueled by a deep passion for the art form. One of his childhood dreams was to perform on the grand stage, a dream that materialized in 1995 and marked the commencement of his music career.
Known for his distinctive vocal style, often referred to as "the husky voice of Africa," Mr. Kamanzi migrated to Switzerland a few years later. In 2008, he had the privilege of sharing the stage with T.o.k and Sean Paul in Dar es Salaam, Tanzania, a significant milestone in his musical journey.
With two published albums, namely "Unite" and "Today and Tomorrow," Mr. Kamanzi has made waves in the music industry. His track "Show Dem the Sign" received extensive airplay on local radio stations, solidifying his position as a notable artist. His performances have graced numerous stages across Africa and Europe, showcasing his versatility in musical genres, including Reggae, Afrobeat, Dancehall, and Pop Dancehall.
Beyond his musical accomplishments, Mr. Kamanzi's work with the Reggaenerators since 2021 has added a collaborative dimension to his career. His music carries a powerful message of upliftment, education, peace, and love, aligning with his personal motto: "Anywhere mi deh mi spread love."
As Free Style Friday prepares to host this illustrious artist, fans can anticipate an engaging and soulful session, blending Omusawo Tintah's charismatic hosting with the melodious tunes and inspiring story of Mr. Kamanzi. Tune in to Metro FM 90.8 this Friday for a musical experience that transcends borders and embraces the universal language of love through music.