VIDEO : JAY-Z Reveals Why He Never Pursued an Acting Career Despite His Rap Success
JAY-Z, known for his iconic status and immense success in the music industry, has yet to make the leap that many of his rap peers have taken to conquer Hollywood. In a rare interview with Complex, the Roc Nation mogul opened up about why he has never ventured into acting, despite his remarkable career. The answer is surprisingly simple: he has never liked acting.
During the interview, which revolved around his collaboration with legendary music video director Hype Williams, JAY-Z candidly admitted that his "guarded" nature has long been a barrier to pursuing a career in film and television, particularly in front of the camera.
Responding to rumors that he was supposed to play DMX's character in Hype Williams' 1998 movie "Belly," JAY-Z explained, "That's a rumor. Because of how guarded I was, I hated acting. This is why I don't act because I would get in my way. I would be thinking, 'No, I don't want to do something that I ain't gonna look cool.'"
He further reflected on his past mindset, saying, "But you know, I was young and immature. Or I was young mentally. If you see our own movies, I was in for like 30 seconds, and I wasn't even speaking."
Despite his aversion to acting, JAY-Z did have a brief stint in the world of film early in his career. In 1998, the Brooklyn native starred in the straight-to-home video film "Streets Is Watching," which was directed by Abdul Malik Abbott and co-written by JAY-Z himself. This 60-minute film featured street vignettes paired with songs from his debut album "Reasonable Doubt" and the follow-up "In My Lifetime, Vol. 1."
While JAY-Z may have distanced himself from acting, he couldn't help but praise his former foe, Nas, who made his acting debut alongside DMX in Hype Williams' hood classic, "Belly." He acknowledged that he had no idea how Nas managed to transition into acting, given their shared reservations about the field. JAY-Z stated, "I had no idea how Nas did that because I felt like he was in the same place as me. But he did it and he made it work. But I never was meant to be in 'Belly.' I don't even know where that came from."
In the interview, JAY-Z also reflected on his experiences filming high-budget music videos, such as "(Always Be My) Sunshine" and "Big Pimpin'" with Hype Williams. He candidly admitted that, during that period, he might not have been the easiest person to work with due to his guarded nature. He shared, "I don't know if I was coachable as far as a performance at that time. I don't know if anyone could coach me because I was so guarded."
The rapper turned executive producer has carved out an impressive career in recent years, overseeing the production of various movies and documentaries, including "The Great Gatsby," "The Harder They Fall," and "Rest In Power: The Trayvon Martin Story." More recently, the 53-year-old billionaire surprised his fans by returning to Instagram to promote his latest project, "The Book of Clarence," which is set to hit theaters in January. Although acting may not be on his bucket list, JAY-Z continues to make waves in the world of entertainment as a producer and influential figure in the industry.
Omusawo Tintah To Host Renowned Swiss Artist Mr. Kamanzi on Metro fm 90.8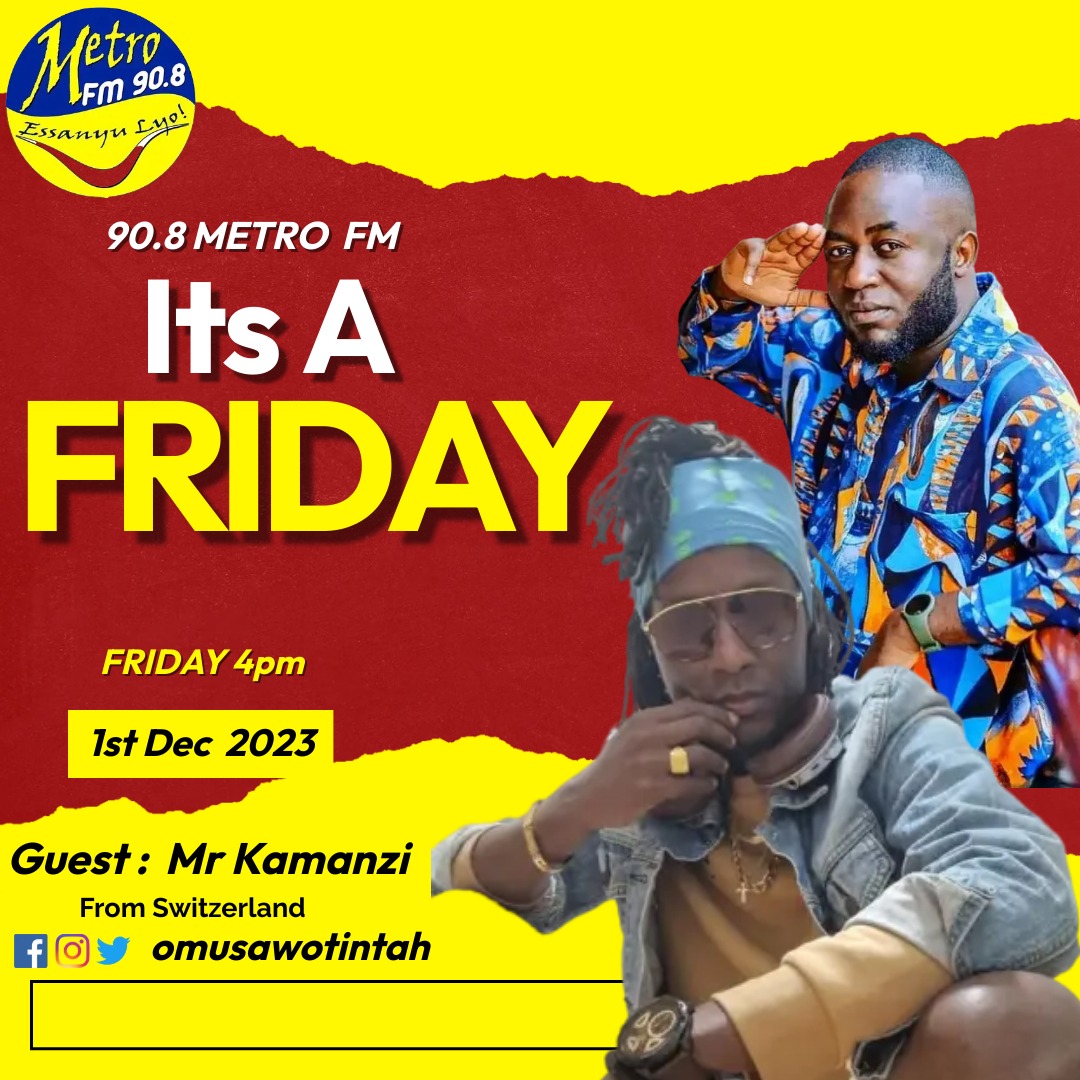 Metro FM 90.8's celebrated radio presenter and media activist, Omusawo Tintah, is gearing up to host the sensational Switzerland-based singer, Mr. Kamanzi, this Friday on his renowned radio show, Free Style Friday, running from 4 pm to 7 pm.
Omusawo Tintah's Free Style Friday has become a staple for music enthusiasts, featuring top-notch music and hosting internationally acclaimed artists. The show's popularity has soared, making it one of Uganda's most loved and trending radio programs.
Mr. Kamanzi, who is set to be the special guest on this week's episode, brings a wealth of musical talent and a captivating story to share. His journey in the world of music began at the age of 12, fueled by a deep passion for the art form. One of his childhood dreams was to perform on the grand stage, a dream that materialized in 1995 and marked the commencement of his music career.
Known for his distinctive vocal style, often referred to as "the husky voice of Africa," Mr. Kamanzi migrated to Switzerland a few years later. In 2008, he had the privilege of sharing the stage with T.o.k and Sean Paul in Dar es Salaam, Tanzania, a significant milestone in his musical journey.
With two published albums, namely "Unite" and "Today and Tomorrow," Mr. Kamanzi has made waves in the music industry. His track "Show Dem the Sign" received extensive airplay on local radio stations, solidifying his position as a notable artist. His performances have graced numerous stages across Africa and Europe, showcasing his versatility in musical genres, including Reggae, Afrobeat, Dancehall, and Pop Dancehall.
Beyond his musical accomplishments, Mr. Kamanzi's work with the Reggaenerators since 2021 has added a collaborative dimension to his career. His music carries a powerful message of upliftment, education, peace, and love, aligning with his personal motto: "Anywhere mi deh mi spread love."
As Free Style Friday prepares to host this illustrious artist, fans can anticipate an engaging and soulful session, blending Omusawo Tintah's charismatic hosting with the melodious tunes and inspiring story of Mr. Kamanzi. Tune in to Metro FM 90.8 this Friday for a musical experience that transcends borders and embraces the universal language of love through music.