VIDEO : Kanye West and Rihanna Join Forces for Bianca's New Clothing Line to Challenge SKIMS
In a bold move that's shaking up the fashion industry, Kanye West is set to collaborate with none other than the iconic Rihanna for his upcoming clothing line under the brand "Bianca." This surprising partnership is generating quite the buzz, and it appears that Kanye is making a strong comeback in the fashion world.
So, how did this unexpected fashion fusion come about? Well, it all seems to be a strategic response to Kanye's ex-wife, Kim Kardashian's recent promotional campaign for her brand, SKIMS. Kim featured Cardi B in her campaign to promote the brand's new cotton collection, and this has undoubtedly sparked competition between the Kardashian-Jenner clan and Kanye.
Kanye West's move to bring Rihanna on board is not just a power move but also a bold challenge to the Kardashians' fashion empire. Rihanna, known for her trailblazing ventures in the fashion industry, adds a new level of prestige and influence to Kanye's clothing line.
Kanye's decision to collaborate with Rihanna is strategic and well thought out. Rihanna, a successful businesswoman and fashion mogul in her own right, brings immense value to this partnership. Kanye and Rihanna have a history of creative collaborations, both musically and artistically, which has solidified their dynamic synergy. Their joint work on the song "All of the Lights," from Kanye's 2010 album "My Beautiful Dark Twisted Fantasy," showcases their musical compatibility.
Their strong friendship and mutual admiration are well-documented. Rihanna has always looked up to Kanye, while he has consistently praised her artistry and work ethic. This deep mutual respect has fostered a strong connection between them, further fueling their successful collaboration.
Rihanna's public support for Kanye, even during controversial times when he faced backlash and criticism, exemplifies the depth of their friendship. She paid tribute to him during her Super Bowl halftime show, showcasing the strength of their bond.
The Kardashian-Jenner clan may find themselves somewhat threatened by Kanye's partnership with Rihanna. As a fashion industry powerhouse, Rihanna's involvement can potentially overshadow their own ventures. The Kardashian family, led by Kim Kardashian, has used celebrity endorsements for their brand promotions, but they haven't achieved the level of success they anticipated. With Kanye's strategic collaboration with Rihanna, it's evident that he's delivering a substantial blow to Kim and the Kardashians.
The anticipation surrounding Bianca's new clothing line, with Rihanna's influential involvement, is set to shake up the fashion world. Rihanna's impact in the fashion industry is undeniable, and her presence alone can elevate any brand she associates with. Her achievements, such as launching her own brand "Fenty" in collaboration with Puma and becoming the first black woman to head a luxury fashion house with Fenty Maison in partnership with LVMH, underscore her unique position in the industry.
Kanye's partnership with Rihanna is poised to make a profound statement in the fashion world, setting the stage for an extraordinary comeback in his fashion career. As excitement builds around this collaboration, the fashion industry is eagerly awaiting the groundbreaking creations that this dynamic duo will bring to life.
Kanye West's decision to work with Rihanna has sent shockwaves through the fashion industry. Their creative chemistry and friendship, combined with their impressive individual achievements, are sure to result in a fashion venture of unparalleled success. This collaboration may well be the next big thing in the world of fashion.
Omusawo Tintah To Host Renowned Swiss Artist Mr. Kamanzi on Metro fm 90.8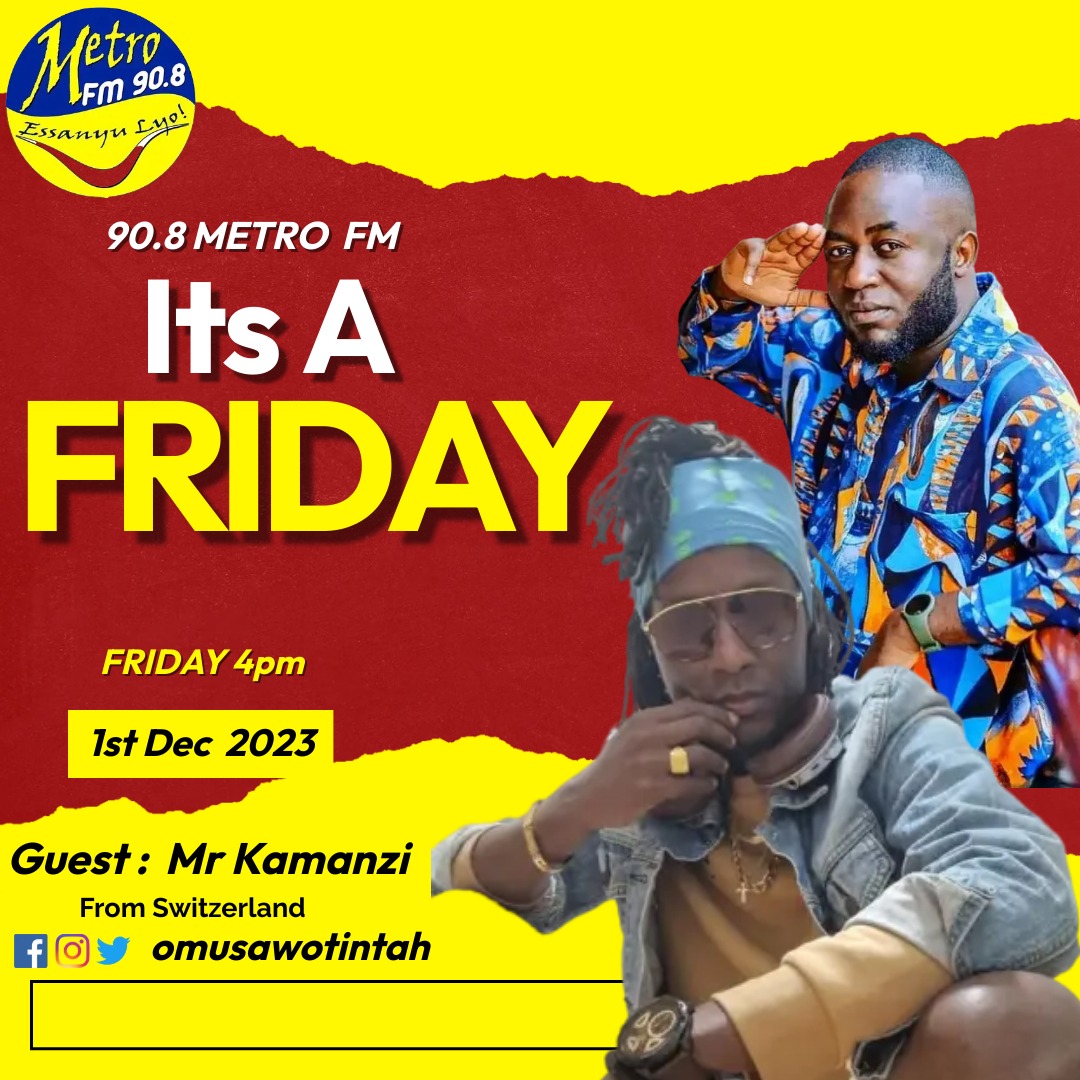 Metro FM 90.8's celebrated radio presenter and media activist, Omusawo Tintah, is gearing up to host the sensational Switzerland-based singer, Mr. Kamanzi, this Friday on his renowned radio show, Free Style Friday, running from 4 pm to 7 pm.
Omusawo Tintah's Free Style Friday has become a staple for music enthusiasts, featuring top-notch music and hosting internationally acclaimed artists. The show's popularity has soared, making it one of Uganda's most loved and trending radio programs.
Mr. Kamanzi, who is set to be the special guest on this week's episode, brings a wealth of musical talent and a captivating story to share. His journey in the world of music began at the age of 12, fueled by a deep passion for the art form. One of his childhood dreams was to perform on the grand stage, a dream that materialized in 1995 and marked the commencement of his music career.
Known for his distinctive vocal style, often referred to as "the husky voice of Africa," Mr. Kamanzi migrated to Switzerland a few years later. In 2008, he had the privilege of sharing the stage with T.o.k and Sean Paul in Dar es Salaam, Tanzania, a significant milestone in his musical journey.
With two published albums, namely "Unite" and "Today and Tomorrow," Mr. Kamanzi has made waves in the music industry. His track "Show Dem the Sign" received extensive airplay on local radio stations, solidifying his position as a notable artist. His performances have graced numerous stages across Africa and Europe, showcasing his versatility in musical genres, including Reggae, Afrobeat, Dancehall, and Pop Dancehall.
Beyond his musical accomplishments, Mr. Kamanzi's work with the Reggaenerators since 2021 has added a collaborative dimension to his career. His music carries a powerful message of upliftment, education, peace, and love, aligning with his personal motto: "Anywhere mi deh mi spread love."
As Free Style Friday prepares to host this illustrious artist, fans can anticipate an engaging and soulful session, blending Omusawo Tintah's charismatic hosting with the melodious tunes and inspiring story of Mr. Kamanzi. Tune in to Metro FM 90.8 this Friday for a musical experience that transcends borders and embraces the universal language of love through music.