VIDEO : Kim Kardashian Seemingly Shaded by Celebrities as Ice Spice Supports Kanye
It appears that tensions within the Kardashian family are on the rise once again, and this time it's due to the unexpected support that Ice Spice has shown for Kim's ex-husband, Kanye West. The social media frenzy began when Kim Kardashian posted screenshots of herself listening to Kanye's new album on her story. However, eagle-eyed fans quickly noticed that the volume was turned all the way down on all of the screenshots, raising eyebrows and sparking speculation.
Ice Spice, a renowned hip-hop producer, joined the conversation, lauding Kanye as the "greatest of all time." This public declaration of support didn't sit well with Kim, especially considering that she had considered Ice Spice a friend. The Kardashian family has had its fair share of feuds and controversies in recent times, but this particular scenario seems to have caught everyone by surprise.
The controversy started when Ice Spice made an appearance on the Complex podcast and dubbed Kanye West as the "greatest of all time." She went a step further by declaring Kanye's "Graduation" album as the best work of the Grammy-winning artist. This unexpected support for Kim's ex-husband appeared to leave Kim frustrated, given the history of their friendship and the ongoing rivalry between Kanye and Taylor Swift.
While Kim might not have appreciated Ice Spice's show of support for Kanye, many fans applauded her commentary. Some even praised Ice Spice for her taste in music and her willingness to speak her mind. It's clear that Ice Spice's comments have sparked a lively debate among fans and celebrities alike.
Adding more fuel to the fire, Ice Spice not only honored Kanye but also referred to Taylor Swift, a known rival of the Kardashians, as her "sister and friend." This unexpected twist has left many wondering about the dynamics within the Kardashian inner circle and what motivated Ice Spice's actions.
Some speculate that Ice Spice's public acknowledgment of Kanye might be a strategic move to tap into his recent surge in popularity. Kanye West is known for his influential presence in both the music and fashion industries. Aligning herself with him could potentially benefit her own career, making it a calculated move from a business perspective.
On the other hand, some argue that Ice Spice genuinely believes in Kanye's talent and influence, regardless of the personal drama. Beyond personal relationships, this situation highlights the significant impact that Kanye West has had on the music and pop culture landscape. Despite the ups and downs in his personal life, his influence remains undeniable, swaying even those close to the Kardashians.
Ice Spice is not the only celebrity to publicly recognize Kanye's impact and influence. Paul McCartney, a legendary musician in his own right, has praised Kanye's artistry and innovation. He acknowledges Kanye's talent as a producer and his ability to create timeless beats that continue to be relevant.
In the end, it's a testament to Kanye's talents and artistry that even those who may not agree with his actions can still appreciate his contributions to the industry. Love him or hate him, Kanye has left an indelible mark on the music and fashion world, inspiring newer generations of artists and earning the respect of industry veterans like Ice Spice and Paul McCartney.
As Kim Kardashian continues to navigate the complex web of celebrity relationships, the entertainment world remains captivated by the ongoing drama and alliances formed within the industry. Ice Spice's unexpected support for Kanye has only added more intrigue to the mix, leaving fans and celebrities alike eager to see how this latest twist in the Kardashian saga unfolds.
Omusawo Tintah To Host Renowned Swiss Artist Mr. Kamanzi on Metro fm 90.8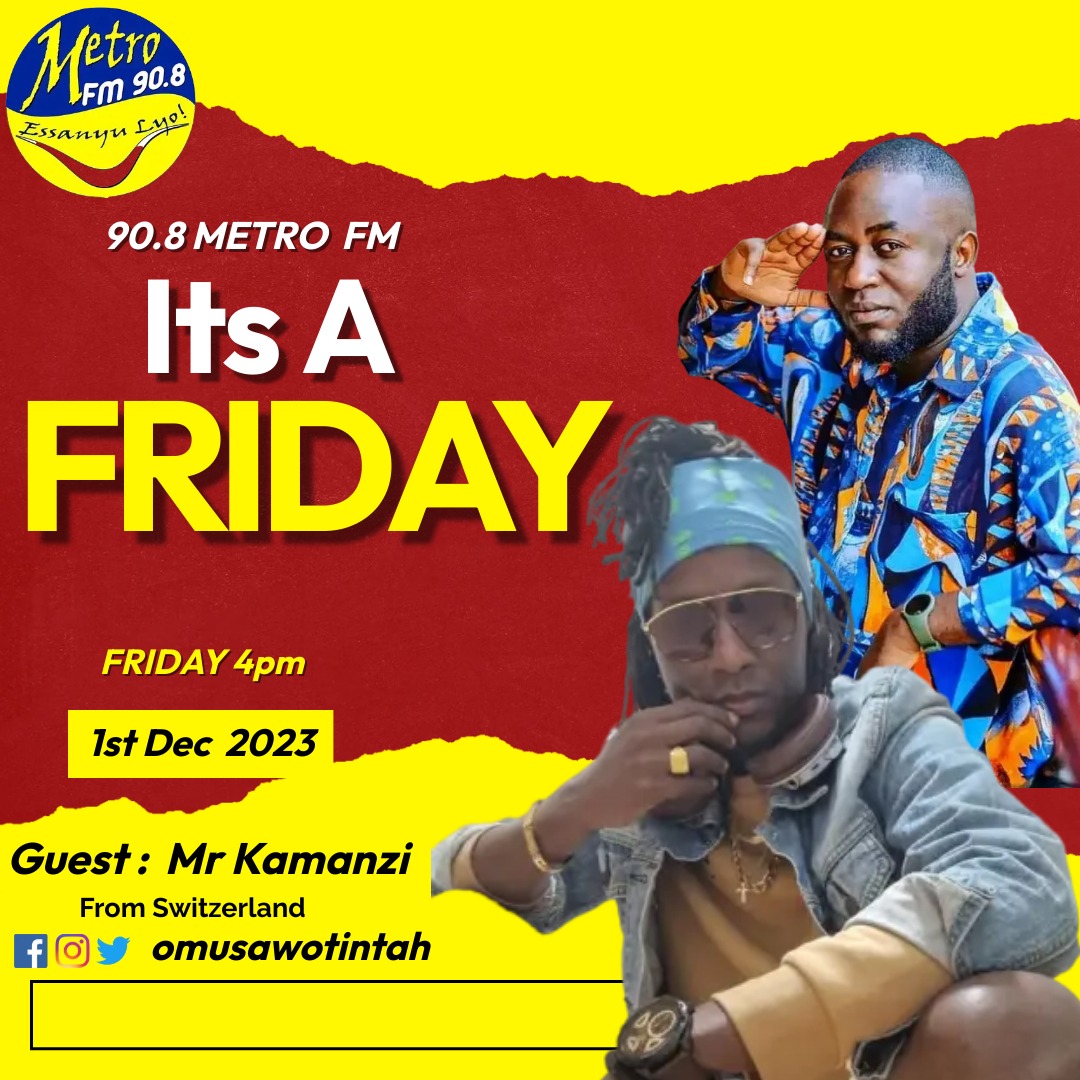 Metro FM 90.8's celebrated radio presenter and media activist, Omusawo Tintah, is gearing up to host the sensational Switzerland-based singer, Mr. Kamanzi, this Friday on his renowned radio show, Free Style Friday, running from 4 pm to 7 pm.
Omusawo Tintah's Free Style Friday has become a staple for music enthusiasts, featuring top-notch music and hosting internationally acclaimed artists. The show's popularity has soared, making it one of Uganda's most loved and trending radio programs.
Mr. Kamanzi, who is set to be the special guest on this week's episode, brings a wealth of musical talent and a captivating story to share. His journey in the world of music began at the age of 12, fueled by a deep passion for the art form. One of his childhood dreams was to perform on the grand stage, a dream that materialized in 1995 and marked the commencement of his music career.
Known for his distinctive vocal style, often referred to as "the husky voice of Africa," Mr. Kamanzi migrated to Switzerland a few years later. In 2008, he had the privilege of sharing the stage with T.o.k and Sean Paul in Dar es Salaam, Tanzania, a significant milestone in his musical journey.
With two published albums, namely "Unite" and "Today and Tomorrow," Mr. Kamanzi has made waves in the music industry. His track "Show Dem the Sign" received extensive airplay on local radio stations, solidifying his position as a notable artist. His performances have graced numerous stages across Africa and Europe, showcasing his versatility in musical genres, including Reggae, Afrobeat, Dancehall, and Pop Dancehall.
Beyond his musical accomplishments, Mr. Kamanzi's work with the Reggaenerators since 2021 has added a collaborative dimension to his career. His music carries a powerful message of upliftment, education, peace, and love, aligning with his personal motto: "Anywhere mi deh mi spread love."
As Free Style Friday prepares to host this illustrious artist, fans can anticipate an engaging and soulful session, blending Omusawo Tintah's charismatic hosting with the melodious tunes and inspiring story of Mr. Kamanzi. Tune in to Metro FM 90.8 this Friday for a musical experience that transcends borders and embraces the universal language of love through music.