JAY-Z and Eminem Pay Tribute to DJ Mark The 45 King, Hip Hop Producer and DJ Extraordinaire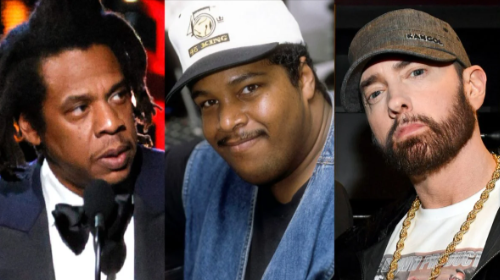 JAY-Z and Eminem, two of Hip Hop's legendary figures, have joined the broader Hip Hop community in mourning the loss of DJ Mark The 45 King, the renowned producer and DJ responsible for iconic tracks like "Hard Knock Life (Ghetto Anthem)" and "Stan," among others.
DJ Premier revealed the passing of The 45 King, whose real name was Mark Howard James, on social media on Thursday morning (October 19), a message that was later confirmed by his manager, Paul Martinez. The cause of his death remains undisclosed, but DJ Premier mentioned in a heartfelt Instagram post that the Bronx-born producer, who had just celebrated his 62nd birthday on Monday (October 16), had been in the hospital earlier in the week.
Upon learning of his demise, JAY-Z's longtime engineer, Young Guru, shared a message on Instagram from the Roc Nation mogul, expressing gratitude and paying tribute to The 45 King. JAY-Z stated, "Thank you, Mark. Your instrumentals, namely 'The 900 Number,' were more memorable than our whole albums. You gave me a canvas to have a conversation with the world!! You changed my life. Even when life is short, art endures."
Eminem also took to Twitter to honor The 45 King, saying, "Legends are never over. #RIP Mark Howard James aka The 45 King … I'm 4ever grateful!!!" His tweet included a video of the late producer discussing the creation of "Stan."
DJ Mark The 45 King earned his moniker for his ability to craft beats using obscure 45 RPM records. He made a notable breakthrough with his 1987 track "The 900 Number" and his work on Queen Latifah's 1989 debut, "All Hail the Queen." The two collaborated as part of the Flavor Unit alongside Apache, Lakim Shabazz, and Chill Rob G.
Throughout the late '80s and early '90s, The 45 King's career thrived with collaborations featuring renowned artists like Gang Starr, Eric B. & Rakim, Salt-N-Pepa, Madonna, and MC Lyte. His solo releases, such as "Straight Out Da Crate" and "The Lost Breakbeats" series, were among the pioneering instrumental projects in Hip Hop.
Two of his most significant production credits came around the turn of the millennium, including JAY-Z's "Hard Knock Life (Ghetto Anthem)" and Eminem's "Stan." Both tracks achieved massive commercial success and played a crucial role in elevating the two rappers to global superstardom.
"Hard Knock Life" was particularly transformative for JAY-Z, becoming his highest-charting single at the time, reaching No. 15 on the Billboard Hot 100. It earned him a platinum plaque and a Grammy nomination for Best Rap Solo Performance, significantly shaping his career.
The Hip Hop community has been flooded with tributes to The 45 King, including messages from Diamond D, Kid Capri, The Alchemist, A-Trak, Roc-A-Fella Records co-founder Kareem "Biggs" Burke, and many more.
Omusawo Tintah To Host Renowned Swiss Artist Mr. Kamanzi on Metro fm 90.8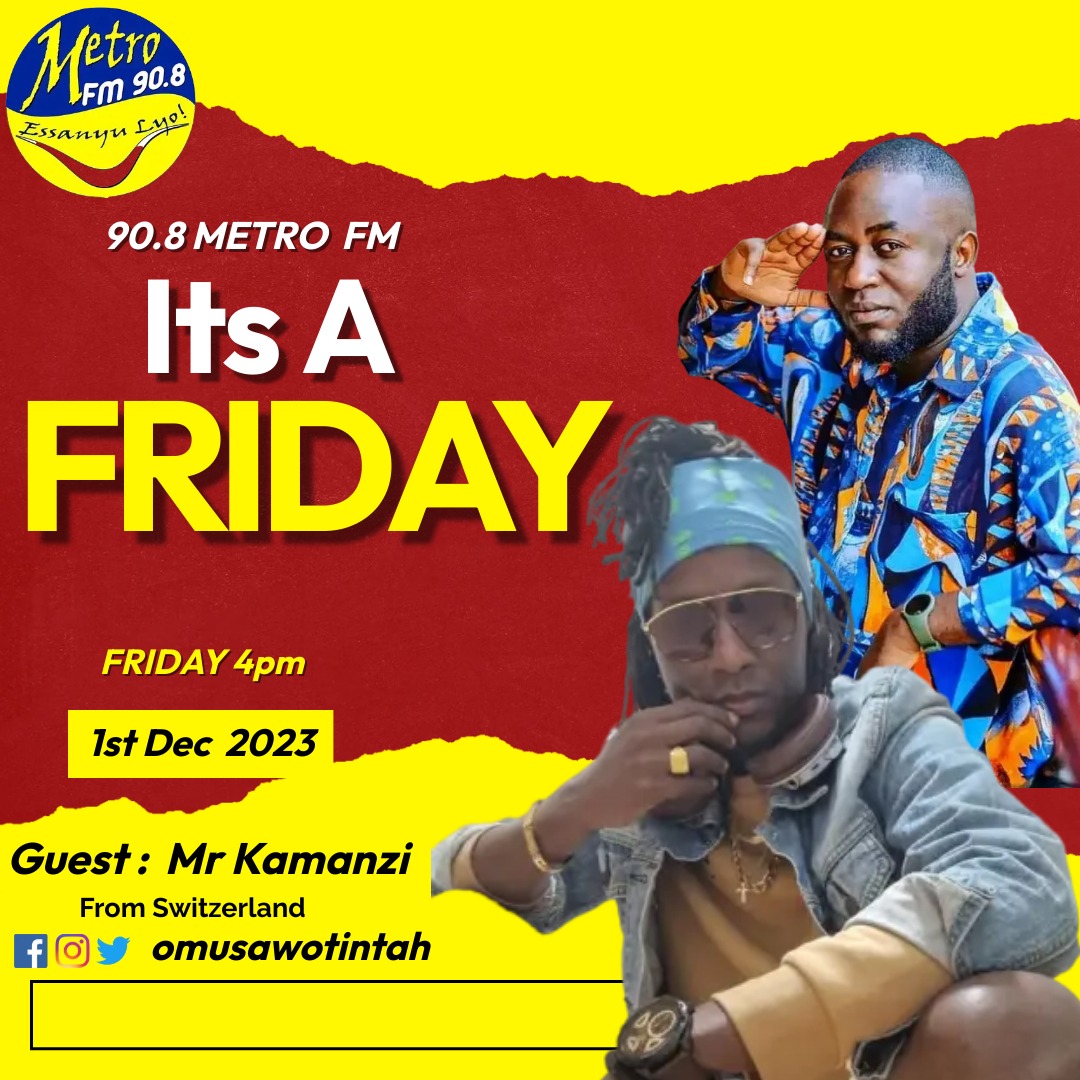 Metro FM 90.8's celebrated radio presenter and media activist, Omusawo Tintah, is gearing up to host the sensational Switzerland-based singer, Mr. Kamanzi, this Friday on his renowned radio show, Free Style Friday, running from 4 pm to 7 pm.
Omusawo Tintah's Free Style Friday has become a staple for music enthusiasts, featuring top-notch music and hosting internationally acclaimed artists. The show's popularity has soared, making it one of Uganda's most loved and trending radio programs.
Mr. Kamanzi, who is set to be the special guest on this week's episode, brings a wealth of musical talent and a captivating story to share. His journey in the world of music began at the age of 12, fueled by a deep passion for the art form. One of his childhood dreams was to perform on the grand stage, a dream that materialized in 1995 and marked the commencement of his music career.
Known for his distinctive vocal style, often referred to as "the husky voice of Africa," Mr. Kamanzi migrated to Switzerland a few years later. In 2008, he had the privilege of sharing the stage with T.o.k and Sean Paul in Dar es Salaam, Tanzania, a significant milestone in his musical journey.
With two published albums, namely "Unite" and "Today and Tomorrow," Mr. Kamanzi has made waves in the music industry. His track "Show Dem the Sign" received extensive airplay on local radio stations, solidifying his position as a notable artist. His performances have graced numerous stages across Africa and Europe, showcasing his versatility in musical genres, including Reggae, Afrobeat, Dancehall, and Pop Dancehall.
Beyond his musical accomplishments, Mr. Kamanzi's work with the Reggaenerators since 2021 has added a collaborative dimension to his career. His music carries a powerful message of upliftment, education, peace, and love, aligning with his personal motto: "Anywhere mi deh mi spread love."
As Free Style Friday prepares to host this illustrious artist, fans can anticipate an engaging and soulful session, blending Omusawo Tintah's charismatic hosting with the melodious tunes and inspiring story of Mr. Kamanzi. Tune in to Metro FM 90.8 this Friday for a musical experience that transcends borders and embraces the universal language of love through music.