Rick Ross Expresses Desire to Sign Kanye West and Release New Album
Rick Ross has voiced his interest in signing Kanye West and releasing the rapper's upcoming album. The MMG boss took to his Instagram Stories on Thursday (October 19) to share his dream of bringing Kanye West onto his label, believing they could "make history" together.
In a video, Ross stated, "I just had an amazing idea, a boss idea. This is something that's extremely realistic to me. We've created amazing masterpieces in the past." He continued, "The boss, Ricky Rozay, I'm interested in signing Kanye West. Maybach Music. Ye, what's up? Talk to me. Let's make history, baby."
Following this proposal, Rick Ross played "Barry Bonds" from Kanye West's "Graduation" album while driving in his car. He doubled down on his pitch in another clip by offering to distribute Ye's upcoming joint album with Ty Dolla $ign, also expressing that he has "amazing ideas" for the Yeezy brand.
"Imagine if Ye came and allowed MMG to distribute his new project," he said. "Imagine that. What's your favorite Rick Ross-Ye collab? Imagine the artistic drive. And I got some amazing ideas for the Yeezy brand. Let's speak."
Rick Ross' offer follows reports that Kanye West and Ty Dolla $ign are currently seeking a distributor for their collaborative album, which was originally scheduled for release on October 13 but has been delayed. Sources close to the project have stated they will make a distribution decision soon.
Billboard reported that some label executives have declined to distribute the project due to Kanye West's past antisemitic comments, although numerous smaller distributors are fiercely competing for the opportunity. Kanye's previous deal with Def Jam, including his G.O.O.D. Music partnership, ended with the release of "Donda" in 2021, as the label distanced itself from him following his anti-Jewish statements.
Kanye and Ty Dolla $ign are expected to debut their album at a massive concert in Italy later this month, although an exact date and location have yet to be confirmed.
Rick Ross has a history of collaborations with Kanye West, including tracks like "Devil in a New Dress," "Monster," and "Live Fast, Die Young." During an appearance on HBO's "The Shop" in April, Ross recalled Kanye pushing him to rewrite his verse on "Devil in a New Dress." Ross stated, "Soon as I heard the beat, I wrote a verse right there. The verse you heard ain't what it was [when it was finished]. I wrote two to three verses right then just to let Kanye hear the vibe." He added, "This the first time somebody ever said Rozay, 'I know you, you could go harder. Rozay ain't used to that. He comes back like, 'Rozay, you know I know you. This verse right here… And I looked at him like, 'What? I could what?'"
Omusawo Tintah To Host Renowned Swiss Artist Mr. Kamanzi on Metro fm 90.8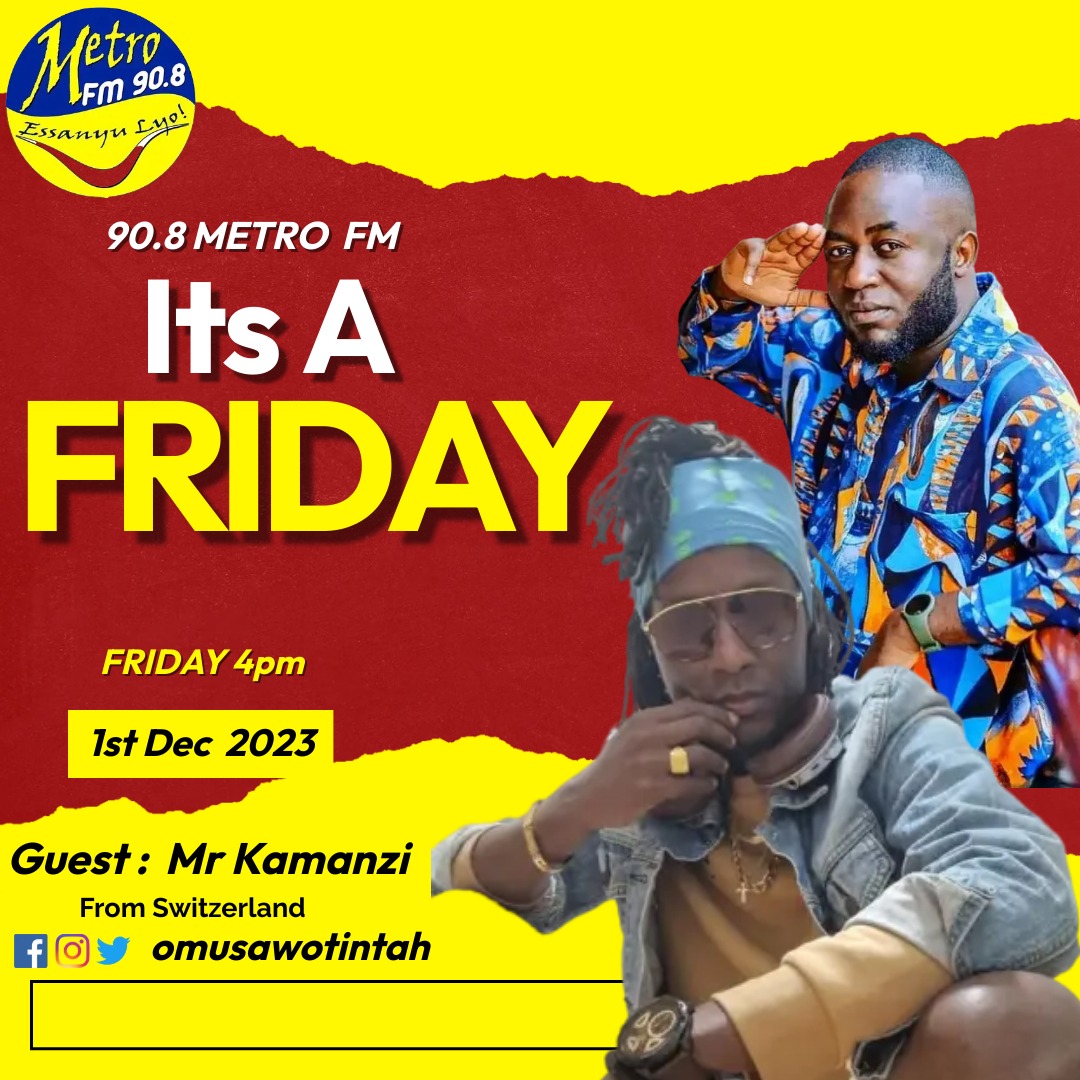 Metro FM 90.8's celebrated radio presenter and media activist, Omusawo Tintah, is gearing up to host the sensational Switzerland-based singer, Mr. Kamanzi, this Friday on his renowned radio show, Free Style Friday, running from 4 pm to 7 pm.
Omusawo Tintah's Free Style Friday has become a staple for music enthusiasts, featuring top-notch music and hosting internationally acclaimed artists. The show's popularity has soared, making it one of Uganda's most loved and trending radio programs.
Mr. Kamanzi, who is set to be the special guest on this week's episode, brings a wealth of musical talent and a captivating story to share. His journey in the world of music began at the age of 12, fueled by a deep passion for the art form. One of his childhood dreams was to perform on the grand stage, a dream that materialized in 1995 and marked the commencement of his music career.
Known for his distinctive vocal style, often referred to as "the husky voice of Africa," Mr. Kamanzi migrated to Switzerland a few years later. In 2008, he had the privilege of sharing the stage with T.o.k and Sean Paul in Dar es Salaam, Tanzania, a significant milestone in his musical journey.
With two published albums, namely "Unite" and "Today and Tomorrow," Mr. Kamanzi has made waves in the music industry. His track "Show Dem the Sign" received extensive airplay on local radio stations, solidifying his position as a notable artist. His performances have graced numerous stages across Africa and Europe, showcasing his versatility in musical genres, including Reggae, Afrobeat, Dancehall, and Pop Dancehall.
Beyond his musical accomplishments, Mr. Kamanzi's work with the Reggaenerators since 2021 has added a collaborative dimension to his career. His music carries a powerful message of upliftment, education, peace, and love, aligning with his personal motto: "Anywhere mi deh mi spread love."
As Free Style Friday prepares to host this illustrious artist, fans can anticipate an engaging and soulful session, blending Omusawo Tintah's charismatic hosting with the melodious tunes and inspiring story of Mr. Kamanzi. Tune in to Metro FM 90.8 this Friday for a musical experience that transcends borders and embraces the universal language of love through music.