Diddy Donates $1 Million to Howard University and Celebrates HBCU Legacy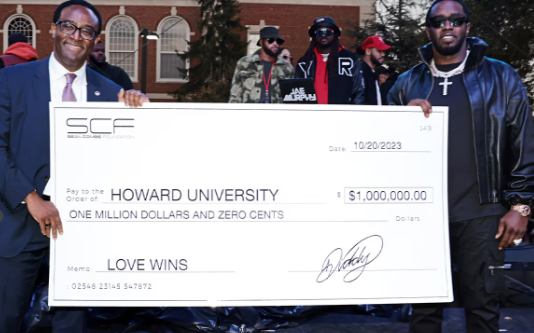 Sean "Diddy" Combs made a triumphant return to his alma mater, Howard University, to fulfill a significant promise. This remarkable act of philanthropy occurred during the university's annual Yardfest event, where students, faculty, and fans gathered to commemorate and witness this momentous occasion. The celebrated music mogul presented a generous check of $1 million to Dr. Ben Vinson III, the president of Howard University.
Diddy's visit to Howard University went beyond a financial contribution; it symbolized his enduring dedication to the preservation of historically Black colleges and universities (HBCUs). As a proud Howard alum, he understands the transformative impact of these institutions and their pivotal role in countless lives. In addition to the substantial donation, Diddy surprised the audience by taking the stage to perform some of his classic hits, including "It's All About the Benjamins," "I Need a Girl (Pt. 1)," and "Act Bad." He also welcomed special guests Kalan.FrFr and Jozzy to perform songs from his latest album, "The Love Album: Off the Grid."
During his visit, Diddy delivered a heartfelt speech, emphasizing the importance of HBCUs. He stated, "As someone who attended Howard University and values the life-changing experience offered by historically Black colleges, it's essential that we continue to protect and uphold their legacy. This donation to Howard represents more than just a financial contribution; it's a reaffirmation of our commitment to a cultural institution that has touched countless lives. It's about ensuring that HBCUs receive the support they rightfully deserve."
Dr. Vinson, Howard University's president, expressed deep gratitude for Diddy's profound contribution, noting, "This is an incredibly meaningful gift to Howard University. We are profoundly thankful. Since his days as a student here, Sean Combs has consistently credited Howard for shaping him into the trailblazing entertainer and entrepreneur he is today. His gift will profoundly impact our students and lay the foundation for future leaders." Diddy's generous pledge and unwavering support for HBCUs serve as a shining example of how influential individuals can give back to their communities and create a lasting impact on the lives of aspiring students.
Omusawo Tintah To Host Renowned Swiss Artist Mr. Kamanzi on Metro fm 90.8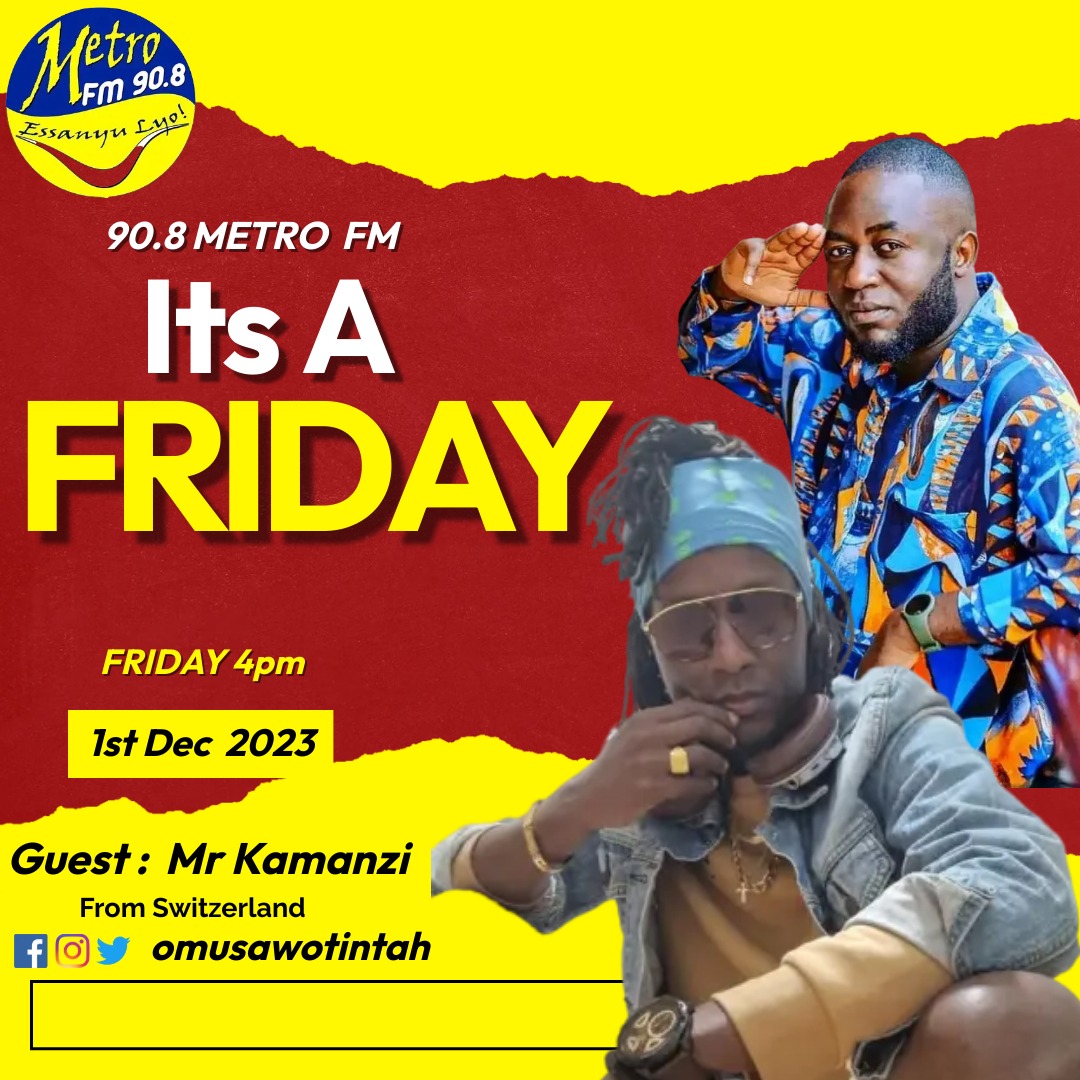 Metro FM 90.8's celebrated radio presenter and media activist, Omusawo Tintah, is gearing up to host the sensational Switzerland-based singer, Mr. Kamanzi, this Friday on his renowned radio show, Free Style Friday, running from 4 pm to 7 pm.
Omusawo Tintah's Free Style Friday has become a staple for music enthusiasts, featuring top-notch music and hosting internationally acclaimed artists. The show's popularity has soared, making it one of Uganda's most loved and trending radio programs.
Mr. Kamanzi, who is set to be the special guest on this week's episode, brings a wealth of musical talent and a captivating story to share. His journey in the world of music began at the age of 12, fueled by a deep passion for the art form. One of his childhood dreams was to perform on the grand stage, a dream that materialized in 1995 and marked the commencement of his music career.
Known for his distinctive vocal style, often referred to as "the husky voice of Africa," Mr. Kamanzi migrated to Switzerland a few years later. In 2008, he had the privilege of sharing the stage with T.o.k and Sean Paul in Dar es Salaam, Tanzania, a significant milestone in his musical journey.
With two published albums, namely "Unite" and "Today and Tomorrow," Mr. Kamanzi has made waves in the music industry. His track "Show Dem the Sign" received extensive airplay on local radio stations, solidifying his position as a notable artist. His performances have graced numerous stages across Africa and Europe, showcasing his versatility in musical genres, including Reggae, Afrobeat, Dancehall, and Pop Dancehall.
Beyond his musical accomplishments, Mr. Kamanzi's work with the Reggaenerators since 2021 has added a collaborative dimension to his career. His music carries a powerful message of upliftment, education, peace, and love, aligning with his personal motto: "Anywhere mi deh mi spread love."
As Free Style Friday prepares to host this illustrious artist, fans can anticipate an engaging and soulful session, blending Omusawo Tintah's charismatic hosting with the melodious tunes and inspiring story of Mr. Kamanzi. Tune in to Metro FM 90.8 this Friday for a musical experience that transcends borders and embraces the universal language of love through music.