Taylor Swift, Selena Gomez, Enjoy Joyful Sushi Dinner Date in West Hollywood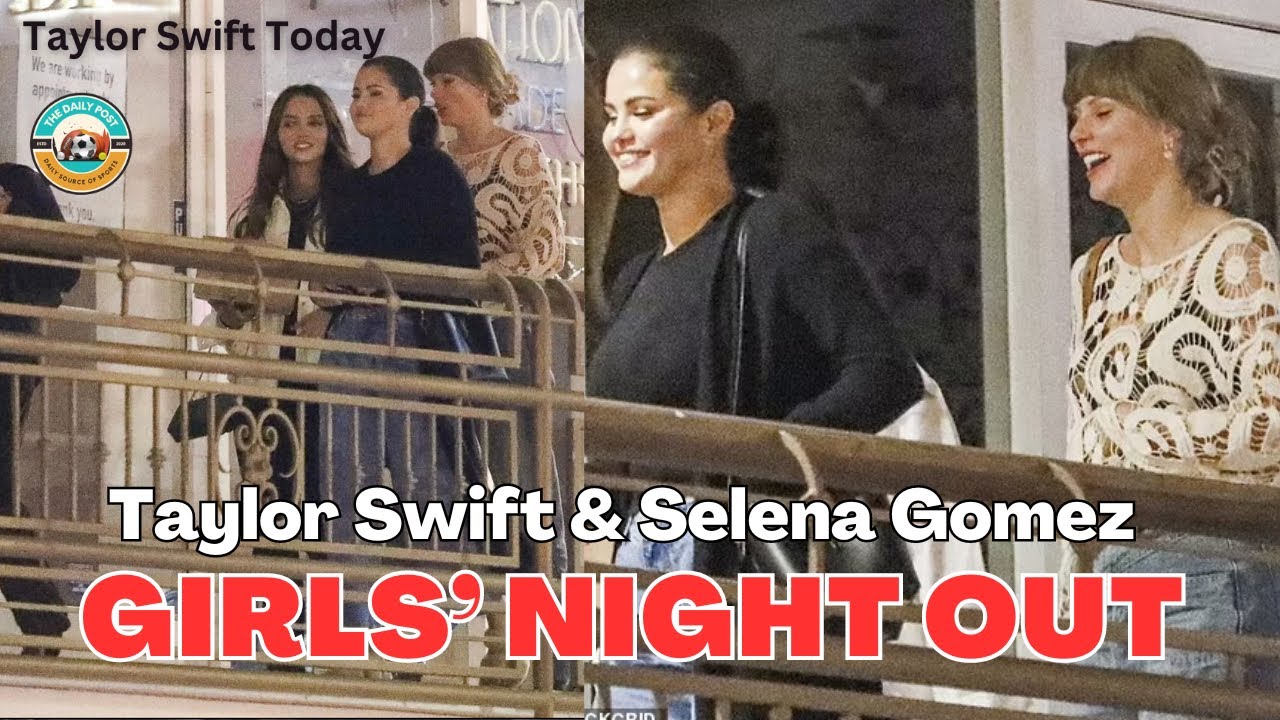 In a heartwarming and star-studded gathering, Taylor Swift, Selena Gomez, and Zoë Kravitz came together for a delightful sushi dinner in West Hollywood, setting social media abuzz with their squad vibes in full effect. The illustrious trio, joined by Miles Teller's wife, Kaylee Sper Teller, left Sushi Park Restaurant after their dinner outing, radiating happiness and camaraderie.
During their gathering, Taylor Swift donned a white embroidered sheer top paired with blue jeans, exuding her signature style and grace. Selena Gomez, renowned for her role in "Only Murders in the Building," opted for a black long-sleeve T-shirt and jeans, perfectly encapsulating her chic yet casual look. Zoë Kravitz, the multifaceted actress, slipped into a stylish black jacket and black trousers, while Kaylee Sper Teller chose a white jacket and black T-shirt ensemble. The group enjoyed a delightful evening of conversation and companionship.
This heartwarming reunion between Taylor Swift and Selena Gomez showcases the enduring bond between these longtime friends. Their night out in Los Angeles follows a little over a month after the two demonstrated significant support for each other at the 2023 MTV Video Music Awards. In August, Selena attended one of Taylor Swift's "Eras Tour" concerts in Los Angeles, accompanied by her 10-year-old sister, Gracie. The sisters even shared a playful moment when Gracie humorously revealed that Taylor's music had inspired her to dye her hair purple, invoking the "Speak Now" era.
Selena Gomez playfully inquired if her little sister would do the same for her album, to which Gracie enthusiastically responded in the affirmative, affirming her unwavering support for her sister. The bond of sisterhood and friendship shines brightly in these moments.
Notably, Zoë Kravitz has played a significant role in Taylor Swift's recent music era, collaborating with the superstar on her "Midnight" album by co-writing tracks like "Lavender Haze" and "Karma." This collaboration has added another layer of creative synergy to Taylor's celebrated music career.
The chosen venue for this memorable dinner, Sushi Park, has become a favored hotspot for celebrities. In March of the previous year, the iconic Martha Stewart had an amicable encounter with Justin Bieber at the restaurant. In July 2023, Kylie Jenner made headlines when she had a reunion with Jordan Woods at Sushi Park. Just weeks later, Kendall Jenner and her boyfriend, Bad Bunny, were spotted enjoying a meal at the same renowned establishment.
The gathering of Taylor Swift, Selena Gomez, and Zoë Kravitz not only reaffirms their enduring friendship but also highlights the power of genuine connections and shared moments in the lives of these influential personalities. As the trio left the restaurant, their radiant smiles and close bonds captured the essence of true friendship, leaving fans and admirers looking forward to more memorable moments to come.
Omusawo Tintah To Host Renowned Swiss Artist Mr. Kamanzi on Metro fm 90.8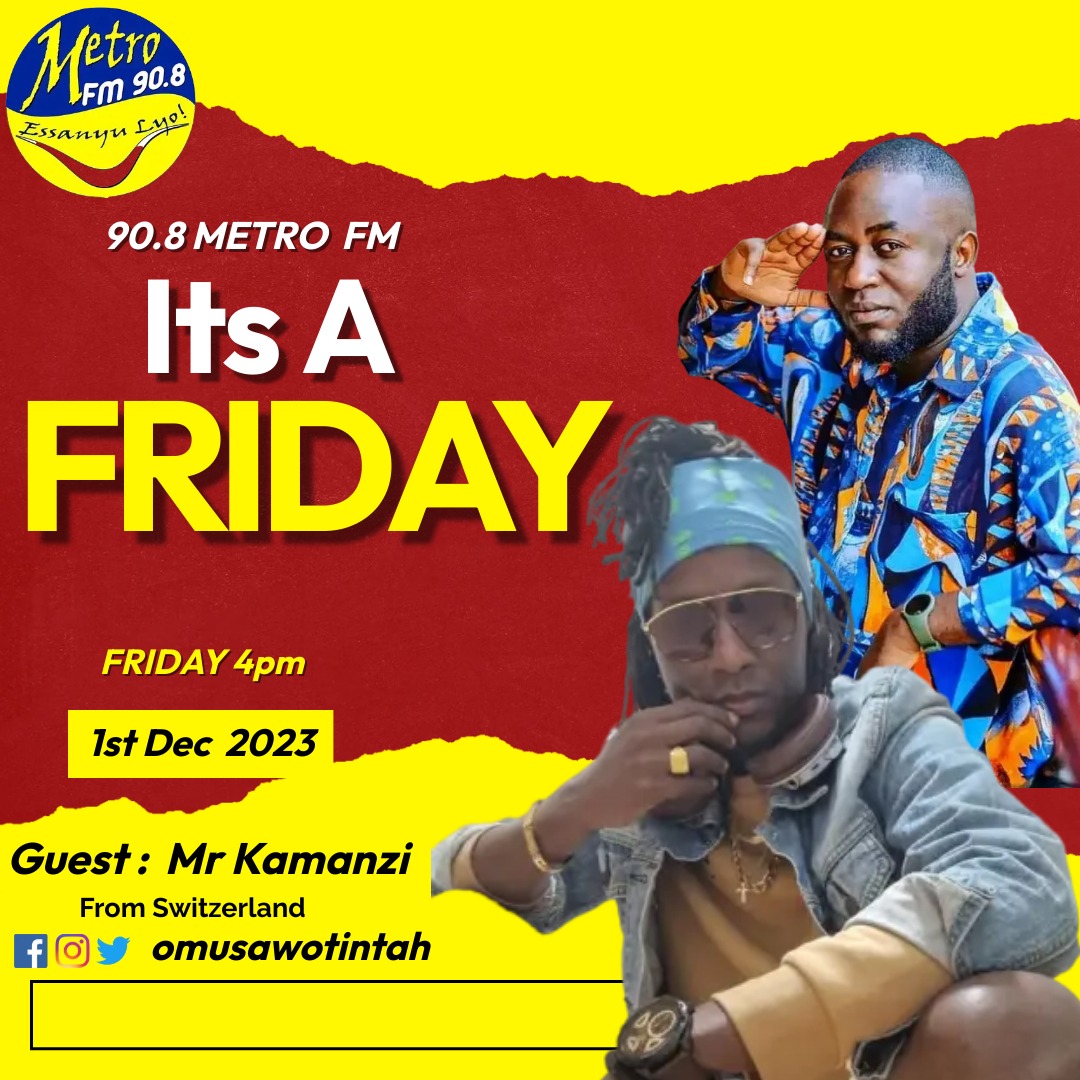 Metro FM 90.8's celebrated radio presenter and media activist, Omusawo Tintah, is gearing up to host the sensational Switzerland-based singer, Mr. Kamanzi, this Friday on his renowned radio show, Free Style Friday, running from 4 pm to 7 pm.
Omusawo Tintah's Free Style Friday has become a staple for music enthusiasts, featuring top-notch music and hosting internationally acclaimed artists. The show's popularity has soared, making it one of Uganda's most loved and trending radio programs.
Mr. Kamanzi, who is set to be the special guest on this week's episode, brings a wealth of musical talent and a captivating story to share. His journey in the world of music began at the age of 12, fueled by a deep passion for the art form. One of his childhood dreams was to perform on the grand stage, a dream that materialized in 1995 and marked the commencement of his music career.
Known for his distinctive vocal style, often referred to as "the husky voice of Africa," Mr. Kamanzi migrated to Switzerland a few years later. In 2008, he had the privilege of sharing the stage with T.o.k and Sean Paul in Dar es Salaam, Tanzania, a significant milestone in his musical journey.
With two published albums, namely "Unite" and "Today and Tomorrow," Mr. Kamanzi has made waves in the music industry. His track "Show Dem the Sign" received extensive airplay on local radio stations, solidifying his position as a notable artist. His performances have graced numerous stages across Africa and Europe, showcasing his versatility in musical genres, including Reggae, Afrobeat, Dancehall, and Pop Dancehall.
Beyond his musical accomplishments, Mr. Kamanzi's work with the Reggaenerators since 2021 has added a collaborative dimension to his career. His music carries a powerful message of upliftment, education, peace, and love, aligning with his personal motto: "Anywhere mi deh mi spread love."
As Free Style Friday prepares to host this illustrious artist, fans can anticipate an engaging and soulful session, blending Omusawo Tintah's charismatic hosting with the melodious tunes and inspiring story of Mr. Kamanzi. Tune in to Metro FM 90.8 this Friday for a musical experience that transcends borders and embraces the universal language of love through music.