Tyrese, Ginuwine, and Tank Reunite as TGT, Cementing Their Legacy in R&B
In a surprising and heartwarming turn of events, Tyrese, Ginuwine, and Tank, collectively known as TGT, have set aside their differences and come back together to make their mark in the R&B world once again. The trio's reunion was officially confirmed on Friday, October 20th, when Ginuwine shared a video of the three of them back in action. Tank, filled with emotion, addressed a small gathering and expressed his love for his fellow group members.
"I love you brothers in real life," Tank began, his deep sincerity evident. "And I want nothing but the best for you all, personally, and I want nothing but the best for the R&B universe. There's people who look up to us, for the people who follow us, for the people who're inspired by us, the people who're just connected to us in ways we can never imagine. The only way to seal that legacy is to bring this motherf**** back."
Ginuwine took to Instagram to share this momentous occasion with their fans, writing in the caption: "I knew it would happen. I just want it to be perfect for each and every individual. We come together to say we are Kings, so let's move forward. I appreciate the love we get now. Let's go!!!! #TGT #uhooo #TankGTyrese. Ok, it's time. Ok, let's go. @therealtank and @tyrese, my brothas for life." In the comments, he added, "Problems coming now the best RnB album EVER!!!!! Without question, we're ready now. I'm ready now."
This reunion was teased earlier in the year by Tyrese, who hinted at the trio reuniting during an April episode of iHeartMedia's R&B Money podcast, hosted by Tank and J. Valentine. Tyrese shared exciting news that Atlantic Records had agreed to distribute the group's second album, confirming their return to the music scene.
TGT initially made waves with their first song in 2007 but didn't release an album until 2013 with "Three Kings." Despite their initial success, the group disbanded in 2015 due to disagreements among the members and with their record label.
Tyrese, in particular, has openly reflected on his time with the group in various interviews and social media posts. In a previous Instagram post, he expressed awe at working with Tank and Jennifer Hudson, acknowledging their exceptional talent and hunger for success.
The return of TGT is undoubtedly a momentous occasion for R&B fans worldwide, and the trio is poised to leave an indelible mark on the genre once again. Their reunion is a testament to the enduring power of music and the bonds that can be reforged through a shared passion.
Omusawo Tintah To Host Renowned Swiss Artist Mr. Kamanzi on Metro fm 90.8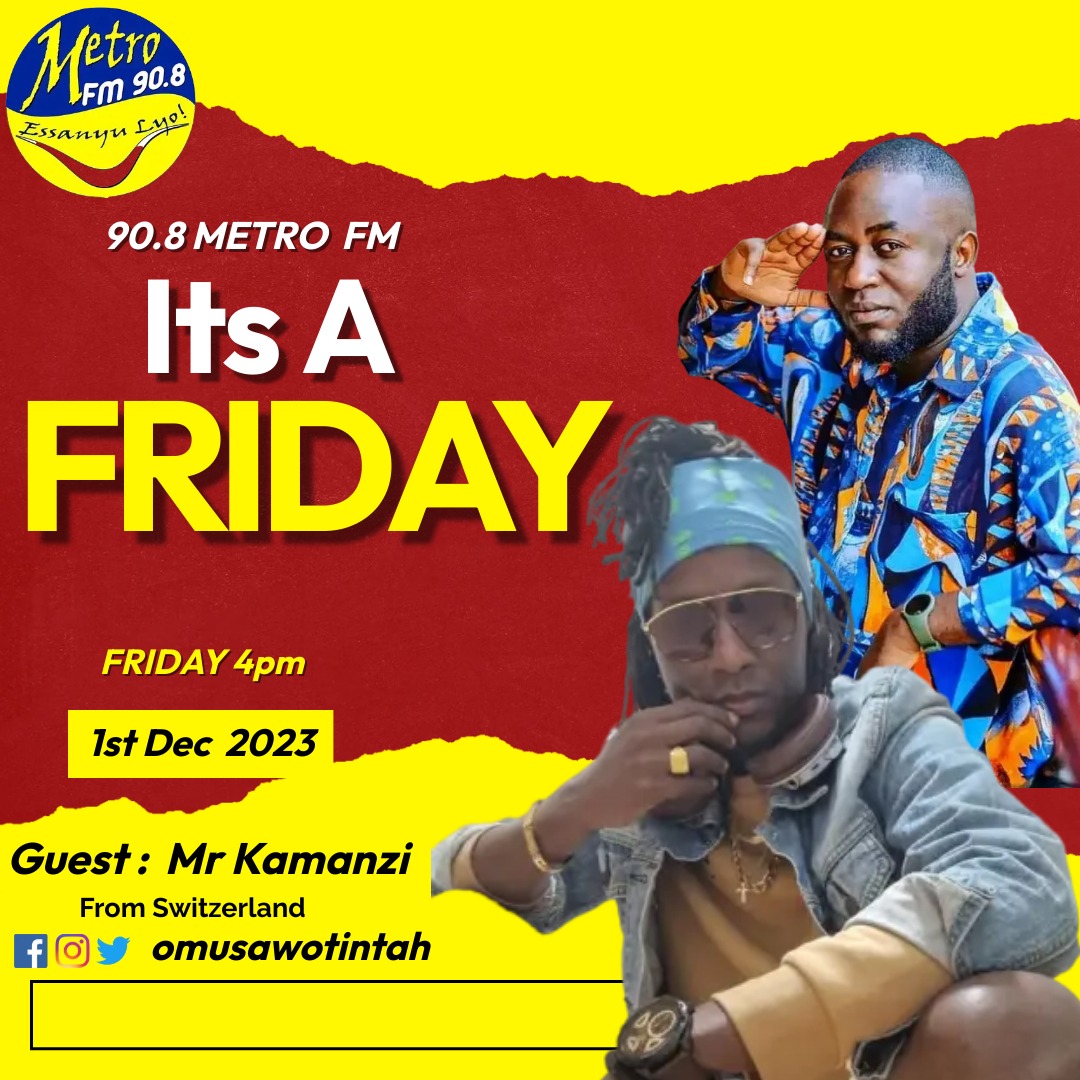 Metro FM 90.8's celebrated radio presenter and media activist, Omusawo Tintah, is gearing up to host the sensational Switzerland-based singer, Mr. Kamanzi, this Friday on his renowned radio show, Free Style Friday, running from 4 pm to 7 pm.
Omusawo Tintah's Free Style Friday has become a staple for music enthusiasts, featuring top-notch music and hosting internationally acclaimed artists. The show's popularity has soared, making it one of Uganda's most loved and trending radio programs.
Mr. Kamanzi, who is set to be the special guest on this week's episode, brings a wealth of musical talent and a captivating story to share. His journey in the world of music began at the age of 12, fueled by a deep passion for the art form. One of his childhood dreams was to perform on the grand stage, a dream that materialized in 1995 and marked the commencement of his music career.
Known for his distinctive vocal style, often referred to as "the husky voice of Africa," Mr. Kamanzi migrated to Switzerland a few years later. In 2008, he had the privilege of sharing the stage with T.o.k and Sean Paul in Dar es Salaam, Tanzania, a significant milestone in his musical journey.
With two published albums, namely "Unite" and "Today and Tomorrow," Mr. Kamanzi has made waves in the music industry. His track "Show Dem the Sign" received extensive airplay on local radio stations, solidifying his position as a notable artist. His performances have graced numerous stages across Africa and Europe, showcasing his versatility in musical genres, including Reggae, Afrobeat, Dancehall, and Pop Dancehall.
Beyond his musical accomplishments, Mr. Kamanzi's work with the Reggaenerators since 2021 has added a collaborative dimension to his career. His music carries a powerful message of upliftment, education, peace, and love, aligning with his personal motto: "Anywhere mi deh mi spread love."
As Free Style Friday prepares to host this illustrious artist, fans can anticipate an engaging and soulful session, blending Omusawo Tintah's charismatic hosting with the melodious tunes and inspiring story of Mr. Kamanzi. Tune in to Metro FM 90.8 this Friday for a musical experience that transcends borders and embraces the universal language of love through music.