Leading Canadian Universities Shine in the 2024 QS World University Rankings
When international students embark on the journey of selecting their Canadian higher education institution, they often rely on trusted rankings and evaluators to guide them in making the best choice. Among these, QS stands as a renowned name in the realm of post-secondary institution ranking providers, acclaimed worldwide for its expertise in assessing higher education institutions on a global scale. Recently, QS unveiled its 2024 World University Rankings, and the University of Toronto, McGill University, and the University of British Columbia have secured noteworthy positions on this prestigious list. Below, we present a summary of their rankings and performance in various categories.
Rankings Summary:
University of Toronto – A Leap to Excellence In the 2023 QS rankings, the University of Toronto (UofT) claimed the second-highest spot among Canadian universities, standing at 34th globally. However, in the 2024 QS World University Rankings, UofT has made a significant advancement, ascending to the 21st position with an impressive overall score of 86.3. This remarkable achievement is attributed to UofT's exceptional scores in academic reputation, employer reputation, and international ratios. Notably, UofT's previous ranking at this level was in 2015 when it secured the 20th spot.
McGill University – Rising Strong In the preceding year, McGill University occupied the 31st position in the QS rankings. Now, in the 2024 QS World University Rankings, McGill has made a notable advancement, securing the 30th position with an overall score of 83.7. Looking ahead, McGill demonstrates remarkable potential as it received high scores, all exceeding 87.5, in academic reputation, employer reputation, and international ratios.
University of British Columbia – A Significant Climb In 2023, the University of British Columbia (UBC) was ranked 47th in the QS World University Rankings. However, UBC has made a remarkable leap in the 2024 rankings, surging 13 positions to the 34th spot. This substantial progress is attributed to UBC's impressive scores in academic reputation, employer reputation, and its international faculty ratio. In total, UBC secured an overall score of 81.5, marking its highest-ever rank by QS until this year.
About QS World University Rankings: The QS World University Rankings employ a comprehensive five-factor methodology to evaluate the performance of over 1400 post-secondary institutions across the globe each year. These factors, along with their respective weights, are as follows:
Academic Reputation (40%): This score is derived from surveys conducted among educators and researchers in higher education institutions.
Faculty/Student Ratio (20%): QS rewards institutions with low student-to-faculty ratios and small class sizes, emphasizing the importance of a personalized and collaborative learning environment.
Citations per Faculty (20%): This metric is determined by the number of times faculty members' research papers have been cited by various publications over the last five years, reflecting the institution's academic influence.
Employer Reputation (10%): Employers worldwide are asked to name universities they believe produce the most employable graduates, with local and international distinctions.
International Faculty/Student Ratio (10%): This factor measures the ratios of international faculty members to domestic faculty members and international students to domestic students, taking into account data verified against government records when available.
For the complete QS 2024 World University Rankings and a detailed breakdown of the scoring system by these factors, please refer to the official QS website. These rankings offer invaluable insights for students seeking the best educational institutions for their academic pursuits.
Prof. Mary Okwakol Steps Down as Chairperson of Uganda National Examinations Board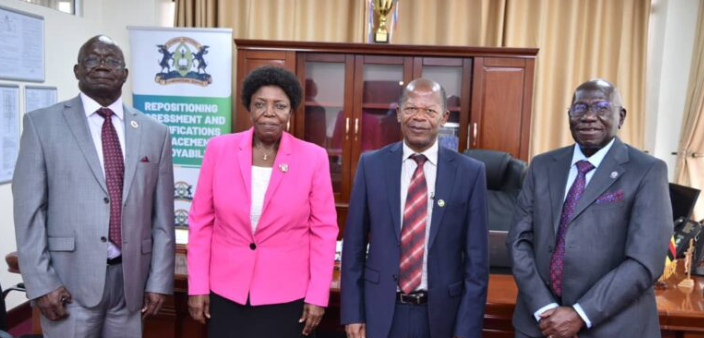 Prof. Mary Okwakol has concluded her tenure as the Chairperson of the Uganda National Examinations Board (UNEB), a position she held since 2014.
The formal handover ceremony took place, with Prof. Okwakol passing the reins to Prof. Celestino Obua, the Vice Chancellor of Mbarara University of Science and Technology. The Minister of State for Higher Education, Hon. John Chrysestom Muyingo, graced the occasion to witness the transition.
Prof. Obua's appointment was made by the Minister of Education and Sports, Hon. Janet Kataha Museveni, on October 12, 2023.
In a statement released by UNEB on November 3, 2023, the Examinations body expressed its appreciation for Prof. Okwakol, who is also recognized as the founding Vice Chancellor of Busitema University, one of Uganda's nine public universities.
Dan Odongo, the UNEB Executive Director, bid a fond farewell to Prof. Okwakol and acknowledged her service, saying, "We give thanks and praise to the Almighty God for the peaceful years that Professor Mary Okwakol has served as the Chairperson. I say 'peaceful' because she was appointed and took over at a time when UNEB had gone through nearly two turbulent years in its governance."
Odongo further lauded Prof. Okwakol's leadership, citing her adherence to the principles of good governance. He emphasized that she avoided becoming overly involved in the daily management of the institution, setting a positive example.
Prof. Okwakol assumed the role in 2014, succeeding Fagil Mandy, who had resigned due to President Museveni's decision to extend the contract of the then UNEB Executive Director, Matthew Bukenya.