Blueface Proposes to Jaidyn Alexis Amid Family Tensions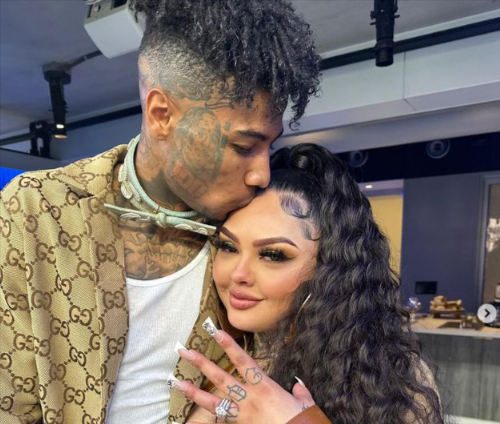 Blueface recently got engaged to Jaidyn Alexis, and he didn't waste any time using the news as ammunition in his ongoing feud with his mother, with whom he has had strained relations for a while.
The California rapper popped the question to his girlfriend during the Los Angeles Rams vs. Pittsburgh Steelers game at SoFi Stadium on Sunday, October 22.
In a video before the proposal, he shared his nervousness, saying, "I'm about to propose to Jaidyn. I'm so nervous. Oh my God. I know she's going to say yes, but the timing is — I'm at the game, you know, halftime, the timing is weird. I think I'm going to bring everyone in and make it personal and intimate, but I'm just so nervous. And I know y'all are going to be like, 'Why are you doing this?' Listen, I'm famous, I'm already rich. I know she's not going to do anything weird. I just know. When you know, you know. Wish me luck."
A video of the proposal captured Blueface getting down on one knee, asking the question, and, to everyone's delight, Jaidyn Alexis said yes. An emotional moment followed as Blueface kissed her and placed a ring on her finger.
The couple shares two children, a son named Javaughn and a daughter called Journey. Blueface also has another child with his ex-girlfriend and "Crazy In Love" co-star, Chrisean Rock, who was born in September.
After the engagement, Blueface used social media to call out his mother, Karlissa Saffold, accusing her of marrying men for financial gain and expressing his lack of respect for her as a woman.
In response, Karlissa Saffold retorted by comparing engagement rings and questioning her son's choice, alleging that Blueface's fiancée had a less valuable ring.
"My bum got papers on mine; you got that downtown LA in the swap meet district," she wrote. She clarified the circumstances of her previous marriages, stating that she married Blueface's father before planning to have him. She also highlighted that she was being truthful and that her son was suffering due to a relationship with the wrong person.
"They always take it out on the one telling them the truth," she added. "You can't marry someone who doesn't accept your kids."
Omusawo Tintah To Host Renowned Swiss Artist Mr. Kamanzi on Metro fm 90.8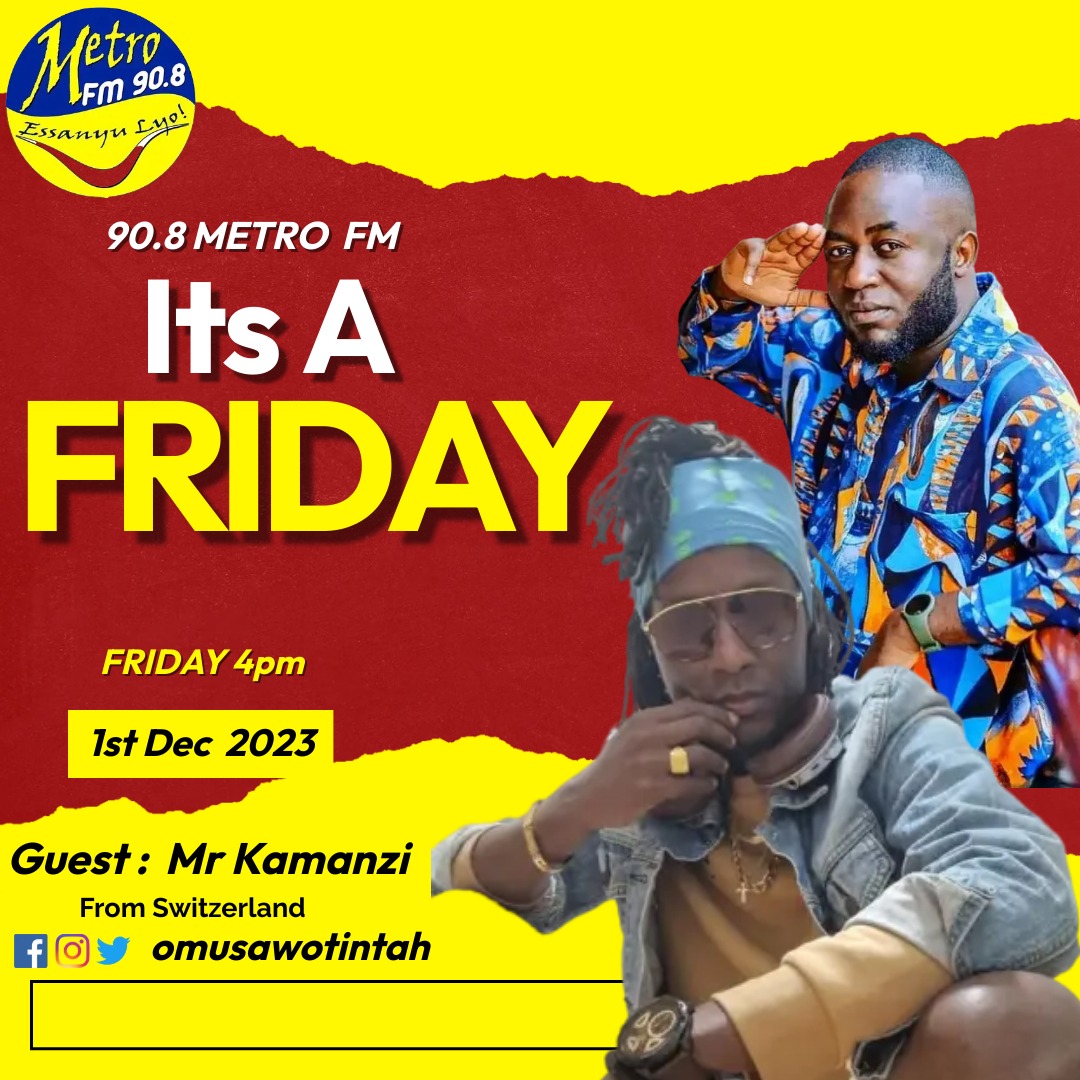 Metro FM 90.8's celebrated radio presenter and media activist, Omusawo Tintah, is gearing up to host the sensational Switzerland-based singer, Mr. Kamanzi, this Friday on his renowned radio show, Free Style Friday, running from 4 pm to 7 pm.
Omusawo Tintah's Free Style Friday has become a staple for music enthusiasts, featuring top-notch music and hosting internationally acclaimed artists. The show's popularity has soared, making it one of Uganda's most loved and trending radio programs.
Mr. Kamanzi, who is set to be the special guest on this week's episode, brings a wealth of musical talent and a captivating story to share. His journey in the world of music began at the age of 12, fueled by a deep passion for the art form. One of his childhood dreams was to perform on the grand stage, a dream that materialized in 1995 and marked the commencement of his music career.
Known for his distinctive vocal style, often referred to as "the husky voice of Africa," Mr. Kamanzi migrated to Switzerland a few years later. In 2008, he had the privilege of sharing the stage with T.o.k and Sean Paul in Dar es Salaam, Tanzania, a significant milestone in his musical journey.
With two published albums, namely "Unite" and "Today and Tomorrow," Mr. Kamanzi has made waves in the music industry. His track "Show Dem the Sign" received extensive airplay on local radio stations, solidifying his position as a notable artist. His performances have graced numerous stages across Africa and Europe, showcasing his versatility in musical genres, including Reggae, Afrobeat, Dancehall, and Pop Dancehall.
Beyond his musical accomplishments, Mr. Kamanzi's work with the Reggaenerators since 2021 has added a collaborative dimension to his career. His music carries a powerful message of upliftment, education, peace, and love, aligning with his personal motto: "Anywhere mi deh mi spread love."
As Free Style Friday prepares to host this illustrious artist, fans can anticipate an engaging and soulful session, blending Omusawo Tintah's charismatic hosting with the melodious tunes and inspiring story of Mr. Kamanzi. Tune in to Metro FM 90.8 this Friday for a musical experience that transcends borders and embraces the universal language of love through music.