Ed Lover Responds to Cardi B's Emotional Struggles with Words of Support
Cardi B's recent admission of suicidal thoughts has deeply concerned Ed Lover, who, in response, has shared words of solace with the "Bodak Yellow" sensation.
On Sunday, October 22, the pioneering radio DJ and former Yo! MTV Raps host took to Instagram to address the situation. He shared a segment from his C'Mon Son! podcast, where he offered comforting words to the Hip Hop superstar.
In the video, he expressed his alarm at the impact of online negativity, saying, "You mean to tell me you nasty muthafuckin' little bitches and n-ggas affected Cardi that much, that you make her want to put a bullet in her head? That scares me. It scares me. Cardi, take your time, and get your mental right."
The source of Cardi B's emotional turmoil stemmed from a clash with several Twitter trolls on October 18. In response to one user's derogatory comment, Cardi made a harsh retort. Another fan cautioned her about the repercussions of such statements, but Cardi was unapologetic.
In a moment of despair, Cardi hinted at her struggles by expressing, "I just want to put a bullet in my head."
However, in an Instagram Live story on October 19, Cardi addressed her fans' concerns. She explained her outspoken nature and how she sometimes vents her frustrations in an extreme manner. She confessed that the overwhelming scrutiny and criticism had taken a toll on her mental well-being.
Despite deleting her posts, her tweets had already gone viral, prompting her sister, Hennessy Carolina, to come to her defense, declaring, "Anybody that don't like my sister can suck [a dick]."
Editorial note: Anyone grappling with suicidal thoughts or their mental health is strongly encouraged to call the toll-free 24-hour Suicide and Crisis Lifeline by dialing 988.
Omusawo Tintah To Host Renowned Swiss Artist Mr. Kamanzi on Metro fm 90.8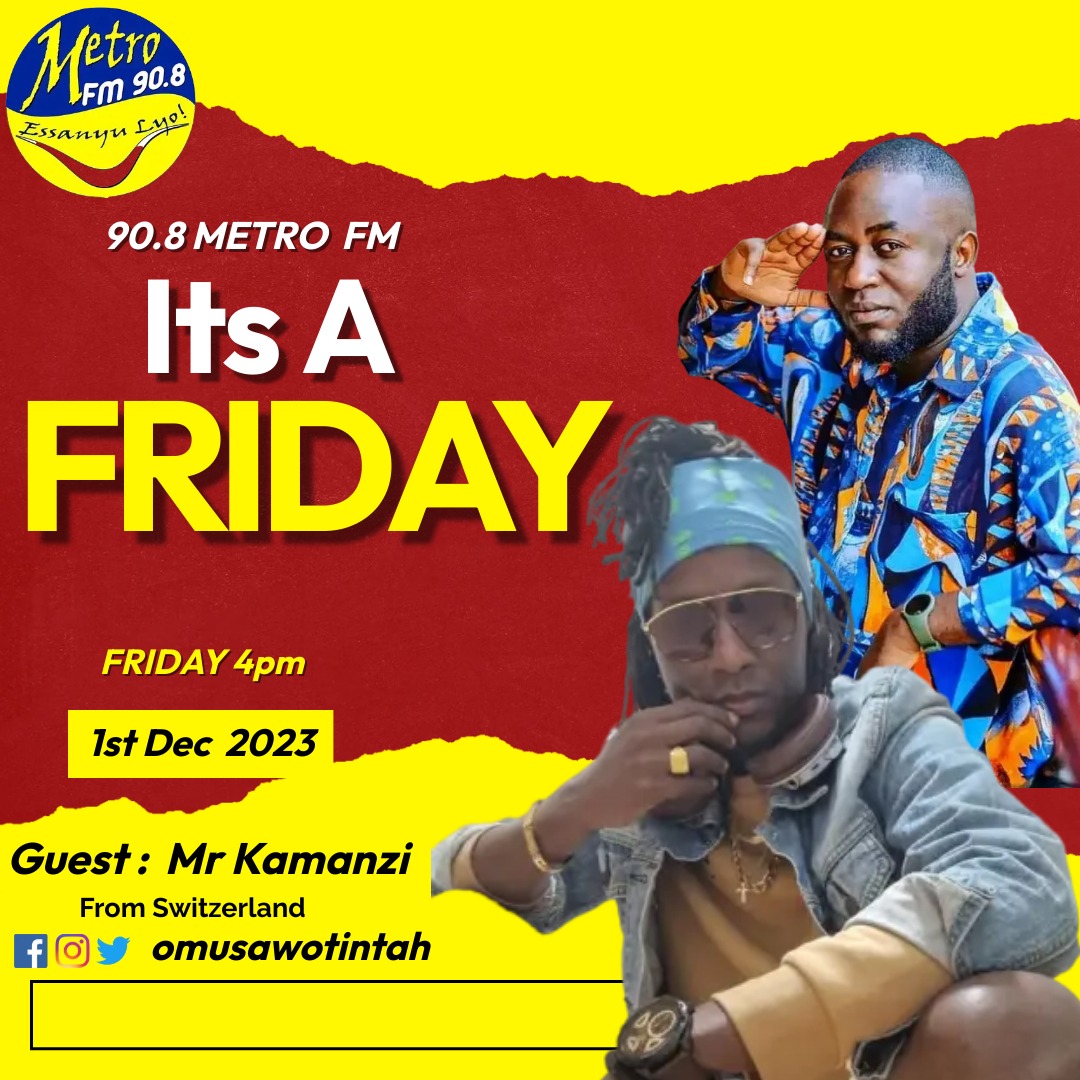 Metro FM 90.8's celebrated radio presenter and media activist, Omusawo Tintah, is gearing up to host the sensational Switzerland-based singer, Mr. Kamanzi, this Friday on his renowned radio show, Free Style Friday, running from 4 pm to 7 pm.
Omusawo Tintah's Free Style Friday has become a staple for music enthusiasts, featuring top-notch music and hosting internationally acclaimed artists. The show's popularity has soared, making it one of Uganda's most loved and trending radio programs.
Mr. Kamanzi, who is set to be the special guest on this week's episode, brings a wealth of musical talent and a captivating story to share. His journey in the world of music began at the age of 12, fueled by a deep passion for the art form. One of his childhood dreams was to perform on the grand stage, a dream that materialized in 1995 and marked the commencement of his music career.
Known for his distinctive vocal style, often referred to as "the husky voice of Africa," Mr. Kamanzi migrated to Switzerland a few years later. In 2008, he had the privilege of sharing the stage with T.o.k and Sean Paul in Dar es Salaam, Tanzania, a significant milestone in his musical journey.
With two published albums, namely "Unite" and "Today and Tomorrow," Mr. Kamanzi has made waves in the music industry. His track "Show Dem the Sign" received extensive airplay on local radio stations, solidifying his position as a notable artist. His performances have graced numerous stages across Africa and Europe, showcasing his versatility in musical genres, including Reggae, Afrobeat, Dancehall, and Pop Dancehall.
Beyond his musical accomplishments, Mr. Kamanzi's work with the Reggaenerators since 2021 has added a collaborative dimension to his career. His music carries a powerful message of upliftment, education, peace, and love, aligning with his personal motto: "Anywhere mi deh mi spread love."
As Free Style Friday prepares to host this illustrious artist, fans can anticipate an engaging and soulful session, blending Omusawo Tintah's charismatic hosting with the melodious tunes and inspiring story of Mr. Kamanzi. Tune in to Metro FM 90.8 this Friday for a musical experience that transcends borders and embraces the universal language of love through music.