JAY-Z Settles $500,000 or Dinner Debate, Chooses Cash
In a recent interview with CBS News' Gayle King within his "Book of HOV" library exhibit in Brooklyn, JAY-Z has put an end to the age-old question: "Would you choose $500,000 or dinner with JAY-Z?" And to everyone's surprise, he opted for the cash.
With little hesitation, the Roc Nation mogul made his choice clear. He explained that he's already shared a wealth of wisdom through his music over the years, making a dinner conversation redundant. JAY-Z said, "You gotta take the money. What I'ma say? You got all that [wisdom] in the music for $10.99! That's a bad deal. I wouldn't tell you to cut a bad deal. Take the $500,000, go buy some albums, and listen to the albums — it's all there! If you piece it together and really listen to the music for the words, for what it is, it's all there. Everything that I said was gonna happen, happened. Everything that I said I wanted to do, I've done. There's the blueprint. The blueprint, literally, to me and my life and my journey is there already."
The complete two-part interview will air on CBS on Thursday (October 26) and Friday (October 27).
Interestingly, JAY-Z was questioned about the "$500,000 or dinner?" debate by a fan at a Los Angeles Chargers vs. Dallas Cowboys game at SoFi Stadium just last week. The fan, K Rich, expressed his preference for taking the $500,000 and received a respectful response from the Brooklyn billionaire, who quietly patted his chest and exchanged a fist bump, saying, "Be good, man."
While K Rich's bold approach was met with mixed reactions, with some feeling it disrupted the moment, it's evident that JAY-Z's choice is to let the music speak for itself.
The debate regarding "$500,000 or dinner with JAY-Z?" initially took social media by storm in 2021, sparking discussions among fans about which option held more value. Even JAY-Z's former streaming platform, TIDAL, weighed in on the matter by advising fans on Twitter to opt for the money.
Omusawo Tintah To Host Renowned Swiss Artist Mr. Kamanzi on Metro fm 90.8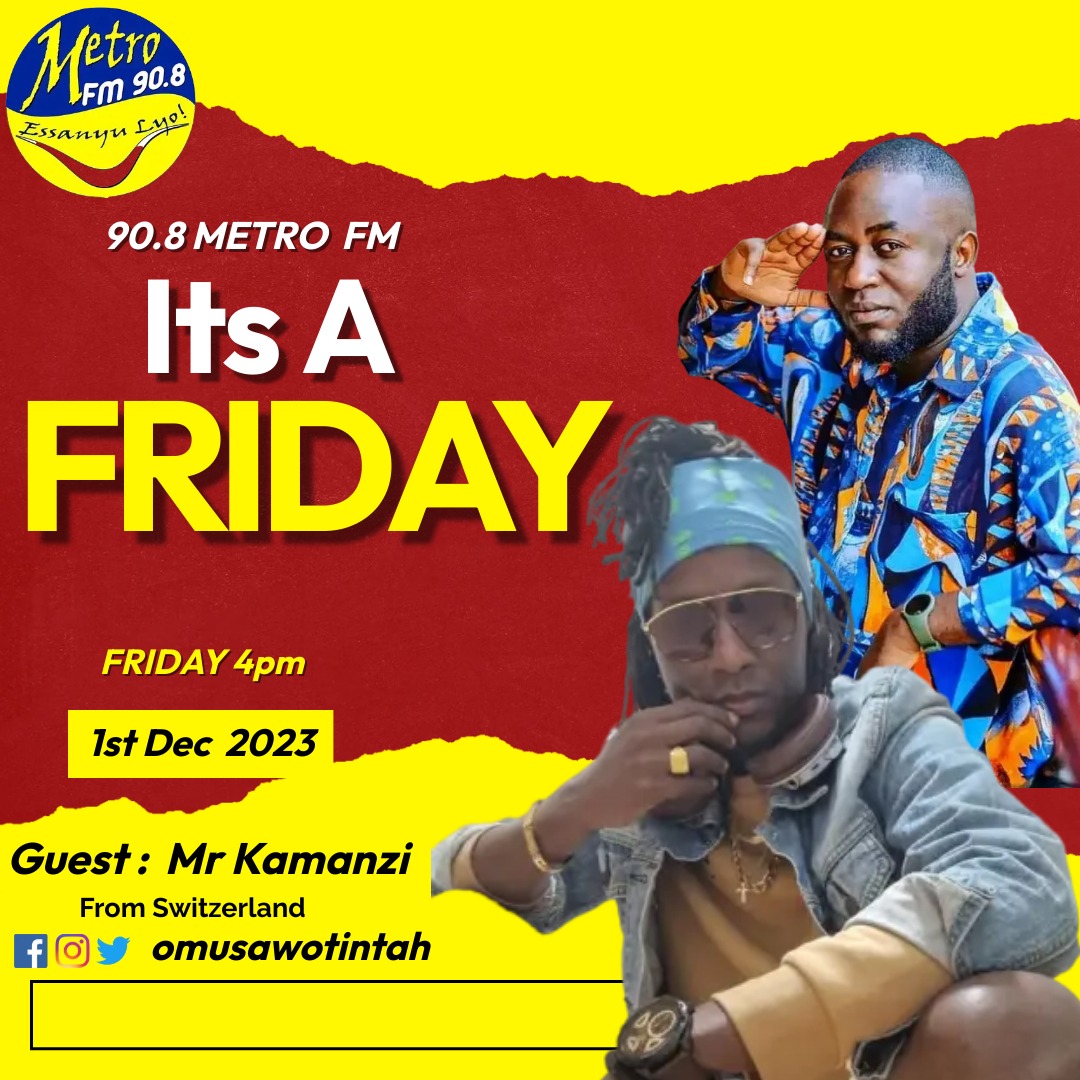 Metro FM 90.8's celebrated radio presenter and media activist, Omusawo Tintah, is gearing up to host the sensational Switzerland-based singer, Mr. Kamanzi, this Friday on his renowned radio show, Free Style Friday, running from 4 pm to 7 pm.
Omusawo Tintah's Free Style Friday has become a staple for music enthusiasts, featuring top-notch music and hosting internationally acclaimed artists. The show's popularity has soared, making it one of Uganda's most loved and trending radio programs.
Mr. Kamanzi, who is set to be the special guest on this week's episode, brings a wealth of musical talent and a captivating story to share. His journey in the world of music began at the age of 12, fueled by a deep passion for the art form. One of his childhood dreams was to perform on the grand stage, a dream that materialized in 1995 and marked the commencement of his music career.
Known for his distinctive vocal style, often referred to as "the husky voice of Africa," Mr. Kamanzi migrated to Switzerland a few years later. In 2008, he had the privilege of sharing the stage with T.o.k and Sean Paul in Dar es Salaam, Tanzania, a significant milestone in his musical journey.
With two published albums, namely "Unite" and "Today and Tomorrow," Mr. Kamanzi has made waves in the music industry. His track "Show Dem the Sign" received extensive airplay on local radio stations, solidifying his position as a notable artist. His performances have graced numerous stages across Africa and Europe, showcasing his versatility in musical genres, including Reggae, Afrobeat, Dancehall, and Pop Dancehall.
Beyond his musical accomplishments, Mr. Kamanzi's work with the Reggaenerators since 2021 has added a collaborative dimension to his career. His music carries a powerful message of upliftment, education, peace, and love, aligning with his personal motto: "Anywhere mi deh mi spread love."
As Free Style Friday prepares to host this illustrious artist, fans can anticipate an engaging and soulful session, blending Omusawo Tintah's charismatic hosting with the melodious tunes and inspiring story of Mr. Kamanzi. Tune in to Metro FM 90.8 this Friday for a musical experience that transcends borders and embraces the universal language of love through music.