Metro Boomin Hints at Involvement in Kanye West and Ty Dolla $ign's Upcoming Joint Album
Metro Boomin, the renowned producer, appears to be adding his magic touch to the highly anticipated joint album from Kanye West and Ty Dolla $ign.
Metro Boomin generated excitement for the collaborative project when he tweeted out what seems to be the album's title on Wednesday (October 25), writing, "¥$¥$¥$."
The producer also posted a photo on Instagram showcasing his picturesque villa in Florence, Italy, where both Kanye West and Ty Dolla $ign have been living while working on their album. This has fueled speculation that Metro Boomin is also involved in the project.
Metro Boomin has a history of successful collaborations with both Kanye West and Ty Dolla $ign. He notably contributed to tracks such as "Father Stretch My Hands Pt. 1," "Waves," "FML," and "Facts" from Kanye's album "The Life of Pablo." In Ty Dolla $ign's catalog, Metro has produced tracks like "Know Ya," "Long Time," and "Dead Presidents."
While the joint album has been shrouded in secrecy and speculation, Ty Dolla $ign recently provided some concrete details. He announced on Monday (October 23) that he and Kanye West would unveil the project during a "multi-stadium listening event" on November 3.
There were initial reports that the duo planned to debut their new material at a massive concert in Italy in late October, which was expected to draw over 100,000 fans. However, the concert was reportedly canceled due to unforeseen obstacles.
In addition to their listening event, it was reported earlier this month that Kanye and Ty Dolla $ign are searching for a company to distribute their joint project. Billboard speculated that it would likely involve a smaller distributor, as some label executives had declined the opportunity due to controversies surrounding Kanye West's past comments.
Despite these challenges, Rick Ross has expressed interest in signing Kanye West to his Maybach Music Group and releasing the album with Ty Dolla $ign under his imprint. In a video shared on social media earlier in October, Ross suggested the idea, saying, "I just had an amazing idea, a boss idea… The boss, Ricky Rozay, I'm interested in signing Kanye West. Maybach Music. Ye, what's up? Talk to me. Let's make history, baby."
Omusawo Tintah To Host Renowned Swiss Artist Mr. Kamanzi on Metro fm 90.8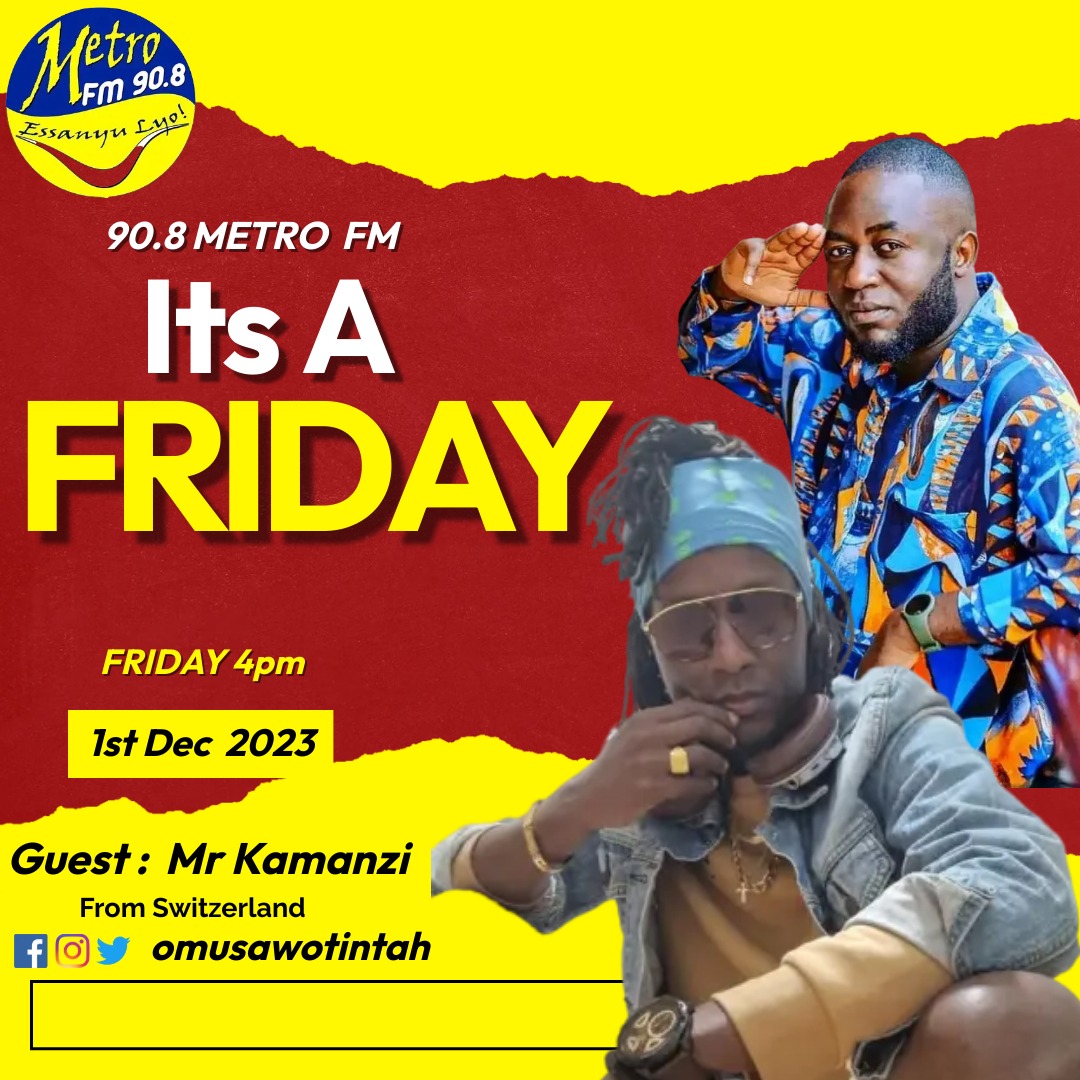 Metro FM 90.8's celebrated radio presenter and media activist, Omusawo Tintah, is gearing up to host the sensational Switzerland-based singer, Mr. Kamanzi, this Friday on his renowned radio show, Free Style Friday, running from 4 pm to 7 pm.
Omusawo Tintah's Free Style Friday has become a staple for music enthusiasts, featuring top-notch music and hosting internationally acclaimed artists. The show's popularity has soared, making it one of Uganda's most loved and trending radio programs.
Mr. Kamanzi, who is set to be the special guest on this week's episode, brings a wealth of musical talent and a captivating story to share. His journey in the world of music began at the age of 12, fueled by a deep passion for the art form. One of his childhood dreams was to perform on the grand stage, a dream that materialized in 1995 and marked the commencement of his music career.
Known for his distinctive vocal style, often referred to as "the husky voice of Africa," Mr. Kamanzi migrated to Switzerland a few years later. In 2008, he had the privilege of sharing the stage with T.o.k and Sean Paul in Dar es Salaam, Tanzania, a significant milestone in his musical journey.
With two published albums, namely "Unite" and "Today and Tomorrow," Mr. Kamanzi has made waves in the music industry. His track "Show Dem the Sign" received extensive airplay on local radio stations, solidifying his position as a notable artist. His performances have graced numerous stages across Africa and Europe, showcasing his versatility in musical genres, including Reggae, Afrobeat, Dancehall, and Pop Dancehall.
Beyond his musical accomplishments, Mr. Kamanzi's work with the Reggaenerators since 2021 has added a collaborative dimension to his career. His music carries a powerful message of upliftment, education, peace, and love, aligning with his personal motto: "Anywhere mi deh mi spread love."
As Free Style Friday prepares to host this illustrious artist, fans can anticipate an engaging and soulful session, blending Omusawo Tintah's charismatic hosting with the melodious tunes and inspiring story of Mr. Kamanzi. Tune in to Metro FM 90.8 this Friday for a musical experience that transcends borders and embraces the universal language of love through music.