Hazues : NRM Luminary Kafuma Joseph Battles Monstrous Health Crisis, Calls for Support
Kafuma Joseph, a prominent figure in the National Resistance Movement (NRM) and a respected name in Mubende politics, is confronting a grave health crisis that has left him in a state of suffering beyond imagination. Despite his unwavering loyalty to the NRM and the pivotal role he played in the 2021 general elections, he now finds himself grappling with a debilitating illness, leading him to express his deep disappointment.
In a heartfelt statement, Kafuma lamented, "I'm really, deeply disappointed in the NRM party, but particularly in those I have worked with during and after party elections. If I lose this battle, they shouldn't abandon any other individual if NRM still needs power." These words carry significant weight, spoken by a man who has dedicated himself to the NRM cause and its ideals.
https://hazues.com/campaign/details/help-chairman-kafuma-joseph-in-his-time-of-need/1
In response to Kafuma's dire situation, a group of compassionate individuals led by Hon. Sumaya Nabawanuka, who aspires to become the Member of Parliament for Mubende Municipality in 2026, and serves as the NUP coordinator in Mubende, took swift action upon hearing of Kafuma's plight. They embarked on a journey to Kasanda to ascertain the facts behind the disheartening news.
Upon their arrival at Kafuma's home, situated in a rural area in Lwanjiri, Kasanda district, the team was deeply moved by the sight of Kafuma enduring an indescribable health crisis. His eyes welled with tears, and his words resonated with the profound disappointment he felt towards the NRM.
Despite his passionate support for the NRM government, Kafuma's contributions to Mubende politics have been significant. In the recent 2021 general elections, he played a crucial role in mobilizing support within his community, particularly among the Boda Boda riders. Even when faced with adversity, Kafuma remained steadfast and loyal to his party's cause.
In the face of this challenging situation, we now extend a call for support to the community, well-wishers, and all those touched by Kafuma's story. Kafuma Joseph is presently receiving emergency treatment at Mubende Regional Hospital, but his condition necessitates more than medical care alone. Let us come together to assist a friend in his time of need.
You can help in the following ways:
1. Financial Support: Kafuma Joseph urgently requires financial assistance for his medical treatment and essential needs. You can contribute to his medical fund by sending financial support to his contact number: 0759746992.
2. Visits and Calls: A simple visit or a reassuring phone call can make a world of difference to Kafuma. Your emotional support is invaluable during this challenging time.
Kafuma Joseph's story serves as a poignant reminder of the significance of standing by those who have shown unwavering dedication to their communities and causes. Let us unite to ensure that Kafuma receives the support and care he requires to continue his journey towards recovery and well-being.
Your contribution will make a meaningful impact. Let's come together as a community to support Kafuma Joseph. May God bless you all for your kindness and generosity.
For further information or to offer your support, please contact Kafuma Joseph at the following number: 0759746992.
We extend our deepest gratitude for your compassion and assistance during this challenging time.
Prime Minister Robinah Nabbanja Applauds Gomba District's Thriving Agricultural Efforts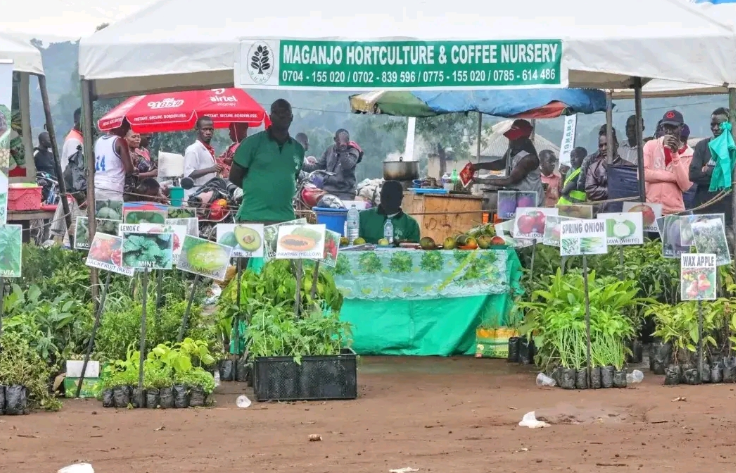 The Prime Minister of Uganda, The Right Honourable Robinah Nabbanja, expressed commendation for the residents of Gomba district, praising their active involvement in agriculture not just as a means of sustenance but as a pathway to economic prosperity.
During her address on Friday at the Gomba District Agricultural Expo organized by the Office of the Prime Minister, Nabbanja urged the community to diversify into high-value crops and adopt irrigation practices for year-round production. She emphasized that their commitment to agriculture is a crucial driver of economic growth.
The expo, attended by key figures in the agricultural sector, featured suppliers of agro-inputs and machinery, exemplary farmers, and specialists in agro-processing.
Addressing the necessity for improved electricity access, the Prime Minister reiterated the government's commitment to providing free power connections to homes. She encouraged residents to wire their houses, emphasizing that this initiative aims to elevate living standards and create economic opportunities.
Nabbanja also directed the District Health Officer to submit a letter requesting the elevation of Kanoni Health Center III to Health Center IV, aligning with the government's policy of establishing one Health Center IV in every constituency. She assured the people of Gomba West that steps would be taken to transform Kanoni Health Centre III into Health Center IV.
In a related context, Namayanja Rose Nsereko, the Deputy Secretary General of the National Resistance Movement (NRM), stressed the crucial role of community leaders in monitoring and following up on government projects. She emphasized the importance of leaders acquiring knowledge about these initiatives and effectively communicating with the public.
Namayanja underscored the significance of political participation, highlighting the NRM caucus as a key platform for strategic decision-making. She encouraged residents to support NRM flagbearers to ensure their voices are heard.
Sylvia Nayebale, the Gomba Woman MP, expressed gratitude for the government's efforts to improve electricity connectivity in the region. She acknowledged the positive impact of the reduced cost of the last-mile connection and urged for continued support and more connections to further enhance the lives of the residents.