ROYAL ROOTS STUDIO Presents Reggae Vibes Show Culture Festival: A Groovy Extravaganza in Tanzania
Tanzania is about to come alive with the rhythm and melodies of reggae as RQYAL ROOTS STUDIO proudly presents the Reggae Vibes Show Culture Festival on the 8th december 2023. This spectacular event will bring together a host of international artists, promising a musical and cultural experience like no other.
International Stars Shine Bright
From the heart of Jamaica, some of the finest reggae talents are set to grace the stage in Tanzania. Leading the international lineup is the charismatic Sean Quince, whose authentic Jamaican reggae vibes have captivated audiences worldwide. Joining him are Dipper Rato from Tanzania, Ra Deal from Jamaica, Nat Sterling from Jamaica, and the dynamic group, Bob Chuma and 9 Vibfration.
A Celebration of Reggae Culture
The Reggae Vibes Show Culture Festival is not just a concert; it's a celebration of reggae culture in all its forms. From the iconic rhythms to the social messages that often accompany reggae lyrics, this festival will immerse attendees in the world of reggae, its roots, and its contemporary evolution.
Affiance France Culture Center DSM: The Perfect Venue
The Affiance France Culture Center in Dar es Salaam (DSM) is set to host this reggae extravaganza. Known for its cultural significance and welcoming atmosphere, it is the perfect setting to unite reggae enthusiasts and music lovers from all walks of life.
Ticket Information
For those eager to be part of this reggae spectacle, tickets are available at two pricing levels: VIP tickets are priced at $15,000 Tanzanian Shillings, while Normal tickets can be purchased for $10,000 Tanzanian Shillings. It's an affordable opportunity to experience reggae at its finest.
Sponsored by RQYAL ROOTS STUDIO
This fantastic event is made possible through the generous sponsorship of RQYAL ROOTS STUDIO, a driving force in the promotion of reggae music and culture. Their commitment to the reggae community and their love for its distinctive sound is evident in their support for this festival.
The Reggae Vibes Show Culture Festival promises to be a vibrant and harmonious celebration of reggae culture, featuring international artists and a lineup that will have the crowd swaying to the iconic reggae beats. Don't miss this opportunity to embrace the reggae spirit – secure your tickets and be part of a unique celebration of music, culture, and unity.
Omusawo Tintah To Host Renowned Swiss Artist Mr. Kamanzi on Metro fm 90.8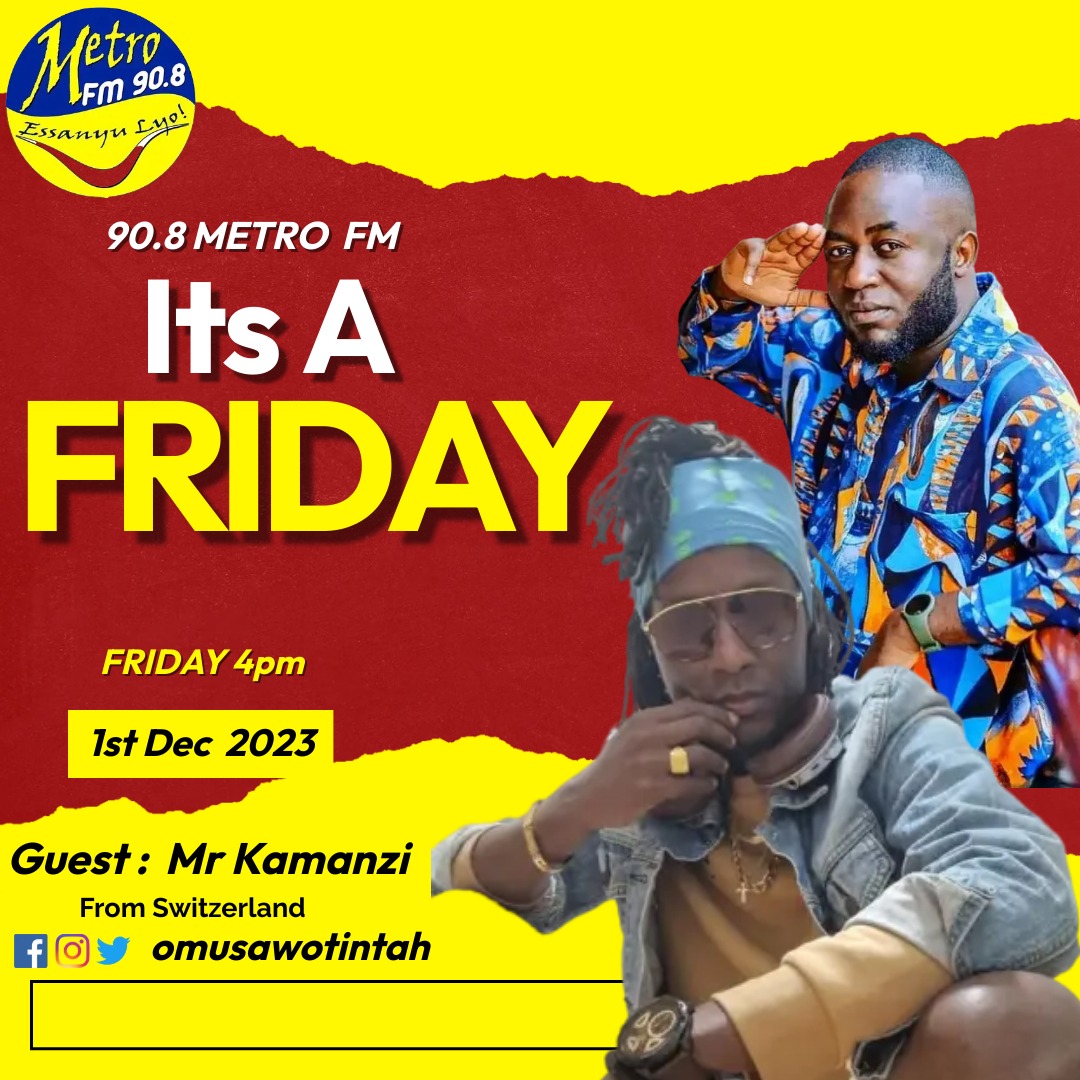 Metro FM 90.8's celebrated radio presenter and media activist, Omusawo Tintah, is gearing up to host the sensational Switzerland-based singer, Mr. Kamanzi, this Friday on his renowned radio show, Free Style Friday, running from 4 pm to 7 pm.
Omusawo Tintah's Free Style Friday has become a staple for music enthusiasts, featuring top-notch music and hosting internationally acclaimed artists. The show's popularity has soared, making it one of Uganda's most loved and trending radio programs.
Mr. Kamanzi, who is set to be the special guest on this week's episode, brings a wealth of musical talent and a captivating story to share. His journey in the world of music began at the age of 12, fueled by a deep passion for the art form. One of his childhood dreams was to perform on the grand stage, a dream that materialized in 1995 and marked the commencement of his music career.
Known for his distinctive vocal style, often referred to as "the husky voice of Africa," Mr. Kamanzi migrated to Switzerland a few years later. In 2008, he had the privilege of sharing the stage with T.o.k and Sean Paul in Dar es Salaam, Tanzania, a significant milestone in his musical journey.
With two published albums, namely "Unite" and "Today and Tomorrow," Mr. Kamanzi has made waves in the music industry. His track "Show Dem the Sign" received extensive airplay on local radio stations, solidifying his position as a notable artist. His performances have graced numerous stages across Africa and Europe, showcasing his versatility in musical genres, including Reggae, Afrobeat, Dancehall, and Pop Dancehall.
Beyond his musical accomplishments, Mr. Kamanzi's work with the Reggaenerators since 2021 has added a collaborative dimension to his career. His music carries a powerful message of upliftment, education, peace, and love, aligning with his personal motto: "Anywhere mi deh mi spread love."
As Free Style Friday prepares to host this illustrious artist, fans can anticipate an engaging and soulful session, blending Omusawo Tintah's charismatic hosting with the melodious tunes and inspiring story of Mr. Kamanzi. Tune in to Metro FM 90.8 this Friday for a musical experience that transcends borders and embraces the universal language of love through music.