Taylor Swift Recruits Kendrick Lamar for "Bad Blood" Remix on "1989 (Taylor's Version)"
Eight years after their initial collaboration on the remix of "Bad Blood," Taylor Swift has once again joined forces with Kendrick Lamar, and the pop star is overjoyed with the outcome.
On Friday (October 27), Swift released "1989 (Taylor's Version)," a re-recording of her 2014 album "1989." This release is part of Swift's project to create new versions of her first six albums, stemming from a dispute with her former record label Big Machine.
For the deluxe version of the new release, Swift brought Lamar back into the studio to re-record his part on a hip-hop reimagining of "Bad Blood," which was originally released as a non-album single in 2015.
Swift shared her excitement on Instagram, expressing her pride and gratitude for Lamar's contribution to the song: "Watching @kendricklamar create and record his verses on the 'Bad Blood' remix was one of the most inspiring experiences of my life. I still look back on this collaboration with so much pride and gratitude, for the ways Kendrick elevated the song and the way he treats everyone around him."
She also reminisced about the crowd's reaction during her recent tour, when they would chant Lamar's line from the song: "Every time the crowds on The Eras Tour would chant his line 'you forgive, you forget, but you never let it… go!,' I smiled."
Swift went on to thank Lamar for re-recording his verses, allowing her to reclaim and own this work she is so proud of. She described the experience as "surreal and bewildering."
The deluxe edition of "1989 (Taylor's Version)" is now available, featuring the "Bad Blood" remix and five "From the Vault" tracks that did not appear on the original release: "Slut!," "Say Don't Go," "Now That We Don't Talk," "Suburban Legends," and "Is It Over Now?"
Kendrick Lamar isn't the only rapper Swift has been associated with recently. Earlier this month, she introduced Ice Spice on "Saturday Night Live."
Ice Spice and Taylor Swift have developed a strong friendship since collaborating earlier this year. The newcomer worked with Taylor on the record-breaking single "Karma" in May, and the two performed it together during one of Taylor's New Jersey tour stops. They were also seen together at the 2023 MTV Video Music Awards.
Omusawo Tintah To Host Renowned Swiss Artist Mr. Kamanzi on Metro fm 90.8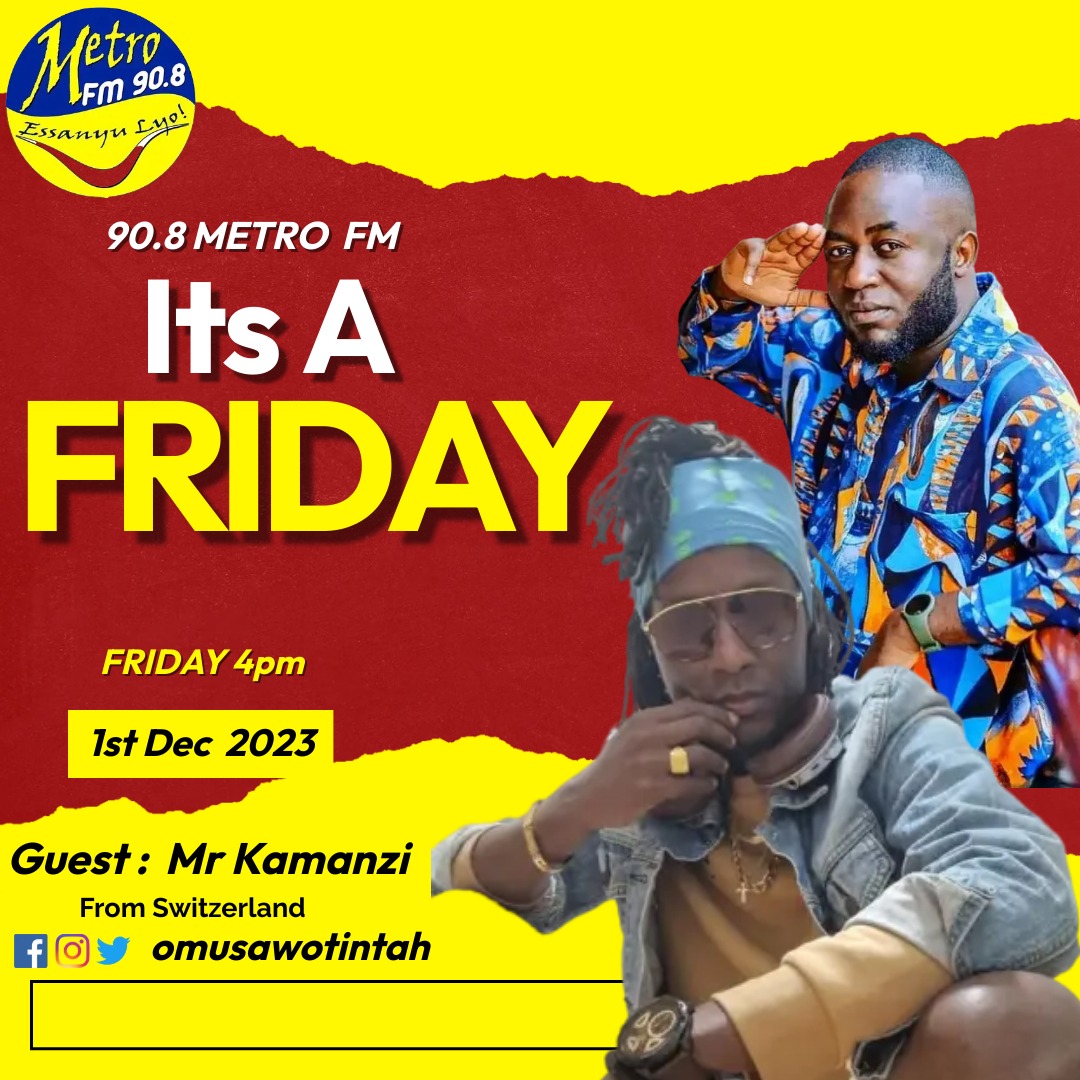 Metro FM 90.8's celebrated radio presenter and media activist, Omusawo Tintah, is gearing up to host the sensational Switzerland-based singer, Mr. Kamanzi, this Friday on his renowned radio show, Free Style Friday, running from 4 pm to 7 pm.
Omusawo Tintah's Free Style Friday has become a staple for music enthusiasts, featuring top-notch music and hosting internationally acclaimed artists. The show's popularity has soared, making it one of Uganda's most loved and trending radio programs.
Mr. Kamanzi, who is set to be the special guest on this week's episode, brings a wealth of musical talent and a captivating story to share. His journey in the world of music began at the age of 12, fueled by a deep passion for the art form. One of his childhood dreams was to perform on the grand stage, a dream that materialized in 1995 and marked the commencement of his music career.
Known for his distinctive vocal style, often referred to as "the husky voice of Africa," Mr. Kamanzi migrated to Switzerland a few years later. In 2008, he had the privilege of sharing the stage with T.o.k and Sean Paul in Dar es Salaam, Tanzania, a significant milestone in his musical journey.
With two published albums, namely "Unite" and "Today and Tomorrow," Mr. Kamanzi has made waves in the music industry. His track "Show Dem the Sign" received extensive airplay on local radio stations, solidifying his position as a notable artist. His performances have graced numerous stages across Africa and Europe, showcasing his versatility in musical genres, including Reggae, Afrobeat, Dancehall, and Pop Dancehall.
Beyond his musical accomplishments, Mr. Kamanzi's work with the Reggaenerators since 2021 has added a collaborative dimension to his career. His music carries a powerful message of upliftment, education, peace, and love, aligning with his personal motto: "Anywhere mi deh mi spread love."
As Free Style Friday prepares to host this illustrious artist, fans can anticipate an engaging and soulful session, blending Omusawo Tintah's charismatic hosting with the melodious tunes and inspiring story of Mr. Kamanzi. Tune in to Metro FM 90.8 this Friday for a musical experience that transcends borders and embraces the universal language of love through music.