Ugandan Sensation Nshuti Mbabazi Joins Rapper Ffefe Bussi at the 2023 African-Canadian Art and Culture Gala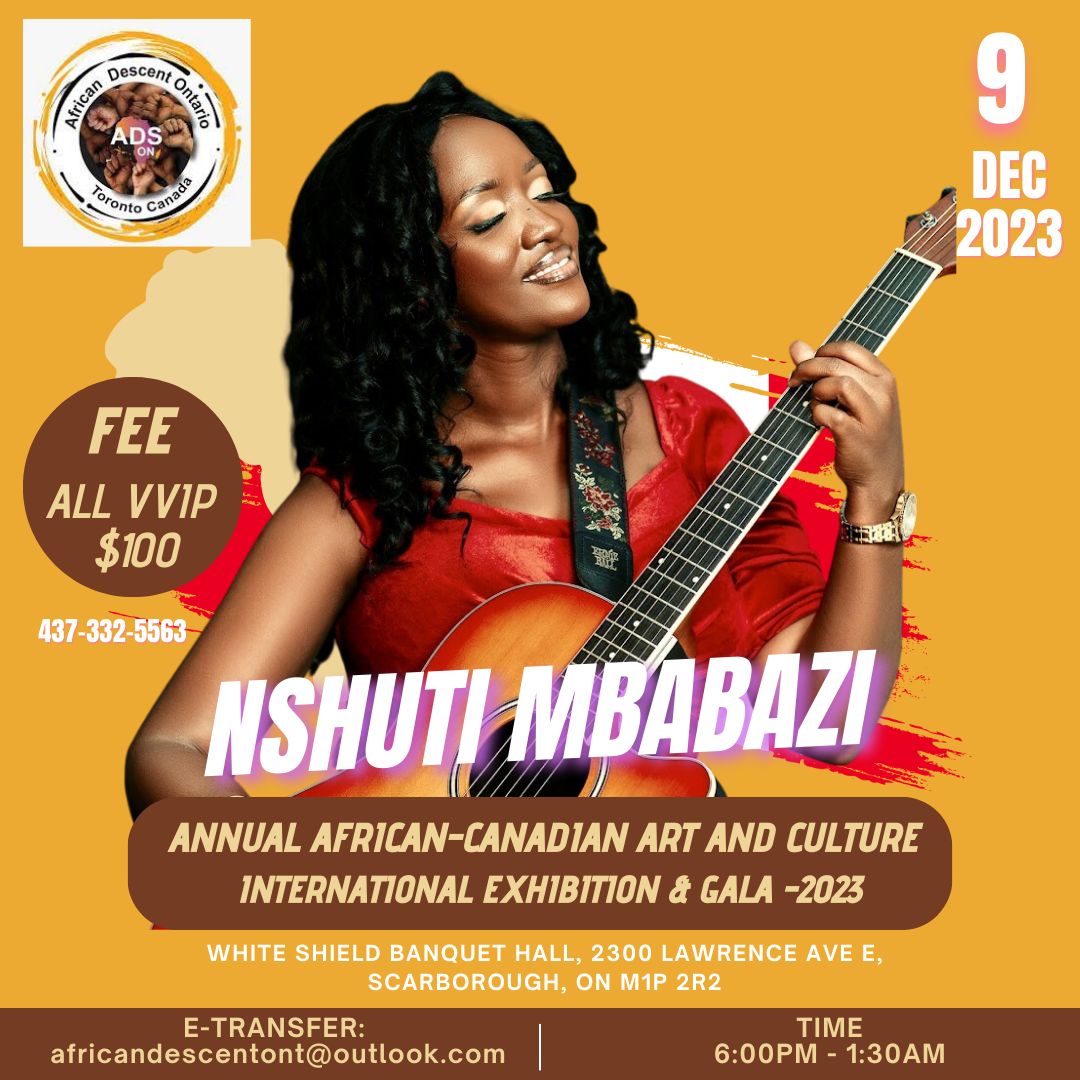 Canada is gearing up for a night of pure cultural extravaganza and artistic celebration as it prepares to host the annual African-Canadian Art and Culture International Exhibition & Gala – 2023. The event promises to be bigger and better than ever before, with Ugandan sensation Nshuti Mbabazi joining hands with rapper Ffefe Bussi to make it an unforgettable night of music and culture.
Scheduled for the 9th of December, this gala is not just an ordinary gathering; it's a fusion of cultures, a celebration of African heritage, and a tribute to the unity of the Canadian nation. Here's a glimpse of what to expect from this extraordinary event.
A Star-Studded Affair
Nshuti Mbabazi, the talented Ugandan singer-songwriter, is all set to grace the stage at this year's African-Canadian Art and Culture International Exhibition & Gala. Known for her soulful voice and her ability to connect with audiences on a profound level, Nshuti has become a global sensation, and her presence at the event promises a night of soul-stirring melodies and heart-touching performances.
Joining her is the electrifying rapper, Ffefe Bussi, known for his sharp lyrics and dynamic stage presence. Together, Nshuti and Ffefe Bussi are expected to bring the house down with their collaborative performances, uniting African and Canadian cultures through the universal language of music.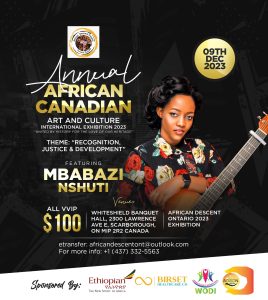 A Night of Cultural Richness
The event is not just about music; it's a platform for showcasing the rich African culture and heritage in the heart of Canada. From traditional African dances to contemporary art exhibitions, guests will have the opportunity to immerse themselves in a tapestry of African traditions. This event bridges the gap between continents, offering Canadians a unique opportunity to explore Africa's multifaceted culture without leaving their homeland.
A Journey Through Art
The African-Canadian Art and Culture International Exhibition & Gala is a treat for art enthusiasts. With artists from both continents displaying their works, it's an art lover's paradise. From traditional African sculptures and paintings to modern Canadian art, the exhibition offers a visual spectacle that's both inspiring and thought-provoking.
Delightful Culinary Experience
One of the highlights of this event is the culinary journey it offers. Guests can savor a delectable array of African and Canadian cuisines, from jollof rice to poutine, all under one roof. This gastronomic fusion perfectly symbolizes the harmony and unity the gala promotes.
The Venue: White Shield Banquet Hall
The White Shield Banquet Hall, located at 2300 Lawrence Ave E, Borough, ON M1P 2R2, sets the perfect backdrop for this grand celebration. Its spacious and elegant surroundings will accommodate the evening's festivities, providing a comfortable and aesthetically pleasing environment for all the guests.
Get Your Tickets
Tickets for the FEE ALL VV1P – All Set to Shine at the $100 Annual African-Canadian Art and Culture International Exhibition & Gala – 2023 can be purchased through e-transfer at [email protected]. The event is scheduled to kick off at 6:00 PM and will continue until 1:30 AM, ensuring that attendees have ample time to immerse themselves in the festivities as said by Alexander Luyima the Spokesperson of African Descent Ontario
The African-Canadian Art and Culture International Exhibition & Gala is not just an event; it's an experience. It's a night where cultures intertwine, art flourishes, and music unites. With Nshuti Mbabazi and Ffefe Bussi leading the way, this year's gala promises to be a memorable celebration of diversity and unity in the heart of Canada. Don't miss this once-in-a-lifetime experience – book your tickets now and be part of a truly remarkable cultural celebration.
Annual African – Canadian Art and Cultural International Exhibition 2023
Omusawo Tintah To Host Renowned Swiss Artist Mr. Kamanzi on Metro fm 90.8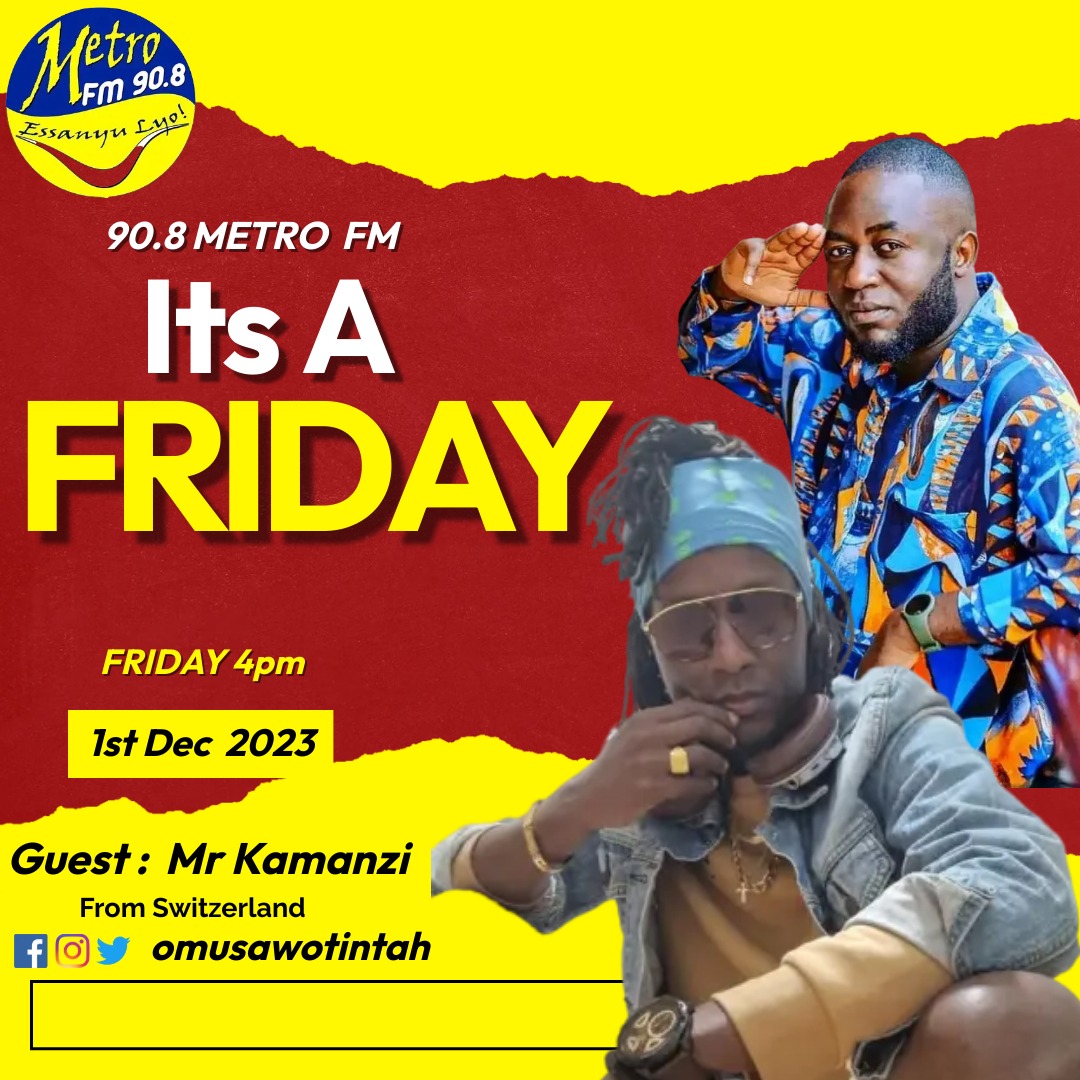 Metro FM 90.8's celebrated radio presenter and media activist, Omusawo Tintah, is gearing up to host the sensational Switzerland-based singer, Mr. Kamanzi, this Friday on his renowned radio show, Free Style Friday, running from 4 pm to 7 pm.
Omusawo Tintah's Free Style Friday has become a staple for music enthusiasts, featuring top-notch music and hosting internationally acclaimed artists. The show's popularity has soared, making it one of Uganda's most loved and trending radio programs.
Mr. Kamanzi, who is set to be the special guest on this week's episode, brings a wealth of musical talent and a captivating story to share. His journey in the world of music began at the age of 12, fueled by a deep passion for the art form. One of his childhood dreams was to perform on the grand stage, a dream that materialized in 1995 and marked the commencement of his music career.
Known for his distinctive vocal style, often referred to as "the husky voice of Africa," Mr. Kamanzi migrated to Switzerland a few years later. In 2008, he had the privilege of sharing the stage with T.o.k and Sean Paul in Dar es Salaam, Tanzania, a significant milestone in his musical journey.
With two published albums, namely "Unite" and "Today and Tomorrow," Mr. Kamanzi has made waves in the music industry. His track "Show Dem the Sign" received extensive airplay on local radio stations, solidifying his position as a notable artist. His performances have graced numerous stages across Africa and Europe, showcasing his versatility in musical genres, including Reggae, Afrobeat, Dancehall, and Pop Dancehall.
Beyond his musical accomplishments, Mr. Kamanzi's work with the Reggaenerators since 2021 has added a collaborative dimension to his career. His music carries a powerful message of upliftment, education, peace, and love, aligning with his personal motto: "Anywhere mi deh mi spread love."
As Free Style Friday prepares to host this illustrious artist, fans can anticipate an engaging and soulful session, blending Omusawo Tintah's charismatic hosting with the melodious tunes and inspiring story of Mr. Kamanzi. Tune in to Metro FM 90.8 this Friday for a musical experience that transcends borders and embraces the universal language of love through music.