Rumors Dispelled: DJ Vlad Denies Alleged Jail Assault on Keefe D Linked to Tupac's Murder
Speculations surrounding Keefe D's incarceration and alleged involvement in Tupac Shakur's murder, a social media firestorm erupted regarding claims that he had been attacked and stabbed in jail. However, exclusive reports from TMZ revealed that DJ Vlad was swift to counter these allegations. Via a post on social media, DJ Vlad directly addressed the issue, stating, "There's a rumor going around that Keefe D got beat up and stabbed in jail. I looked into it, and it doesn't appear to be true."
In response to DJ Vlad's dismissal of the rumors, a user on social media offered an alternative perspective. According to this individual, rumors suggested Keefe D had been engaged in two fights while in custody. "Allegedly, he was in 2 fights, one with a hoover and the other a crip according to some YouTuber," the person claimed. However, DJ Vlad responded, affirming that after consulting various close sources, he found no evidence of any such incidents. "I've now talked to multiple people close to the situation, and they all said nothing has happened to him," Vlad emphasized.
The widespread rumors regarding Keefe D's supposed assault had sparked significant concern and speculation among fans and followers. DJ Vlad's intervention provided a sense of clarity and reassurance to those closely following the story. His established connections and reliable sources within the hip-hop community seemed to support his denial of any reported incident involving Keefe D.
The context surrounding these rumors is understandable given recent events. Earlier this month, a video circulated where Keefe D expressed fear of jail due to his comments on Tupac's murder. It's worth noting that Keefe D has openly discussed involvement in Tupac's murder in previous interviews with DJ Vlad. Despite discussing these details for years, Keefe D was arrested by Las Vegas police on September 21 and is currently serving a 28-year sentence for voluntary manslaughter.
Omusawo Tintah To Host Renowned Swiss Artist Mr. Kamanzi on Metro fm 90.8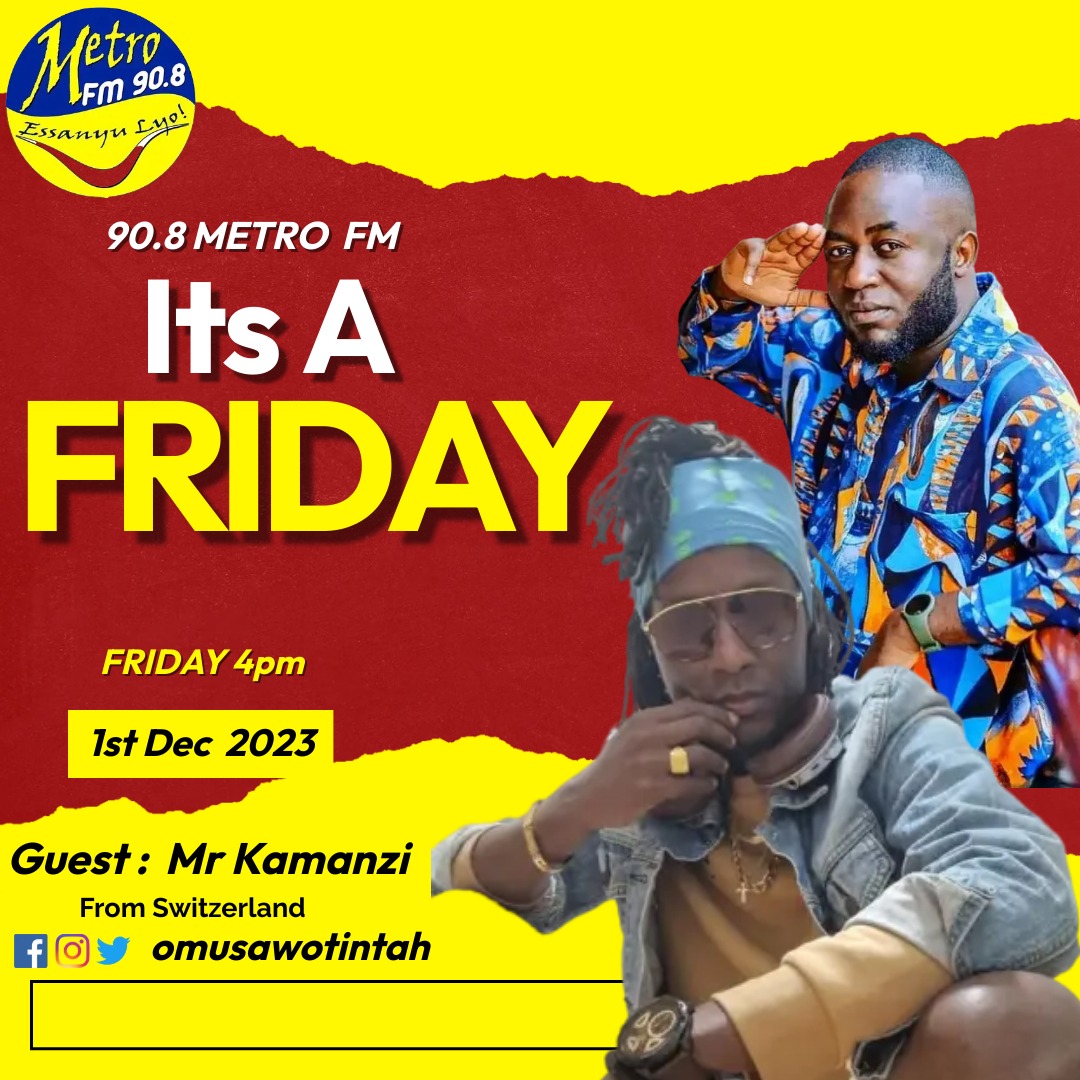 Metro FM 90.8's celebrated radio presenter and media activist, Omusawo Tintah, is gearing up to host the sensational Switzerland-based singer, Mr. Kamanzi, this Friday on his renowned radio show, Free Style Friday, running from 4 pm to 7 pm.
Omusawo Tintah's Free Style Friday has become a staple for music enthusiasts, featuring top-notch music and hosting internationally acclaimed artists. The show's popularity has soared, making it one of Uganda's most loved and trending radio programs.
Mr. Kamanzi, who is set to be the special guest on this week's episode, brings a wealth of musical talent and a captivating story to share. His journey in the world of music began at the age of 12, fueled by a deep passion for the art form. One of his childhood dreams was to perform on the grand stage, a dream that materialized in 1995 and marked the commencement of his music career.
Known for his distinctive vocal style, often referred to as "the husky voice of Africa," Mr. Kamanzi migrated to Switzerland a few years later. In 2008, he had the privilege of sharing the stage with T.o.k and Sean Paul in Dar es Salaam, Tanzania, a significant milestone in his musical journey.
With two published albums, namely "Unite" and "Today and Tomorrow," Mr. Kamanzi has made waves in the music industry. His track "Show Dem the Sign" received extensive airplay on local radio stations, solidifying his position as a notable artist. His performances have graced numerous stages across Africa and Europe, showcasing his versatility in musical genres, including Reggae, Afrobeat, Dancehall, and Pop Dancehall.
Beyond his musical accomplishments, Mr. Kamanzi's work with the Reggaenerators since 2021 has added a collaborative dimension to his career. His music carries a powerful message of upliftment, education, peace, and love, aligning with his personal motto: "Anywhere mi deh mi spread love."
As Free Style Friday prepares to host this illustrious artist, fans can anticipate an engaging and soulful session, blending Omusawo Tintah's charismatic hosting with the melodious tunes and inspiring story of Mr. Kamanzi. Tune in to Metro FM 90.8 this Friday for a musical experience that transcends borders and embraces the universal language of love through music.