Hazues.com : Urgent Medical Funds Needed to Save a Life: Kirabo Hawa's Battle Against the Odds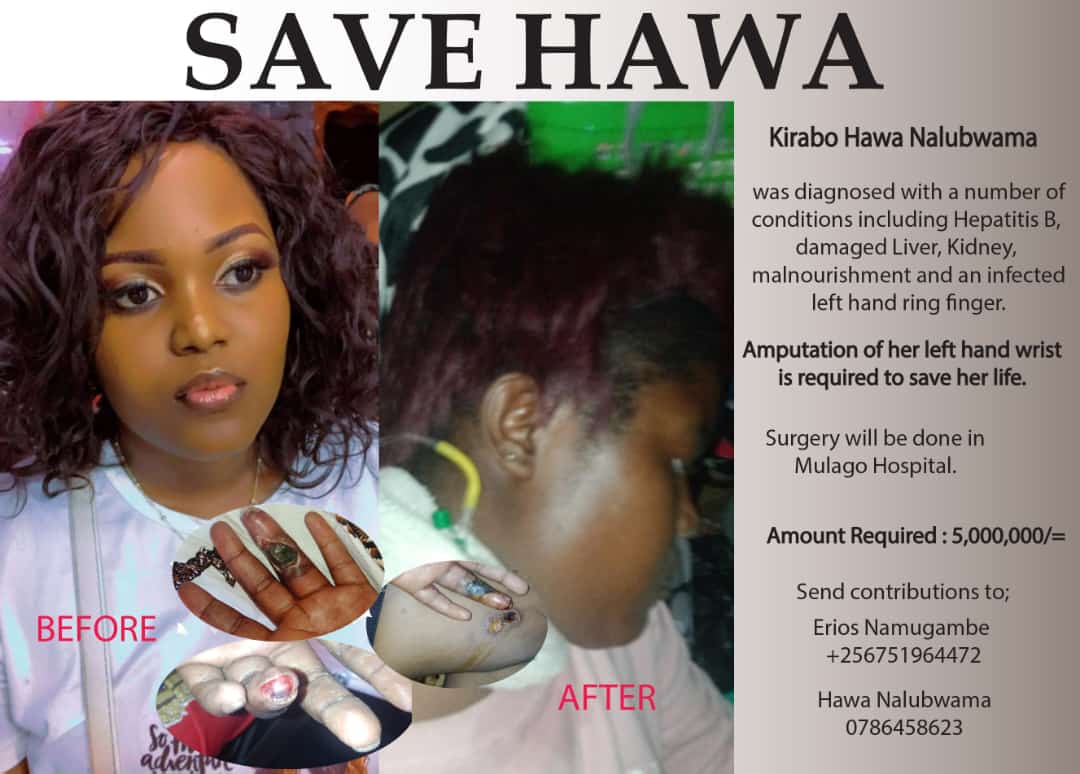 In a race against time, Kirabo Hawa Nalubwama, a courageous individual, is facing a multitude of health challenges, including a Hepatitis B diagnosis, a damaged liver, kidney complications, malnourishment, and a severe infection in her left hand ring finger. These health conditions have collectively placed Hawa's life in jeopardy, requiring a life-saving intervention.
The critical step to save Hawa's life is the amputation of her left hand wrist. This procedure is deemed vital to prevent the further spread of infection and to halt the worsening of her overall health. The surgery, which comes with considerable expenses, is scheduled to be performed at Mulago Hospital.
The total amount required for Hawa's medical treatment, including the amputation surgery, is estimated at 5,000,000 Ugandan Shillings. While this figure may seem daunting, it represents the hope of a healthier, brighter future for Kirabo Hawa Nalubwama.
To make this life-saving treatment a reality, we are reaching out to compassionate individuals and organizations for their support and financial assistance. Every contribution, regardless of its size, will contribute to providing Hawa with a fighting chance to regain her health.
DONATE BY CLICKING ON THE LINK BELOW
https://hazues.com/campaign/details/save-hawa/4
Contributions can be sent to the following contacts:
Erios Namugambe Contact Number: +256751964472
Hawa Nalubwama Contact Number: 0786458623
Your contribution will not only cover the costs of her essential medical procedures but also bring comfort and hope to Hawa and her family during this challenging period.
Hawa's fight is a testament to her resilience and the power of community support. With your help, we can ensure that she receives the medical care she urgently needs. Your kindness can change the course of Kirabo Hawa Nalubwama's life, and we thank you for considering our appeal. Together, we can save a life and make a difference in her journey to recovery.
Prime Minister Robinah Nabbanja Applauds Gomba District's Thriving Agricultural Efforts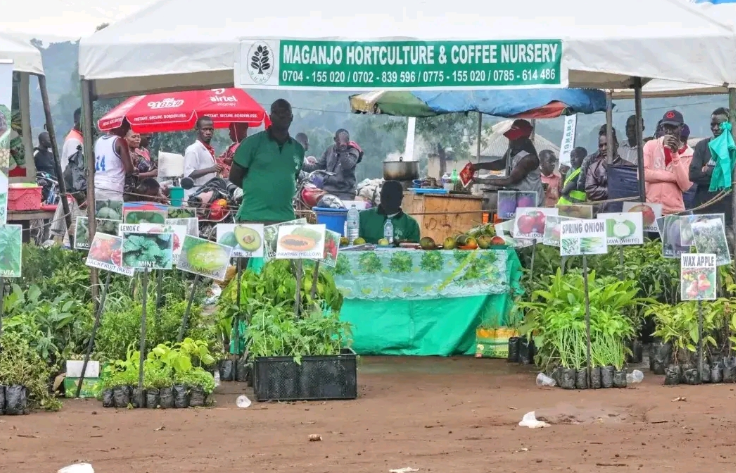 The Prime Minister of Uganda, The Right Honourable Robinah Nabbanja, expressed commendation for the residents of Gomba district, praising their active involvement in agriculture not just as a means of sustenance but as a pathway to economic prosperity.
During her address on Friday at the Gomba District Agricultural Expo organized by the Office of the Prime Minister, Nabbanja urged the community to diversify into high-value crops and adopt irrigation practices for year-round production. She emphasized that their commitment to agriculture is a crucial driver of economic growth.
The expo, attended by key figures in the agricultural sector, featured suppliers of agro-inputs and machinery, exemplary farmers, and specialists in agro-processing.
Addressing the necessity for improved electricity access, the Prime Minister reiterated the government's commitment to providing free power connections to homes. She encouraged residents to wire their houses, emphasizing that this initiative aims to elevate living standards and create economic opportunities.
Nabbanja also directed the District Health Officer to submit a letter requesting the elevation of Kanoni Health Center III to Health Center IV, aligning with the government's policy of establishing one Health Center IV in every constituency. She assured the people of Gomba West that steps would be taken to transform Kanoni Health Centre III into Health Center IV.
In a related context, Namayanja Rose Nsereko, the Deputy Secretary General of the National Resistance Movement (NRM), stressed the crucial role of community leaders in monitoring and following up on government projects. She emphasized the importance of leaders acquiring knowledge about these initiatives and effectively communicating with the public.
Namayanja underscored the significance of political participation, highlighting the NRM caucus as a key platform for strategic decision-making. She encouraged residents to support NRM flagbearers to ensure their voices are heard.
Sylvia Nayebale, the Gomba Woman MP, expressed gratitude for the government's efforts to improve electricity connectivity in the region. She acknowledged the positive impact of the reduced cost of the last-mile connection and urged for continued support and more connections to further enhance the lives of the residents.