Boosie Badazz Calls Out Inaccuracies in YouTube Documentary About His Life
Boosie Badazz has expressed his displeasure with a recent YouTube documentary about his life, pointing out several errors in the project.
In a series of tweets on Saturday (October 28), the Baton Rouge native criticized a documentary titled "Rap's Alleged Serial Killer, EXPOSING The Evil Life of Boosie in Detail," released in early October. He specifically mentioned inaccuracies regarding details about his father and friends.
Boosie began by stating, "YALL MFS MAKING THESE FAKE DOCUMENTARIES ON YOUTUBE DONT BE KNOWING WHAT THE HELL YALL TALKING BOUT. SMH DONT EVEN KNOW MY DADDY NAME [O]R MY NAME IM NOT A JR DUMMY N THIS IS NOT MY DADDY NAME [downward-button emoji] ITS IVY RAY HATCH STUPID MF LET ME BE GREAT."
He went on to address misrepresentations about his relationship with his late friend, "Lil" Ivy Smith, who was killed in 2005. Boosie emphasized that the documentary was filled with lies, particularly regarding Ivy's connection to his record label.
Boosie further clarified that he and Ivy were never on bad terms and had never argued. He expressed frustration over attempts to link him to the deaths of both of his best friends, calling it "hater shit."
Boosie has been critical of previous similar undertakings, such as Trap Lore Ross' documentary about King Von. He argued that these documentaries often misrepresent the facts and speculated that those creating them don't have a complete understanding of the situations they cover.
Blueface Affirms Genuine Engagement Amidst Clout Chasing Claims
The British filmmaker, Ross, responded to the backlash from figures in the hip-hop community, suggesting that their negative reactions might change if they watched the entire documentary, as it could provide a more accurate and complete perspective.
Ross' documentary about King Von faced criticism for its alleged connection of the late rapper to multiple murders. The video was initially removed from YouTube but later re-uploaded after the controversy.
Omusawo Tintah To Host Renowned Swiss Artist Mr. Kamanzi on Metro fm 90.8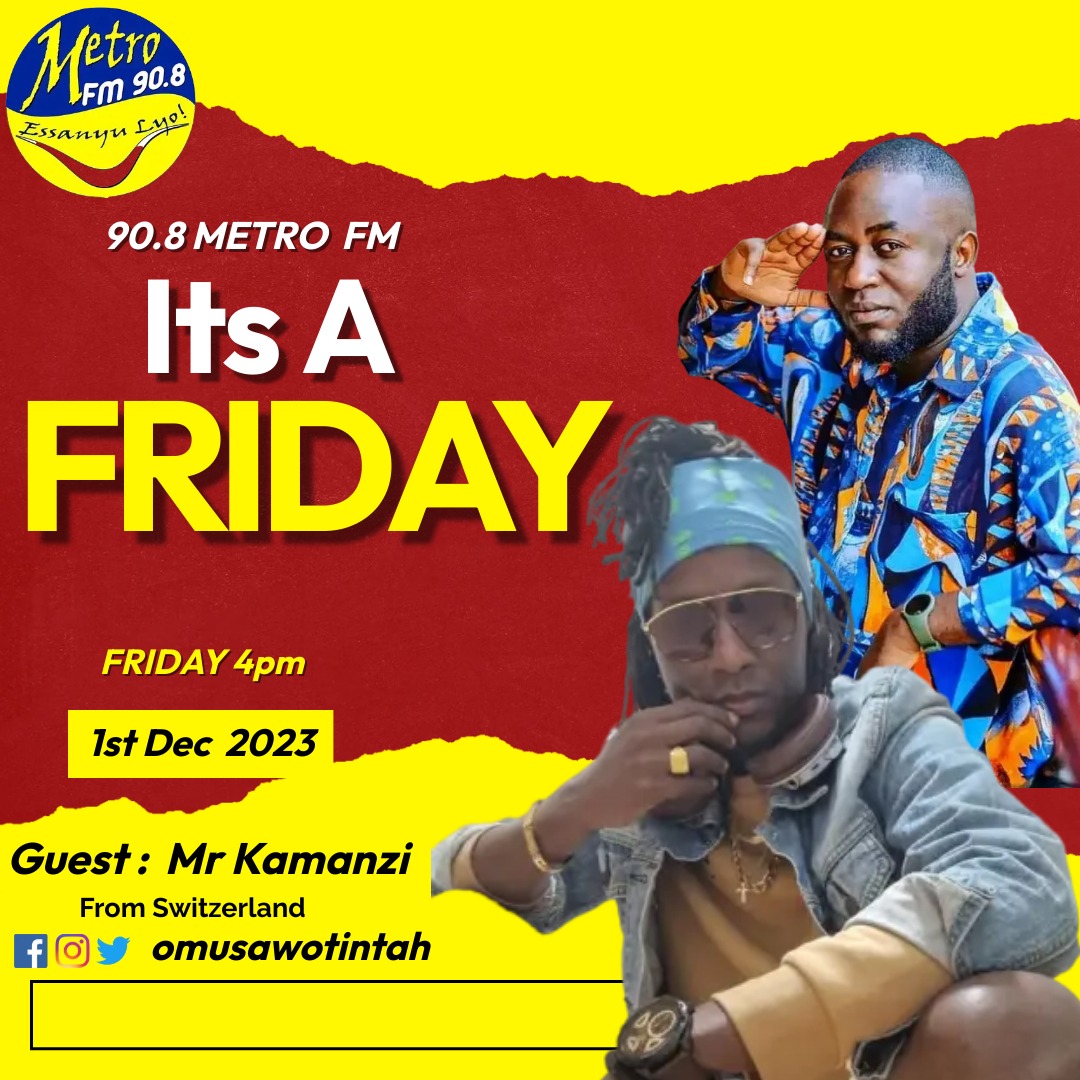 Metro FM 90.8's celebrated radio presenter and media activist, Omusawo Tintah, is gearing up to host the sensational Switzerland-based singer, Mr. Kamanzi, this Friday on his renowned radio show, Free Style Friday, running from 4 pm to 7 pm.
Omusawo Tintah's Free Style Friday has become a staple for music enthusiasts, featuring top-notch music and hosting internationally acclaimed artists. The show's popularity has soared, making it one of Uganda's most loved and trending radio programs.
Mr. Kamanzi, who is set to be the special guest on this week's episode, brings a wealth of musical talent and a captivating story to share. His journey in the world of music began at the age of 12, fueled by a deep passion for the art form. One of his childhood dreams was to perform on the grand stage, a dream that materialized in 1995 and marked the commencement of his music career.
Known for his distinctive vocal style, often referred to as "the husky voice of Africa," Mr. Kamanzi migrated to Switzerland a few years later. In 2008, he had the privilege of sharing the stage with T.o.k and Sean Paul in Dar es Salaam, Tanzania, a significant milestone in his musical journey.
With two published albums, namely "Unite" and "Today and Tomorrow," Mr. Kamanzi has made waves in the music industry. His track "Show Dem the Sign" received extensive airplay on local radio stations, solidifying his position as a notable artist. His performances have graced numerous stages across Africa and Europe, showcasing his versatility in musical genres, including Reggae, Afrobeat, Dancehall, and Pop Dancehall.
Beyond his musical accomplishments, Mr. Kamanzi's work with the Reggaenerators since 2021 has added a collaborative dimension to his career. His music carries a powerful message of upliftment, education, peace, and love, aligning with his personal motto: "Anywhere mi deh mi spread love."
As Free Style Friday prepares to host this illustrious artist, fans can anticipate an engaging and soulful session, blending Omusawo Tintah's charismatic hosting with the melodious tunes and inspiring story of Mr. Kamanzi. Tune in to Metro FM 90.8 this Friday for a musical experience that transcends borders and embraces the universal language of love through music.